I am super excited to share my modern rustic living room makeover reveal with you all today!!! The style and vibe I wanted to achieve with this space was modern yet cozy, with lots of rustic touches. I love how it turned out and it's my favorite room makeover I've completed yet!
Note, I've included a video room tour and full room source list at the bottom of this post!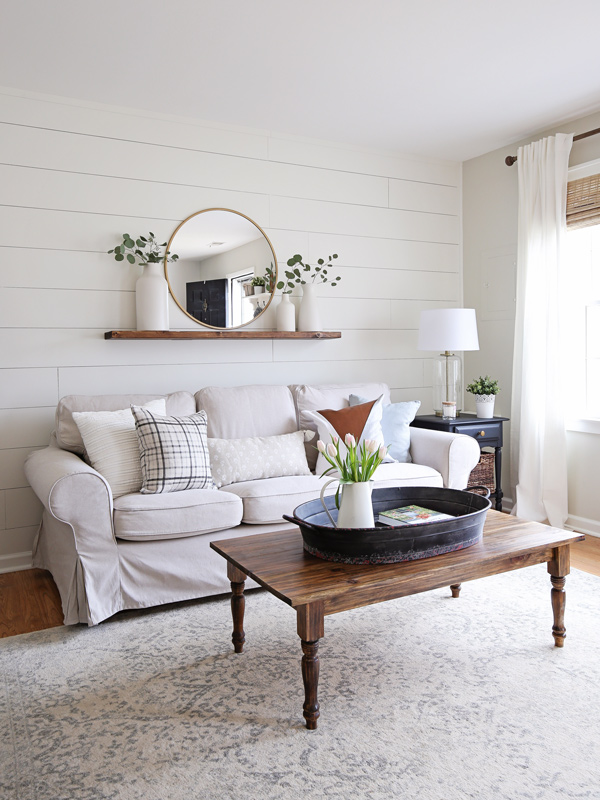 Note 2, this post contains some affiliate links. For more info see my disclosures here.
Almost one year ago I shared my living room makeover plans and at that time I didn't think this makeover would take this long to complete! I always seem to underestimate the time needed for projects ha!
One of the reasons this makeover took so long is because I had a hard time deciding on the decor and wall art. Another reason for the delay was that there were over 12 DIY projects for the space, many of which were furniture DIYs. By doing so many DIY projects and spreading it all out over time, we were able to save a lot of money and spread the costs we did have out, which definitely helped budget wise!
Let's take a look down memory lane, here is what our living room use to look like:
BEFORE PHOTOS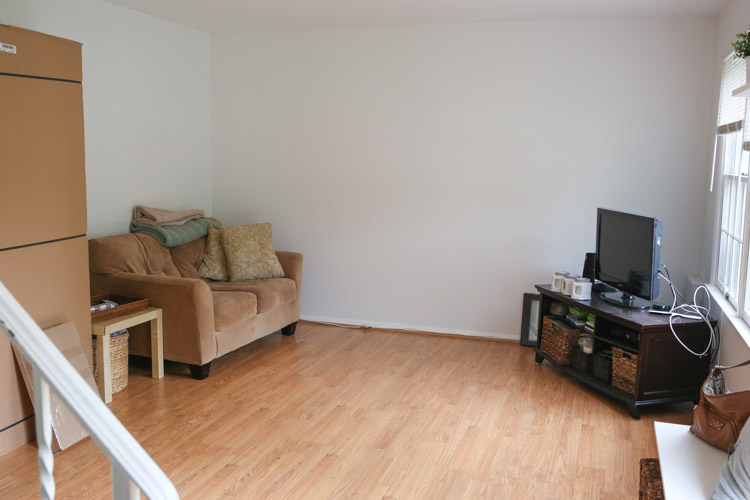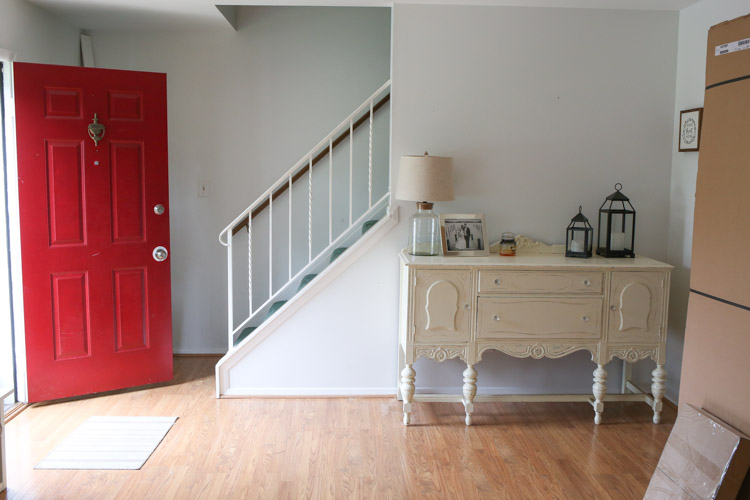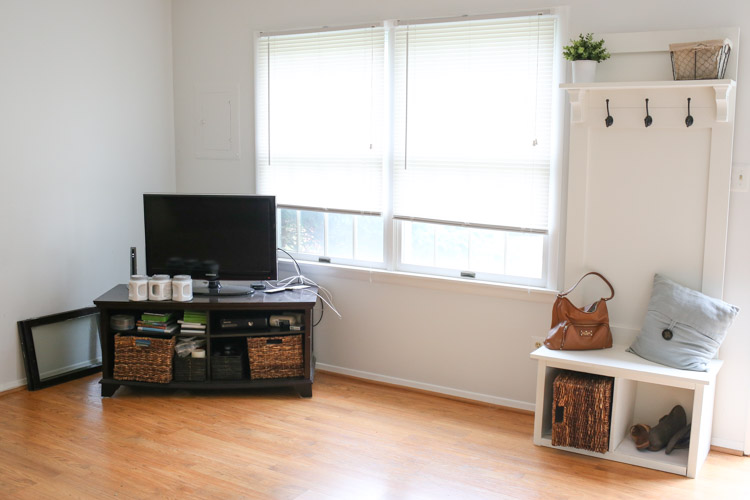 Yikes, what a mess!! This room certainly needed some help!
The first two projects we tackled for the living room was adding shiplap accent walls and replacing the cheap, ugly floor trim that I couldn't stand. The shiplap accent walls immediately gave the bland, boring space some much needed character. The shiplap also provided a much cozier feel too.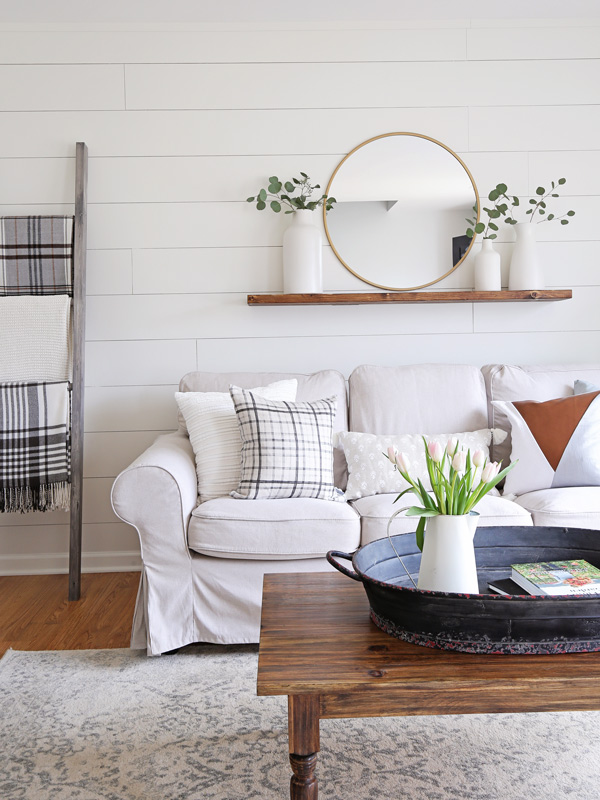 I really wanted the big, long wall in this room to become a welcoming, focal point when you walked into the living room. In addition to adding the shipalp, we centered our new IKEA Ektorp couch (comfy and budget friendly) on the wall. On the left side I added a rustic, weathered wood blanket ladder DIY, adding a cozy and rustic detail. And it only cost $15 to make!
In front of the couch, we placed our DIY farmhouse coffee table with a large, black metal tray.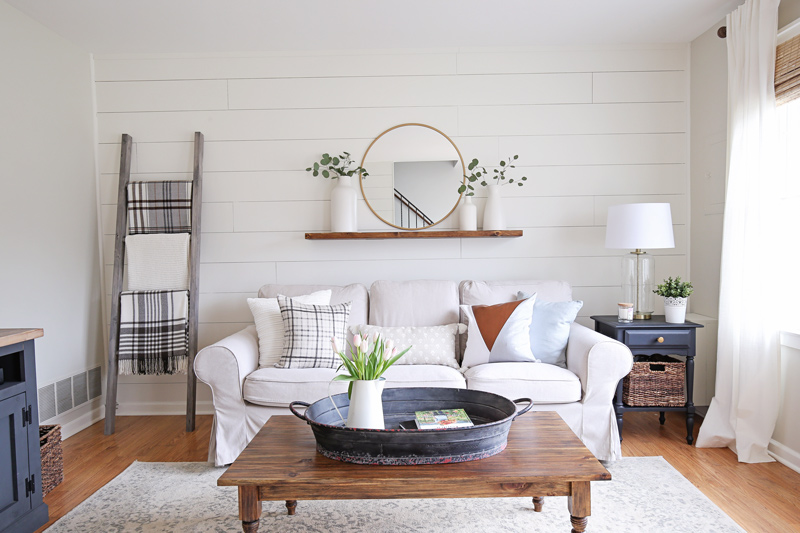 On the right side of the couch is a vintage side table that I made over with black paint. The black painted side table and brass knob, along with the chic, glass and brass lamp that I love, helps to add modern touches to contrast with the vintage and rustic details.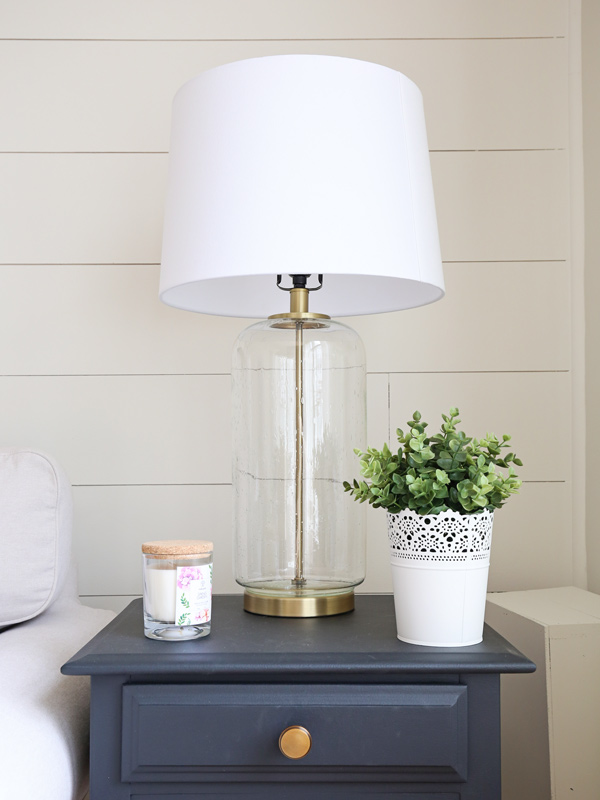 The other focal point on the large wall, which is my favorite feature of the whole room, is the DIY wood floating shelf! I will be posting a tutorial soon on how we made this, but I did share some behind the scenes on my Instagram stories on how we hung it with hidden brackets. So, on the floating shelf I placed three, modern ceramic vases with eucalyptus branches and a brass framed, round mirror hung just above it. I just love it!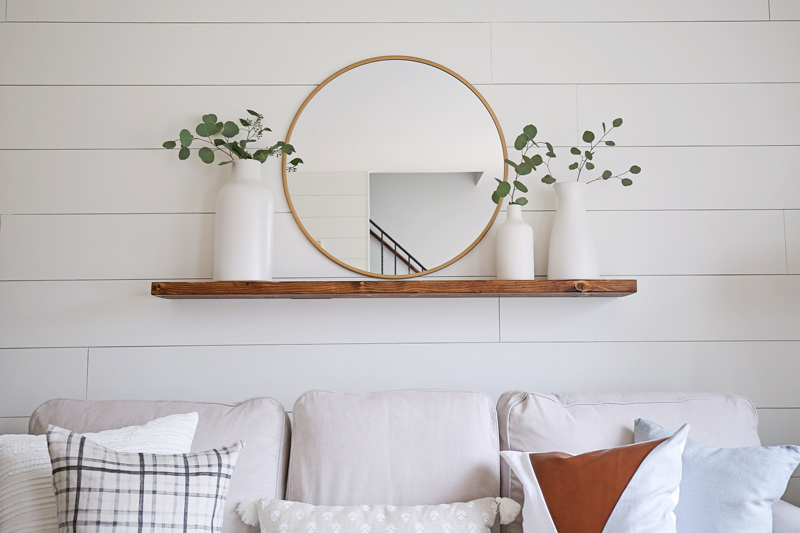 Finally, for this side of the room, I added lots of cute throw pillows, with a mix of different textures and neutral colors. It took me forever to figure out what combo of throw pillows to do. I know they can be easy to change, but all the throw pillows I love are a bit expensive. Since it was a small investment, I tried to choose pieces I could easily mix with other options in the future.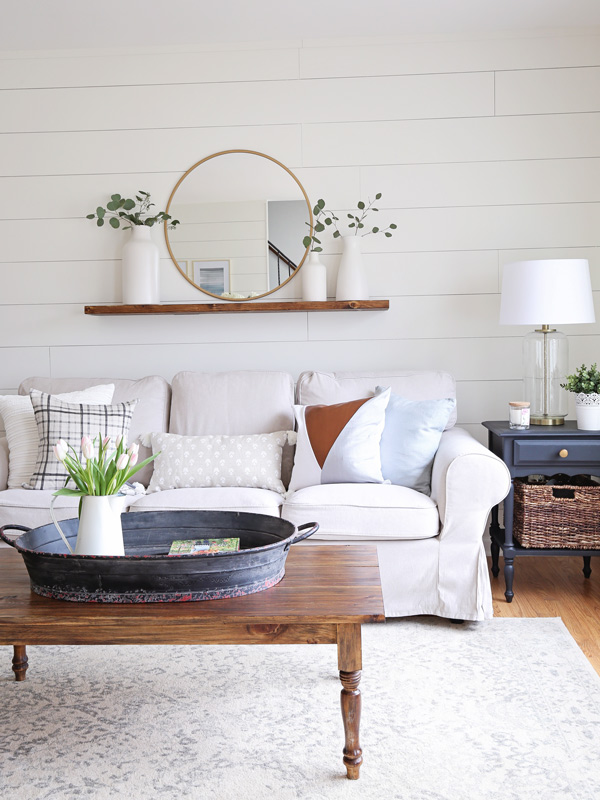 On the left side of the room, I kept it really simple with just our DIY rustic TV stand, TV, and baskets.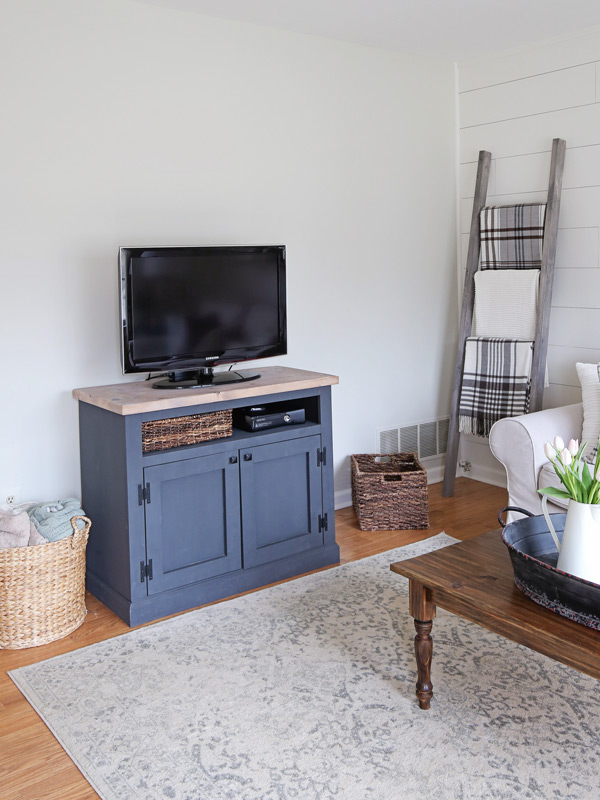 A few weeks ago I made some budget friendly, DIY square picture frames with family photos and hung them with command strips on the wall around the TV . But, I really didn't like how they looked there, so I moved them over to the wall by the stairwell/door to create a small, symmetrical gallery wall. I think they look great here and I love seeing the photos every time I walk down the stairs or turn the corner to go up the stairs.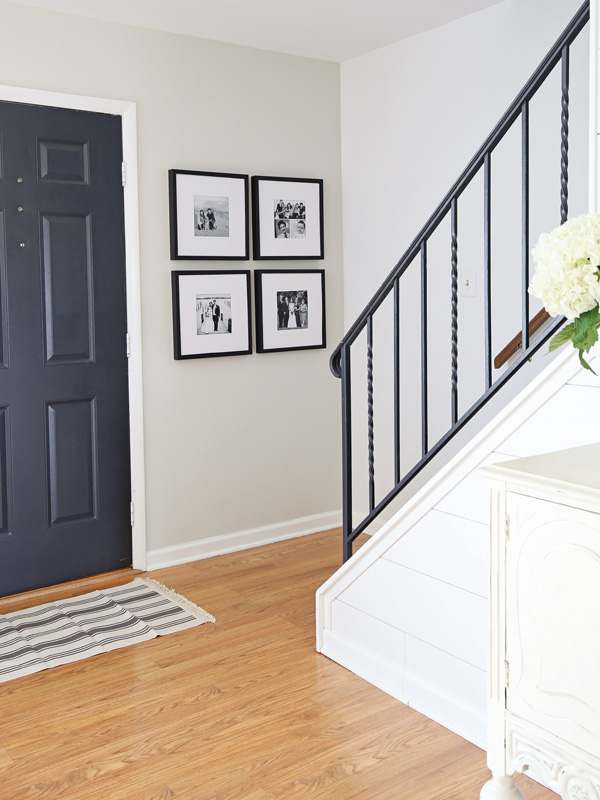 Also, we painted the stairwell railing black (Black Panther by Benjamin Moore) to match the back of the front door color and I love the contrast of it with the white shiplap.
On this same side of the room, I kept it pretty minimalist, with our vintage buffet that I painted with chalk paint a few years ago. Above the buffet are two, 16×20, modern, gold picture frames with two abstract paintings that I made. Both abstract prints are available in my Etsy shop as printable downloads in multiple sizes here: Brush Strokes Abstract Print (left) and Watercolor Abstract Print (Right).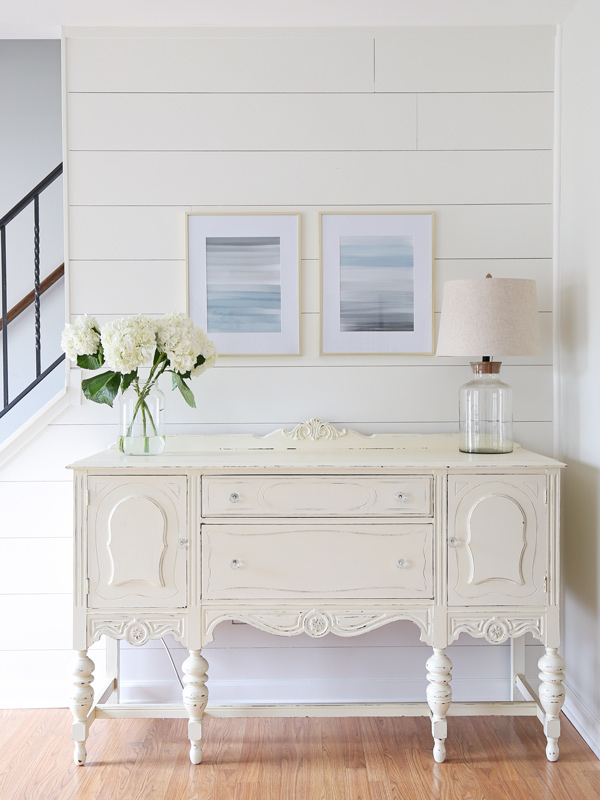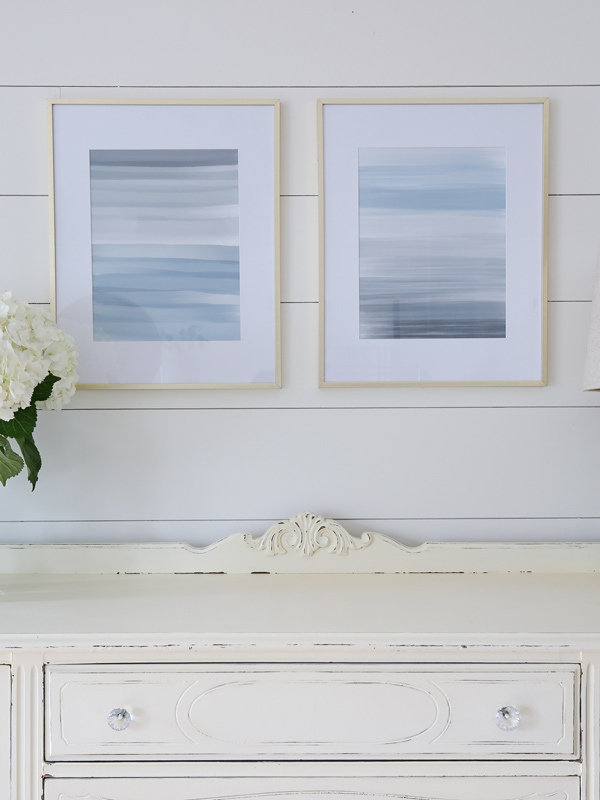 Finally, on the wall with our front door and window, we have our DIY entryway hall tree bench. I love decorating our hall tree for all the different seasons!
Next to the hall tree is our window where I updated the window trim, added curtains from IKEA, and a pretty, wood curtain rod. Also, I removed the cheap, plastic blinds and added bamboo blinds that I cut to size and added a privacy liner. All of these window detail updates really helped to add more warmth and character and make the window more of an architectural focal point.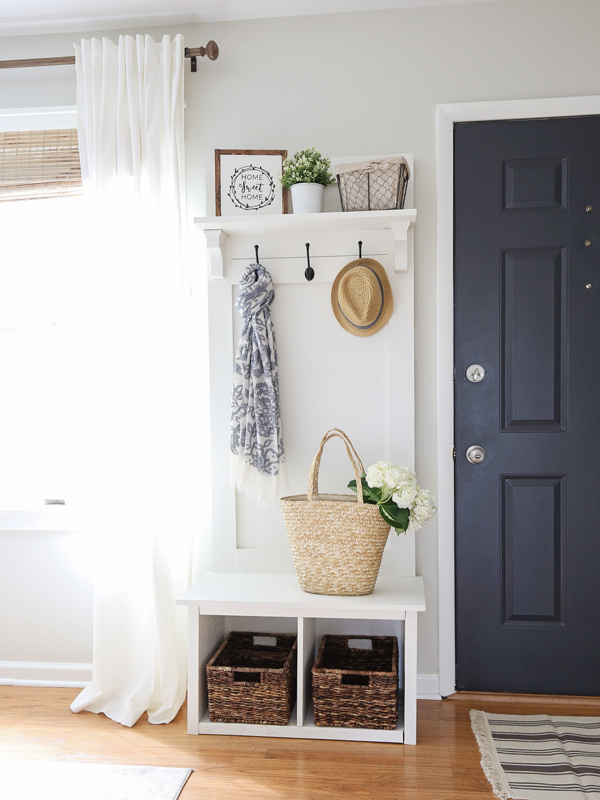 To help provide a better sense of the space and my modern rustic living room makeover, I created a video tour! This is my first video where I'm talking so ignore my awkwardness as well as my new video editing skills haha! Hopefully, I will get better at these things 🙂 And don't forget to subscribe at the end to my new YouTube channel!
Well I hope you enjoyed my modern rustic living room makeover reveal!! I'd love to hear what your favorite part of the room makeover was?! Later this week I'll be revealing what our next room makeover will be! Follow along on Instagram and Facebook for my latest projects, fun updates, and sneak peeks!
LIVING ROOM MAKEOVER SOURCES

PRODUCT SOURCE LIST:
White Pitcher – Michael's last year
Curtains – IKEA Ritva
Couch – IKEA Ektorp in Lofallet beige
Baskets and Basket Market Tote – Michael's
Blankets – Target, IKEA, and TJ Max
Front Door Mat – IKEA
Pillows:

Blue Pillow – Pottery Barn, years ago
DIY PROJECT LIST:
DIY Wood Floating Shelf – Tutorial Coming Soon!
Replaced Floor Trim
DIY Abstract Painting Prints – My Etsy shop: Brush Strokes Abstract Print & Watercolor Abstract Print
Wood Home Sweet Home Sign (on hall tree)
Paint Colors Used:

Shiplap Paint – Benjamin Moore White Dove in Eggshell
Wall Paint – Halo by Benjamin Moore in Eggshell
Interior Door & Stair Railing Paint – Black Panther by Benjamin Moore in Semi-Gloss
Exterior Door Paint – Tricorn Black by Sherwin Williams
Floor Trim and Window Trim Paint – Simply White by Benjamin Moore in Semi-Gloss
Sharing is caring!