This past weekend, Brandon, Chance, and I went to visit one of my besties and her husband and pup in their new house. Instead of bringing the traditional bottle of wine gift, I wanted to create a rustic and cozy housewarming gift basket for them that was cute and practical! I thought it turned out really adorable! This idea could also be used as a hostess gift in addition to a housewarming gift!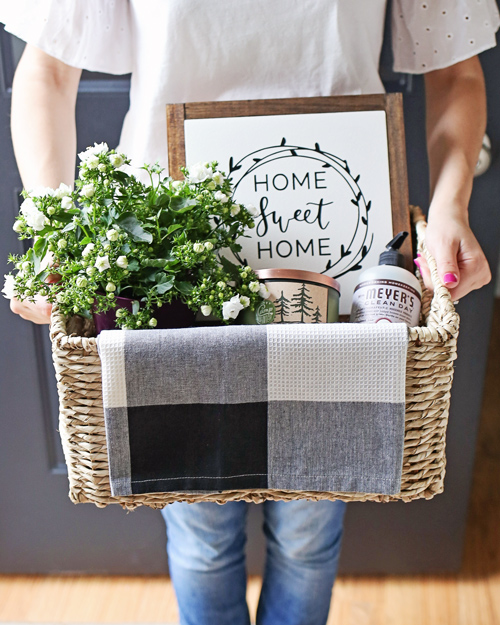 Note, this post contains affiliate links for convenience.
I think the key to any cohesive looking gift basket is to have a theme. The theme for my housewarming gift basket was cozy and rustic. This adorable, buffalo check, dish towel from Crate and Barrel was one of the first items I found and set the mood for the rest of the gift basket. I think it's pretty much the cutest kitchen towel I've ever seen too, and I even bought a second one for myself 🙂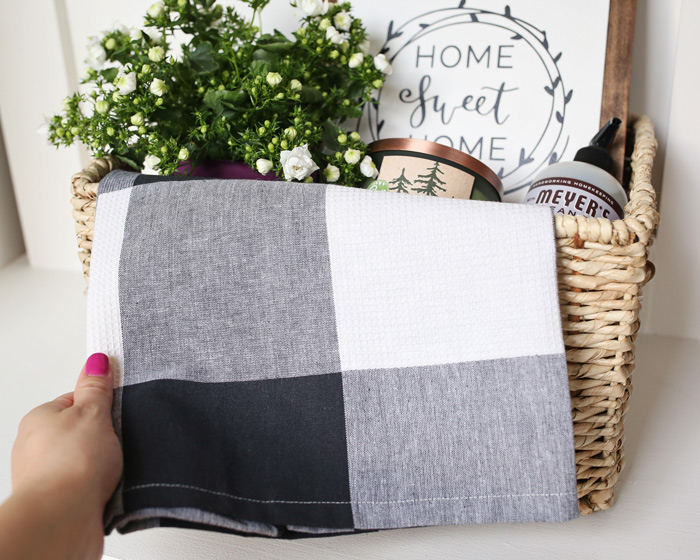 Another great item to include in a housewarming gift basket is a plant (greenery) or flowers. Originally, I wanted to include a basil plant, but I couldn't find any this time of year, so I used this little, white flower plant from Trader Joe's instead which complimented the white and black dish towel perfectly. Trader Joe's has a really nice selection of small plants and flowers for gift baskets!
I also included my favorite Mrs. Meyer's Dish soap and the loveliest, Fresh Balsam scented candle from Bath and Body Works. Finally, I added a DIY wood sign that I made using a modified version of this tutorial with my Home Sweet Home printable, available in the shop. But, you could also just add a printable in a wood picture frame (similar here) to keep things more simple!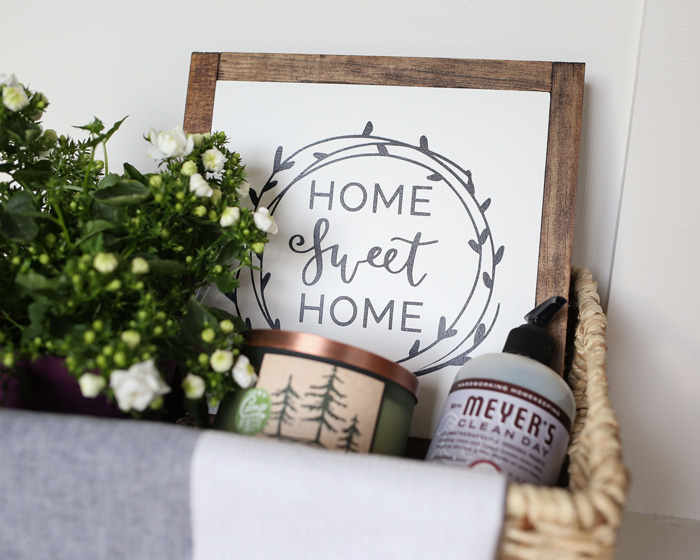 To put the housewarming gift basket together and make it look more full, I scrunched up brown kraft paper and made sure it took up at least half of the basket space.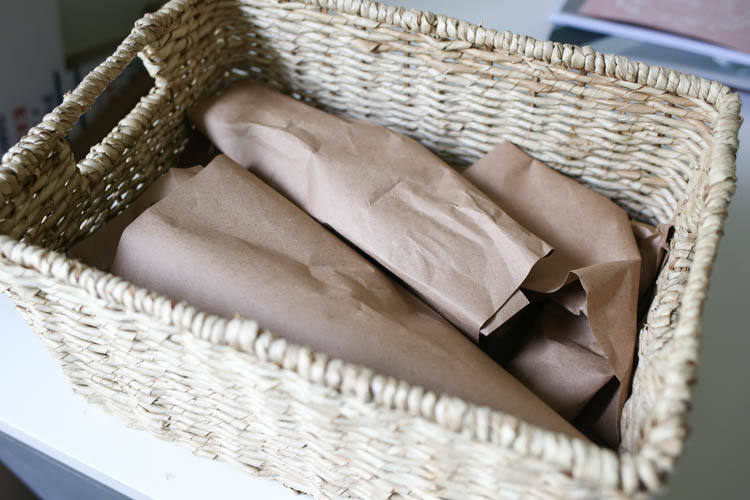 Then, I covered the kraft paper with 2 bags of shredded kraft paper I found at the Dollar Store. This provided a snug base for all of my rustic housewarming gift basket items to sit on top of and not move around.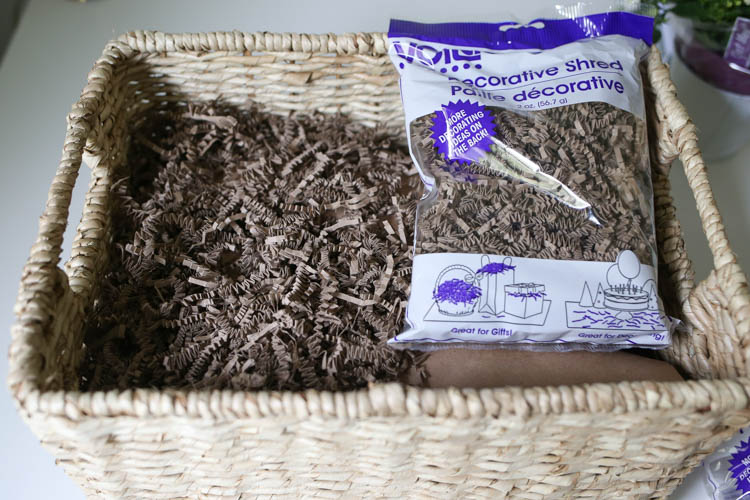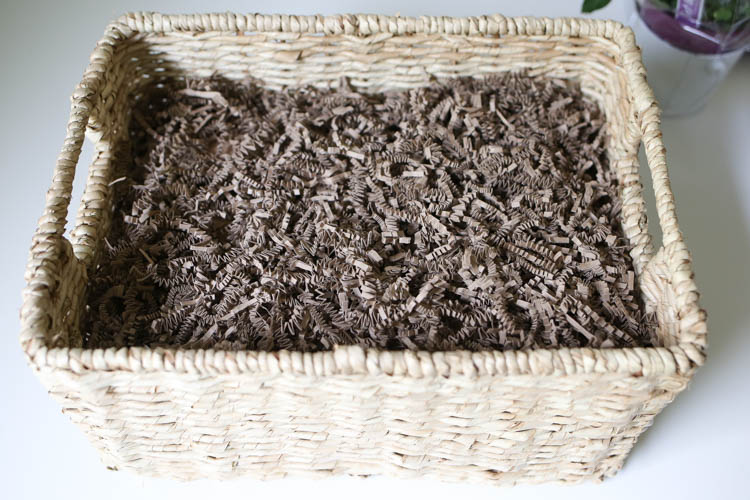 What do you think of this rustic and cozy housewarming gift basket? Do you have any items you love to give for housewarming gifts?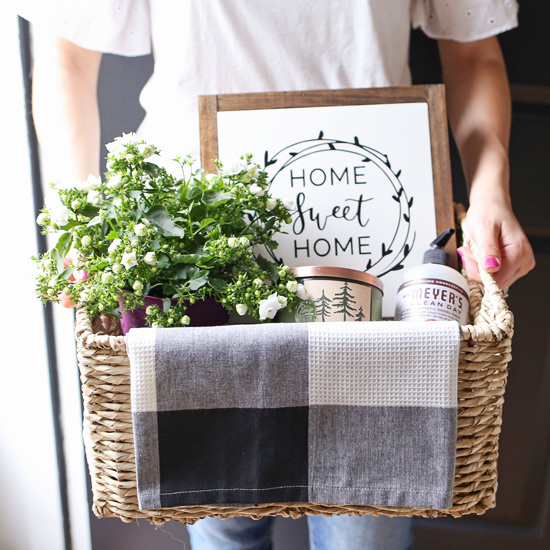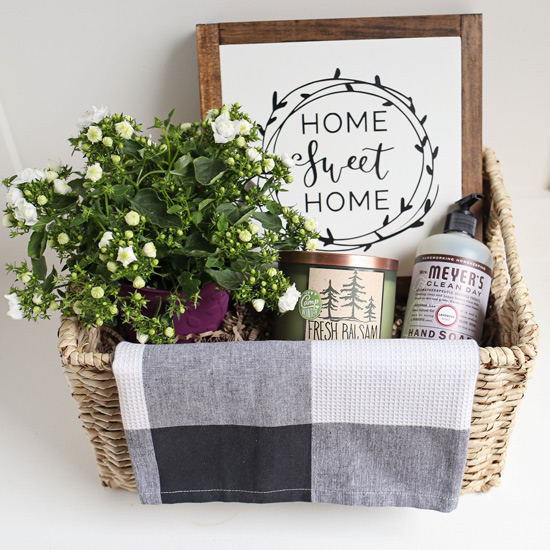 Housewarming Gift Basket Sources:

Follow along on Instagram, Facebook and Pinterest for my latest projects, fun updates, and sneak peeks!
Save
Save
Save
Save
Save
Save
Save
Save
Save
Save
Save
Save
Save