Learn about different garage wall paint color ideas, top favorite paint colors, paint types, and how to pick the best color for your garage walls and features!
We have been working on fixing up our garage and painting the bare, unfinished drywall was one of the first steps to moving forward!
The biggest decision for painting the garage was what the best garage wall paint color would be! We ended up picking a white paint color, I'll share the exact one and why below!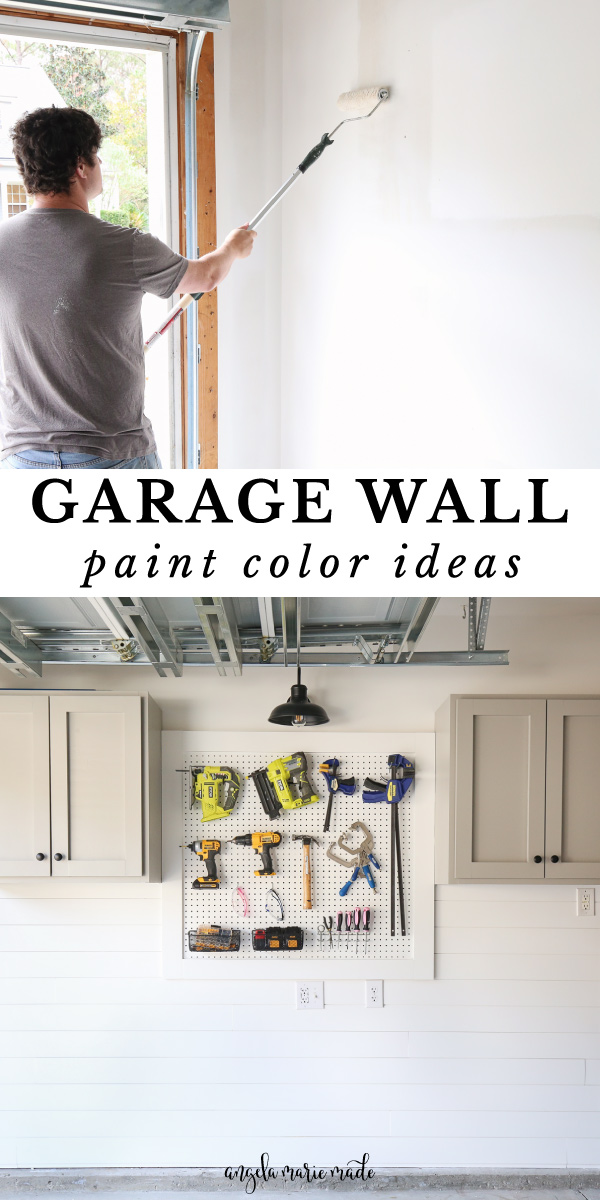 Here is where we started with our unfinished drywall in our garage: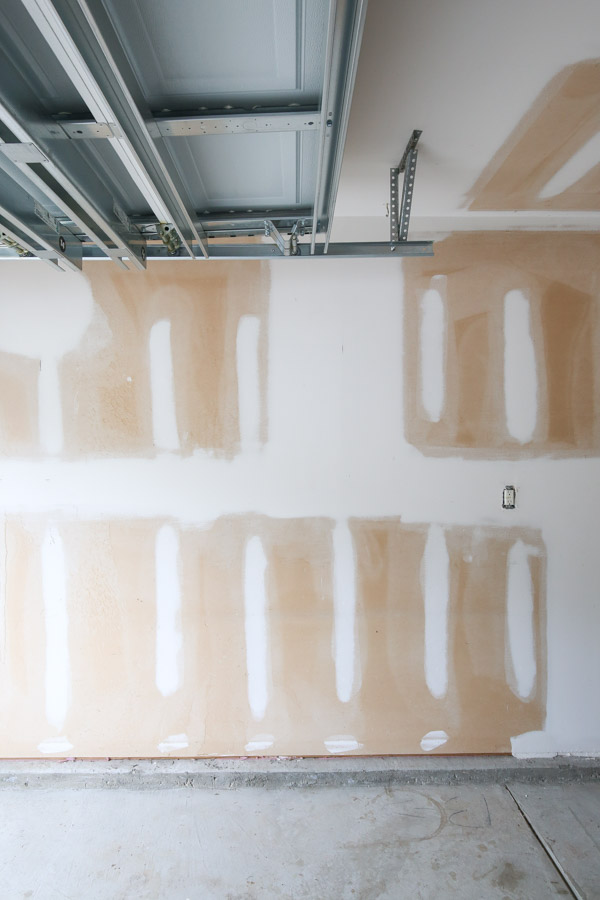 White, Light Gray, and Neutral Paint Colors
When it comes to such a large space like a garage interior, a white, gray or neutral paint color that is a lighter color is a safe idea. It provides a calm backdrop for all of the different items stored in a garage or on a garage wall.
Further, light colors, whites, and neutral colors help to reflect more light, making a typically darker space like a garage brighter.
Also, if you are considering selling your home in the future, a white or neutral paint color on garage walls can be more desirable to potential buyers. It's one less space they have to worry about painting over!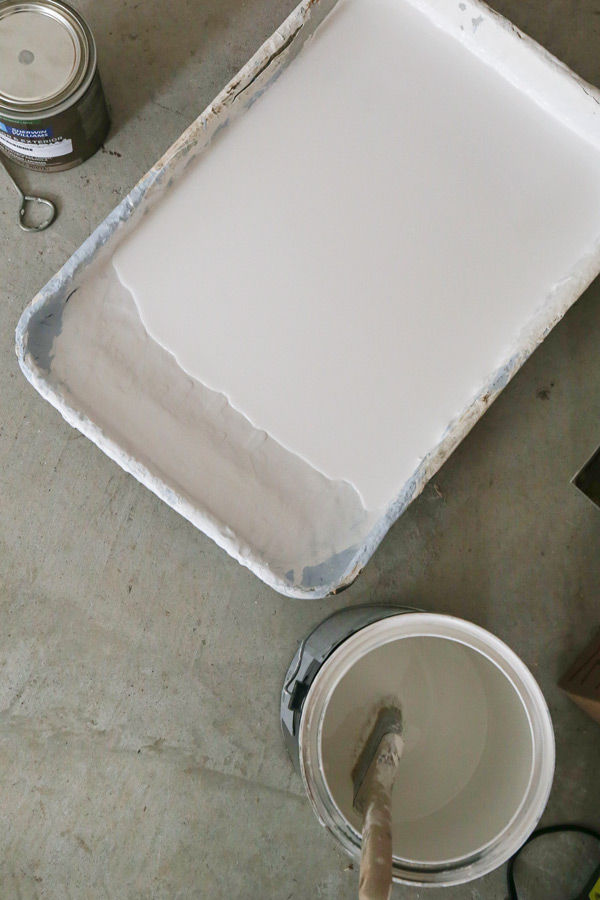 Bold or Dark Paint Colors
If you want to add some interest to your garage paint color with bold colors or dark colors, consider adding it on different garage features, such as a door, trim, garage cabinets, shelving, or some other feature like a brick or concrete foundation.
The mix of light and darker colors is a great color scheme.
We used a dark gray, Dorian Gray by Sherwin Williams, on our DIY garage cabinets, which looks great against our white garage walls.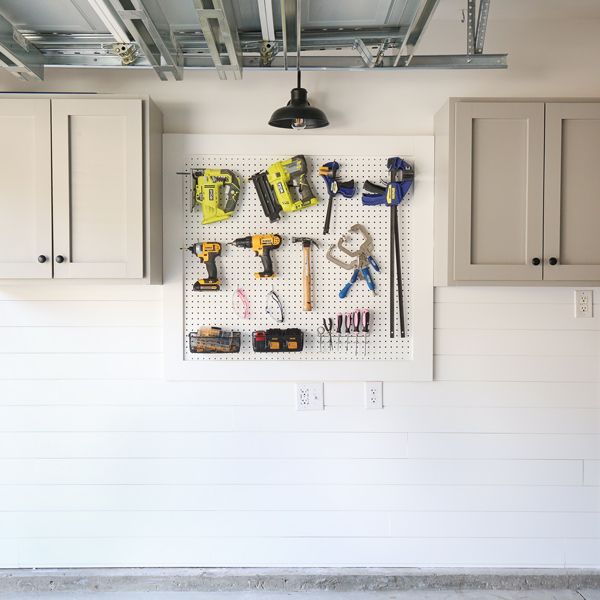 Here is how a black door looks against white siding. The door is painted Tricorn Black by Sherwin Williams with white siding painted Alabaster by Sherwin Williams.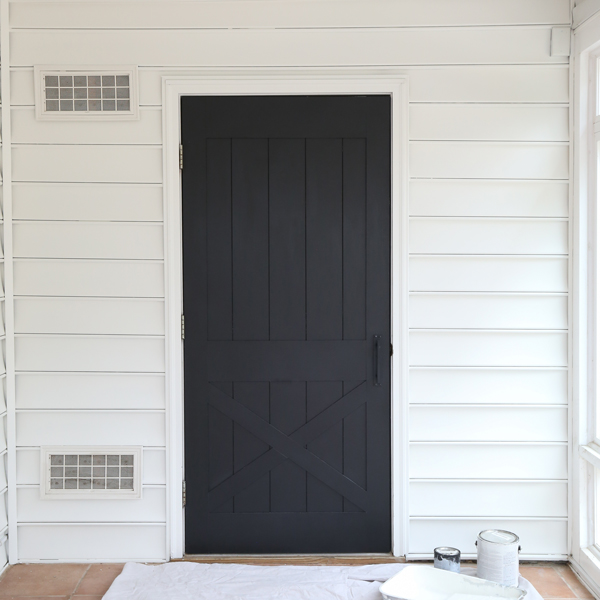 I love how this organized garage by Bigger Than the Three of Us uses a light and dark paint combo with white walls and Cracked Pepper by Behr on the trim, cabinets, and pegboard: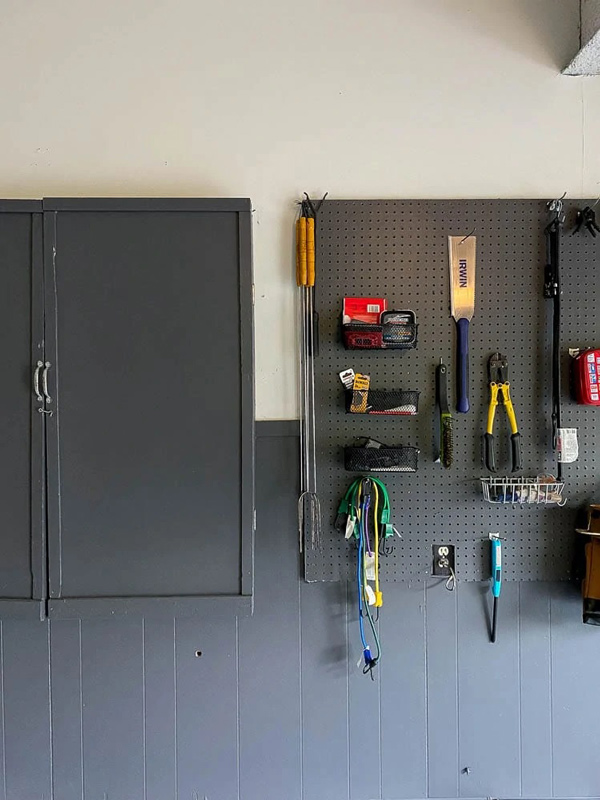 And if you want to try something even bolder, consider a dark paint color accent wall or bold color accent wall on just one of your garage walls.
I love our black accent wall where I used Black Panther by Benjamin Moore: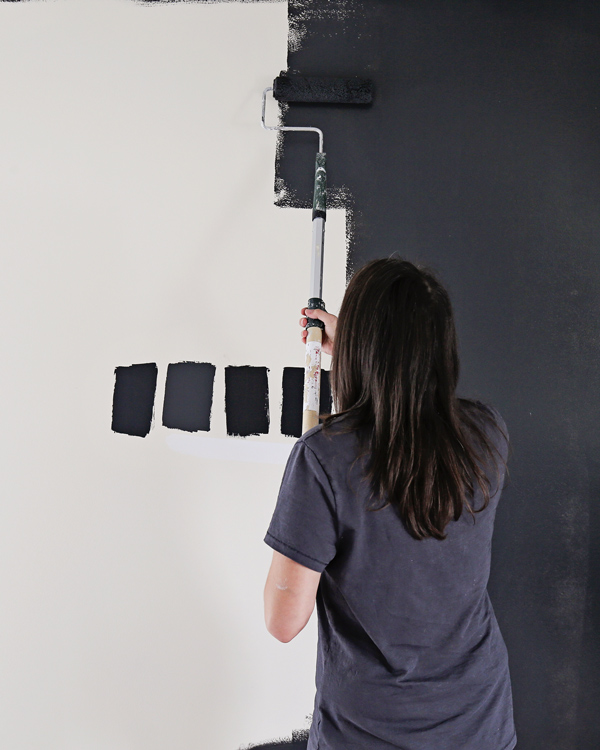 If you want to paint all of your garage walls a dark paint color or to create a man cave (or woman cave) vibe, go for it!
You can always paint over it if you don't like it. That's the best part about paint, it's easy and inexpensive to change!
5 White Paint Color Ideas
Here are 5 favorite white garage paint color ideas based on my favorite paint colors, as well well known popular paint colors.
White Dove by Benjamin Moore
Simply White by Benjamin Moore
Alabaster by Sherwin Williams
Swiss Coffee by Benjamin Moore
Pure White by Sherwin Williams
7 Grey Paint Color Ideas
Here are 7 favorite gray garage paint color ideas based on my favorite paint colors, as well well known popular paint colors.
Edgecomb Gray by Benjamin Moore
Revere Pewter by Benjamin Moore
Agreeable Gray by Sherwin Williams
Repose Gray by Sherwin Williams
Dolphin Fin by Behr
Classic Gray by Benjamin Moore
Mindful Gray by Sherwin Williams
How to Pick A Garage Wall Paint Color
Picking a garage wall paint color is very similar to how to pick a paint color for any other room in the rest of your home. Here is a summary to help you pick the right paint colors:
Find paint color ideas and inspiration (the paint color ideas above and Pinterest are helpful)
Narrow down the paint color ideas and get paint samples
Test out the paint samples on your own garage wall and on different walls in the garage (since the lighting on each wall can change the look of a paint color)
Look at the samples in different types of lighting (with artificial light, morning light, day light, etc)
Consider the garage floor color, accent color features, garage cabinetry color, etc. against the garage wall paint color options
Once you have narrowed it down to two paint color ideas, paint larger samples
Pick the best option for your garage wall paint color!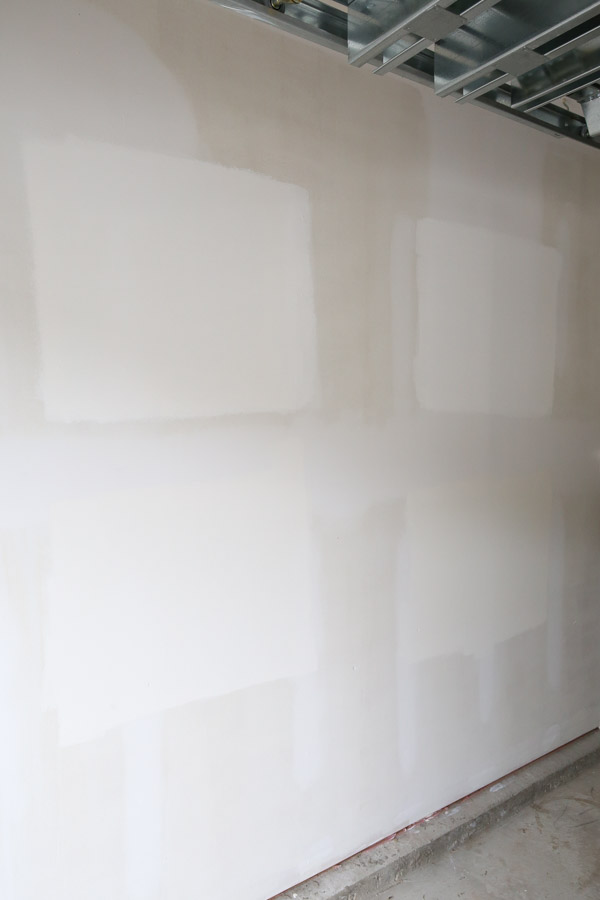 Garage Wall Paint Finishes
If you want your garage wall to be easy to clean and wipeable, a paint finish with more of a sheen to it is best to use. I would recommend eggshell or satin. Satin finishes will be a little more shiny and wipeable than eggshell.
Also, eggshell and satin both reflect more light than flat or matte finishes.
The Garage Paint Color and Finish We Chose
After considering my favorite paint colors from past projects and the above steps for picking a paint color, I chose Pure White by Sherwin Williams in eggshell.
I love white walls for a garage. And after narrowing down the two colors to Alabaster and Pure White by Sherwin Williams, I thought Pure White was a better choice since it was a little bit fresher with a tad less yellow. And it wasn't an overly bright white, it was just right.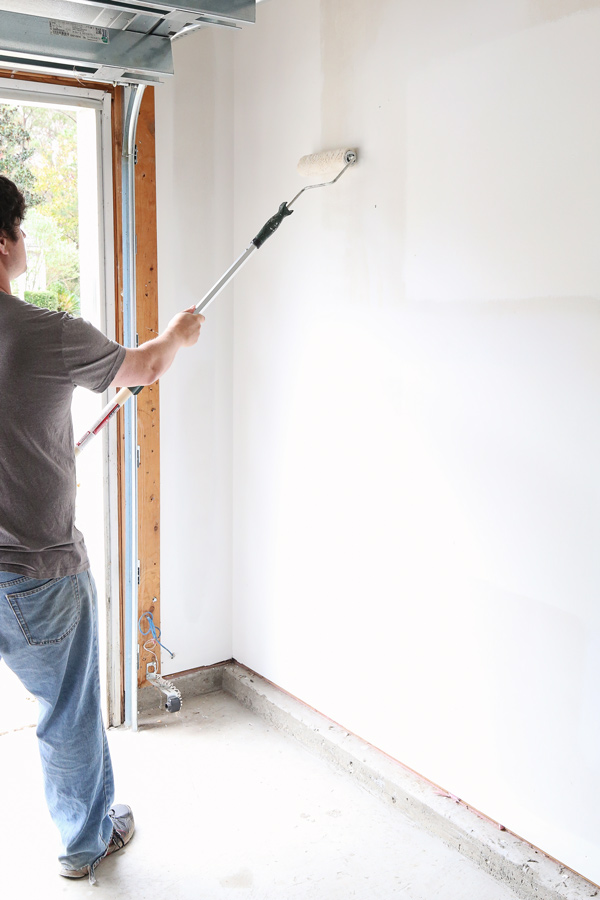 I love how it looks on our garage wall as well as our DIY pegboard wall and shiplap wall we added. It's beautiful next to our darker gray garage cabinets too!
It's the perfect color combinations for us! And the same color white looks great on each of the different garage wall elements, making them look cohesive.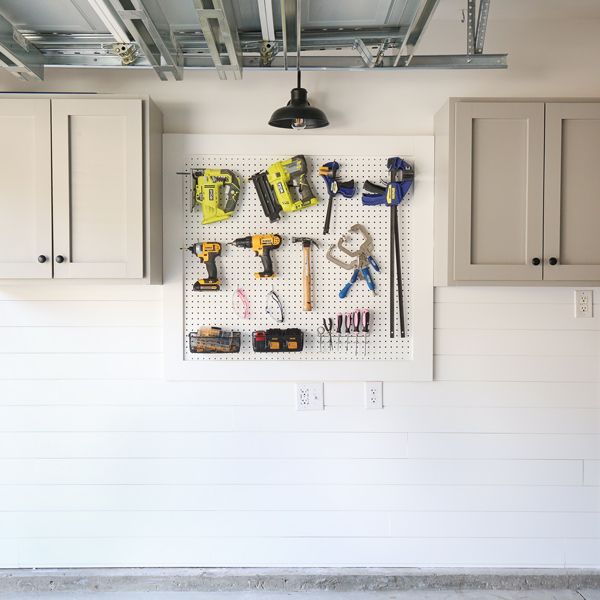 We've only painted one side of the garage so far, since we are working on making over the garage in sections. But, I can't wait to paint the rest of the walls with our fresh new white paint color!
Note, this post contains some affiliate links. For more info see my disclosures here.
One last tip, before you paint your garage wall, if it's bare, unpainted drywall like ours was, make sure to prime first! We used this primer on our wall and ceiling and it works great!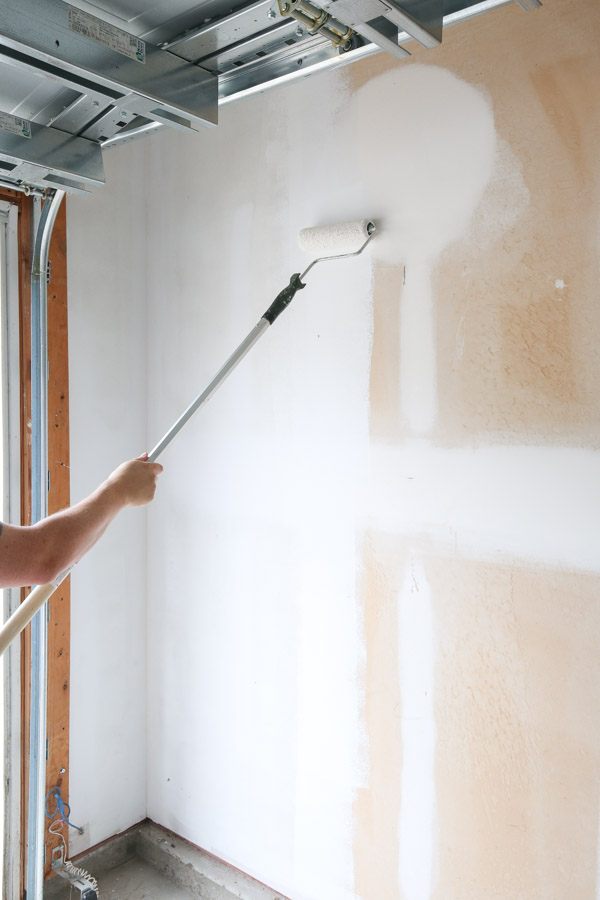 Type of Paint
Some people like to use oil-based paint for garage walls due to its durability, but water based is still very durable (especially higher quality paint), easy to change, and doesn't have a strong odor like oil-based.
We always use water-based paints and try to use VOC (volatile organic compounds) free whenever possible!
Finally, we used an interior latex paint, but consider using exterior paint if you think your garage is more subject to moisture exposure.
Frequently Asked Questions
What color is best for garage walls?
Typically for most garages, a white or lighter gray or neutral paint color is best for garage walls. Pure White by Sherwin Williams and White Dove by Benjamin Moore are two great white paint color options.
Should garage walls be painted flat or satin?
Garage walls should be painted satin if you want them to be easy to clean, wipeable, and reflect more light. Flat paint is more difficult to clean and is best for low traffic spaces.
Is it good to paint garage walls?
Yes it is good to paint garage walls to help protect the drywall, make them easier to clean, and it looks nice too!
***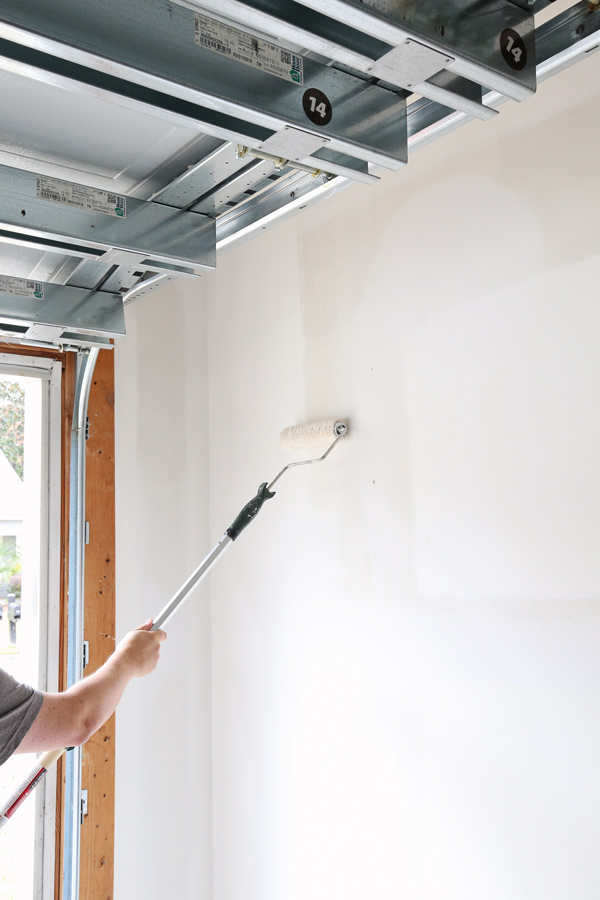 Paint colors are personal preferences. No matter what paint color you choose for your garage wall, as long as love the the color, that is the most important part and the best choice!
I hope these garage wall paint color ideas and round up of best paint colors was helpful and you can pick the perfect paint color for the interior of your garage! A fresh coat of paint in a garage makes a huge difference and is definitely a good idea!
We will be making over the rest of our garage soon, so make sure to follow along! Follow on Instagram, YouTube, and Facebook!