I am beyond excited to share our DIY bedroom makeover reveal today and all of the DIY projects we completed for this space!
Let's start off with a before and after photo of our master bedroom.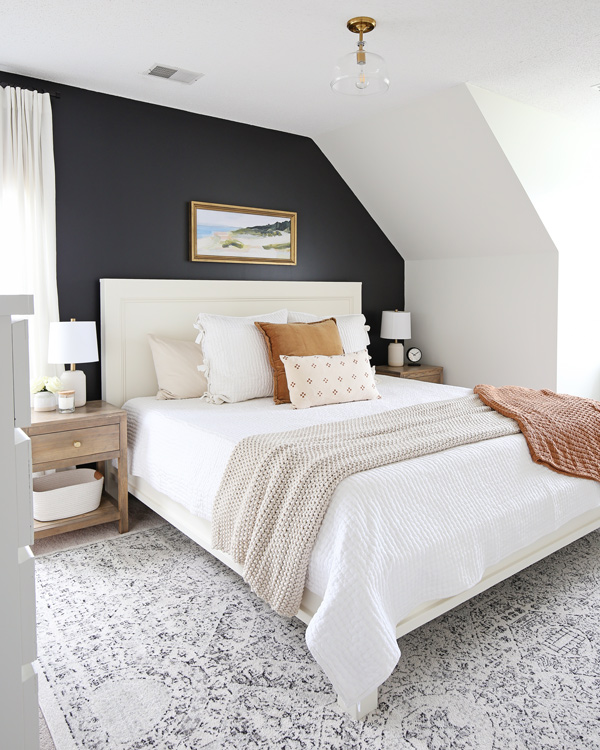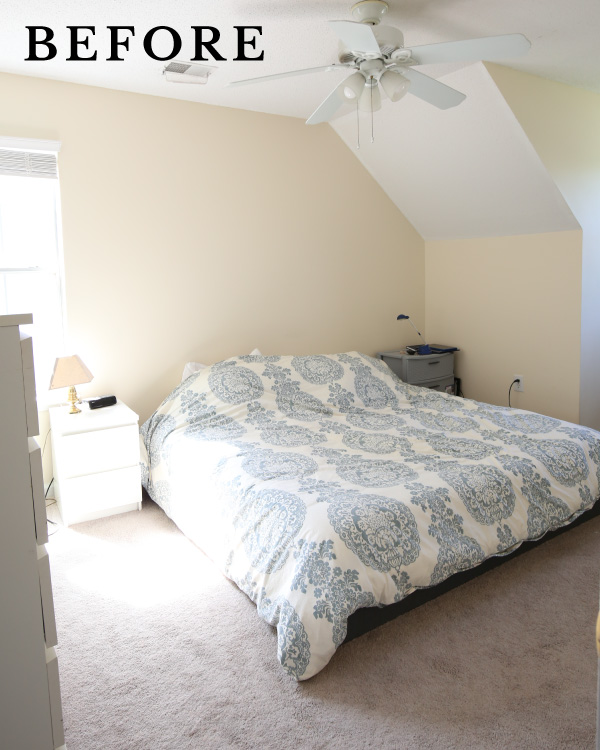 Our bedroom was the room that I was always most embarrassed about in our home. I always wanted to close the door to this room when showing guests our home for the first time haha!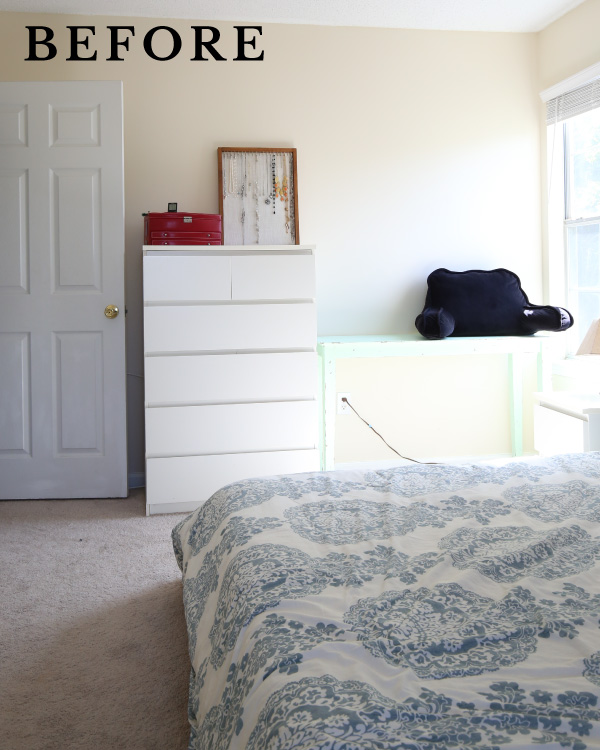 It was a hodgepodge of furniture and decor for several years, with my IKEA furniture from college, plastic drawers for Brandon's nightstand, no sense of style, lots of clutter, and nothing hanging on the walls.
It's the room makeover that always got pushed aside for another project for years.
We even bought a king mattress 2 years ago and never bought a bed frame for it because I had intended on making a pretty DIY bed frame right after we got it. But two years later and we still had our new mattress and box spring on the floor!
When we moved in the paint color was a dingy, yellow beige color that I couldn't stand and the ceiling was covered in popcorn ceiling.
The Bedroom Makeover Plan
I wanted a sophisticated, classic, and modern style for our bedroom, mixed with cozy and rustic vibes.
I knew I wanted to add some drama with a black accent wall, balanced with fresh white painted walls and trim on other other three walls. I also wanted to incorporate touches of brass and wood elements mixed with lots of cozy textures through the furniture and decor.
***
Before I get started, I do want to mention that I have a full product and project source list at the bottom of this post!
Also, you can see the entire bedroom makeover process and transformation in much more detail in my bedroom makeover VIDEO! The video really shows off the before and afters better than the photos too!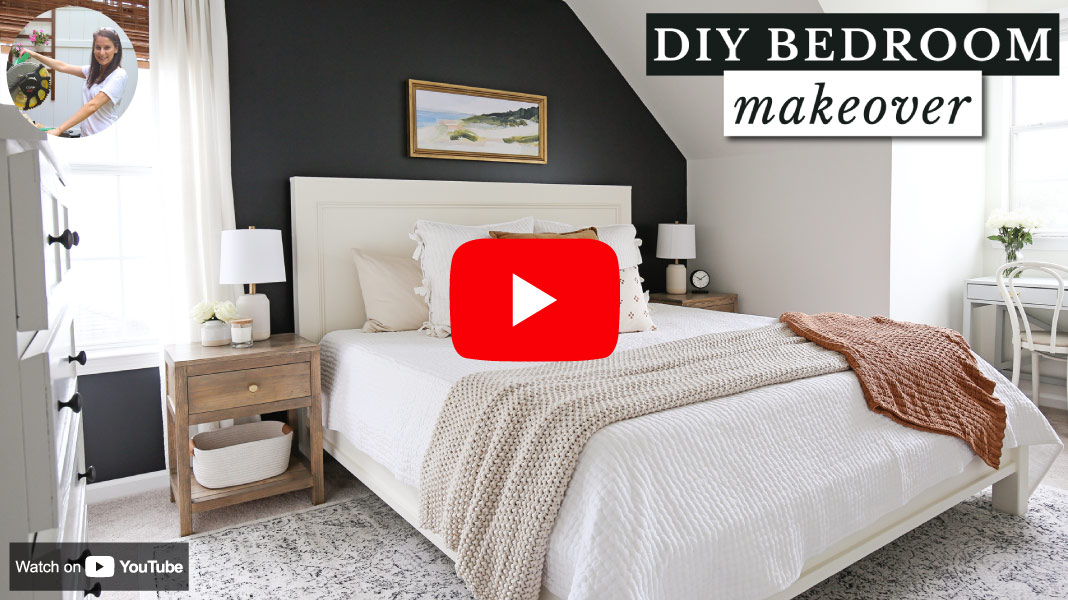 Subscribe to my YouTube Channel here!
DIY Project #1: Remove popcorn ceiling and paint the walls, doors, and trim
First, we started off by removing the ugly popcorn ceiling on the angled walls. I can't stand popcorn ceiling and if you saw our kitchen makeover then you know we've removed entire ceilings of this stuff in our home.
To save time though, we just did the angled ceilings where it's the most noticeable and painted them the same color as the white walls.
For three of our four walls we painted over the dingy yellow paint with a fresh white paint, white dove by Benjamin Moore in eggshell. For the doors and trim we went with simply white by Benjamin Moore in semi gloss.
The fresh paint made a huge difference!
Note, this post contains some affiliate links. For more info see my disclosures here.
DIY Project #2: Paint a black accent wall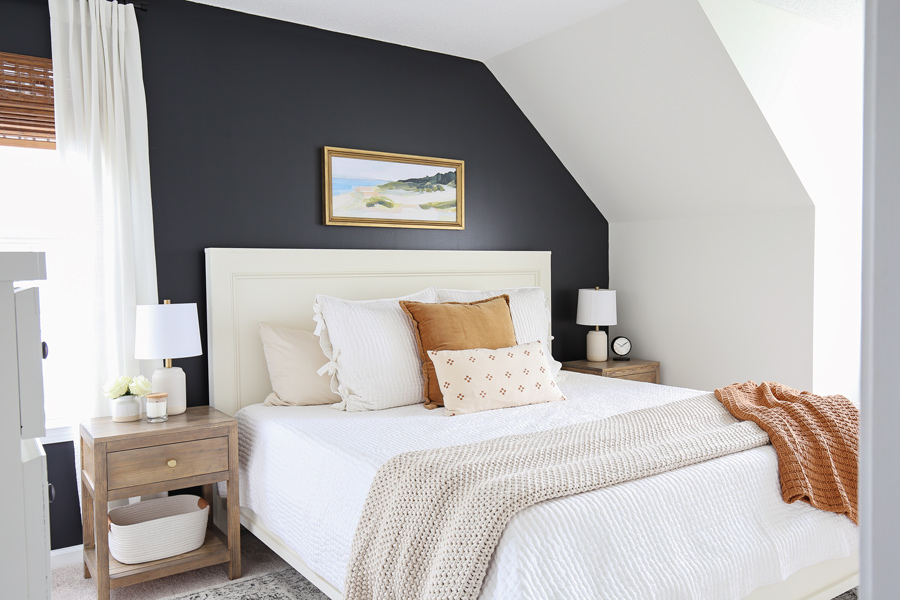 For our main bedroom wall, I knew I wanted to create an accent wall. The angled ceilings were a challenge if I wanted to do some sort of trim or shiplap. But, I realized doing a dramatic color would enhance the angles and be a more simple project.
I've always wanted to do a black painted accent wall, so this was the perfect wall for it and I knew it would make things cozy too!
When I told people about my black wall, the response was "why black?" Well if done with the right decor, it adds drama, a modern touch, coziness, and looks amazing with white, brass, and wood, all of the elements I love!
I loveeee how it turned out!
I tested out 4 different black paint colors and decided on black panther in eggshell by Benjamin Moore. It's the perfect, soft, charcoal black!
Also, for step by step details on how to paint an accent wall and all of the painting materials needed, see our DIY painted accent wall tutorial!
DIY Project #3: IKEA dresser hack
It wasn't in the budget to buy a new dresser and I didn't want to build one because of all the drawers involved. So, I came up with an IKEA MALM dresser hack for my old IKEA dresser I've had since college.
To make the IKEA dresser more classy looking I added trim, knobs, and fresh paint. You can see the full IKEA dresser hack here!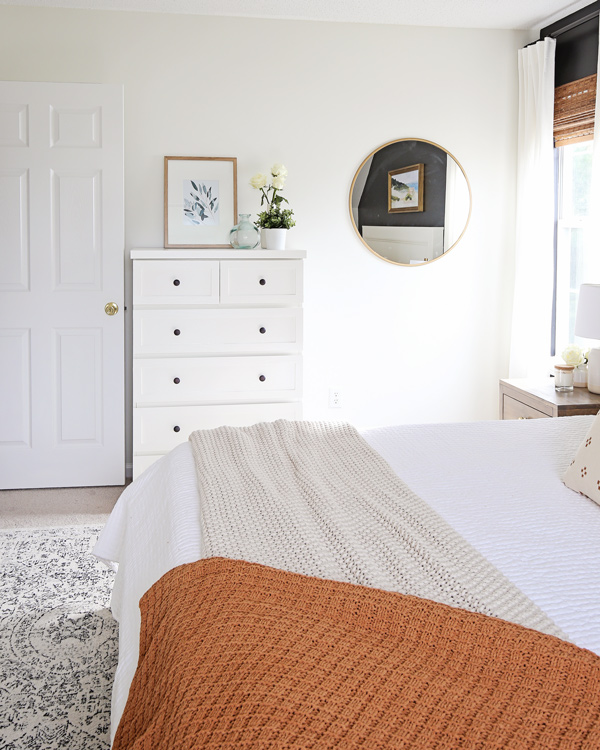 DIY Project #4: DIY Nightstands
For the other main furniture pieces in our bedroom, the nightstands and the bed frame, I knew that I wanted to design them and build them ourselves to save money and get the look and finishes that I wanted.
I didn't want a matchy matchy bedroom set, but rather pieces that complimented each other instead.
I shared the other week our DIY nightstand with drawer tutorial and I absolutely love how they turned out!
We made one using premium 2x2s and one out of 2×2 furring boards which cost less to build.
I spent a lot of time testing out finishes for them, I really wanted a warm gray brown wood tone to compliment the black accent wall. And I splurged on the perfect modern, aged brass knobs to go with them.
They have become one of my favorite DIY build projects! I love that we have matching wood nightstands now.
DIY Project #5: DIY King Bed Frame
After building our DIY nightstands we tackled one of our largest furniture builds ever, a DIY King bed frame.
I will be sharing the step by step tutorial for this bed next week, but we built it for less than $200 out of plywood and framing lumber with some pretty molding.
I painted the bed frame in ivory white by Benjamin Moore to contrast against the charcoal black wall.
Organizing the Bedroom
Before I started decorating the space with my pretty decor, I wanted to declutter items out in the open.
My old red jewelry box and DIY jewelry holder were two of those items. I bought a wall organizer and I hung it on a command hook on our closet wall to organize my jewelry in it so it's out of sight but easy for me to see when I need to.
I also hung my DIY jewelry holder on the closet wall as well which use to be on top of my dresser.
You can see my new organized closet wall set up in the bedroom makeover video!
I also got rid of our old nightstands and console table. I did keep my DIY makeup vanity and changed the placement of it under the window so it flowed better. I added this cute brass vanity mirror on top of it.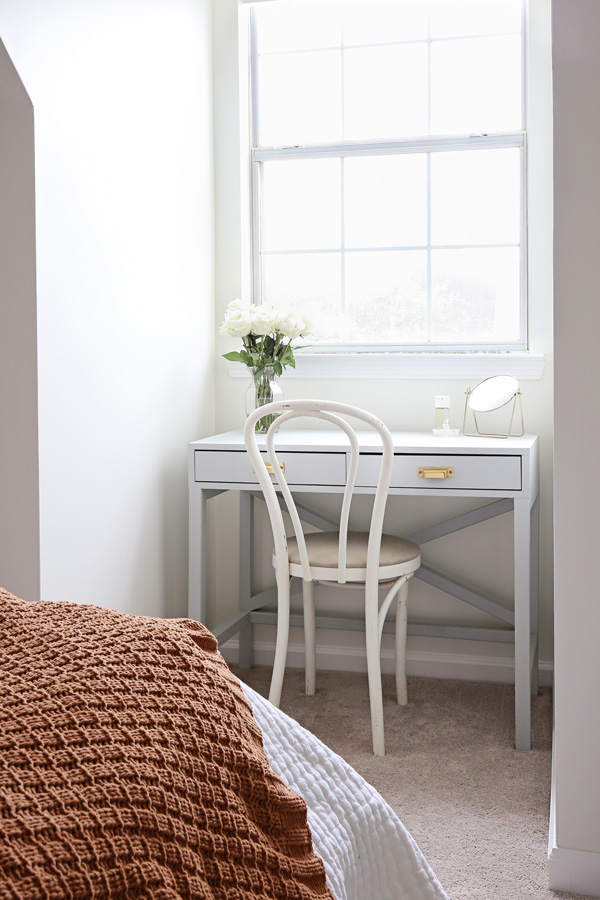 DIY Project #6: New Lighting
Part of opening the space up more and giving it an updated feel was taking down the old, outdated ceiling fan and replacing it with a modern, brass, semi flush mount light with a vintage light bulb.
I didn't want to draw a lot of attention to the popcorn ceiling so I kept the fixture simple but modern.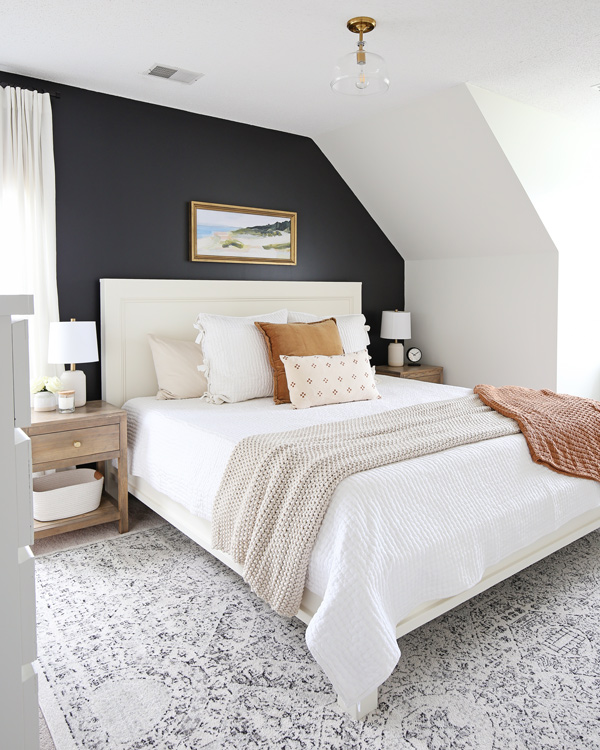 For our nightstands, I added these modern table lamps but I had to use a taller lamp harp on them so the brass rod showed more.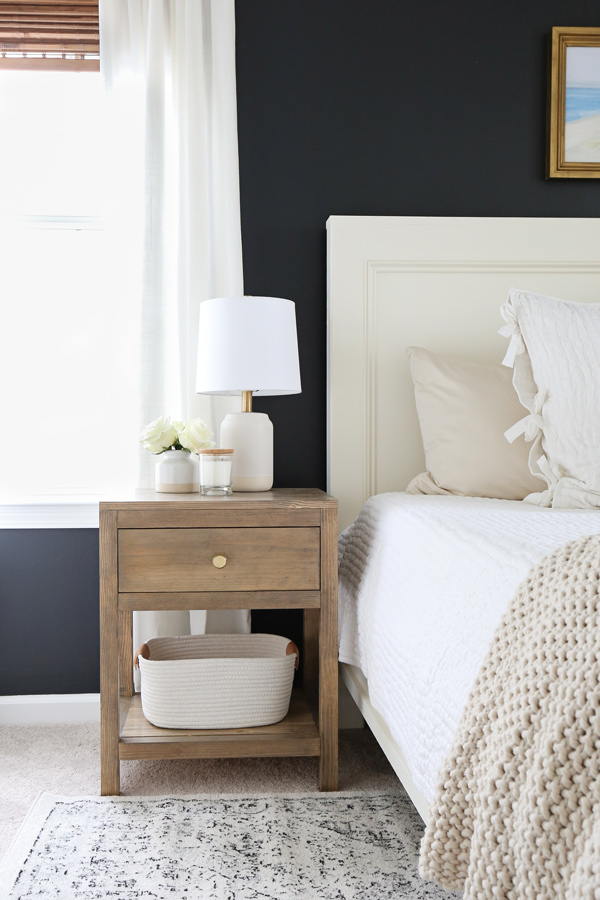 DIY Project #7: Window Treatments
For our window, we took the old blinds down and added bamboo roman shades (also available here) to add more warmth and texture to the space.
For the curtains, I went with the IKEA RIVTA curtains which look like white linen but are really affordable compared to real linen. I hung them from a matte black curtain rod, with these curtain rings and pinch pleat hooks to make them look nicer!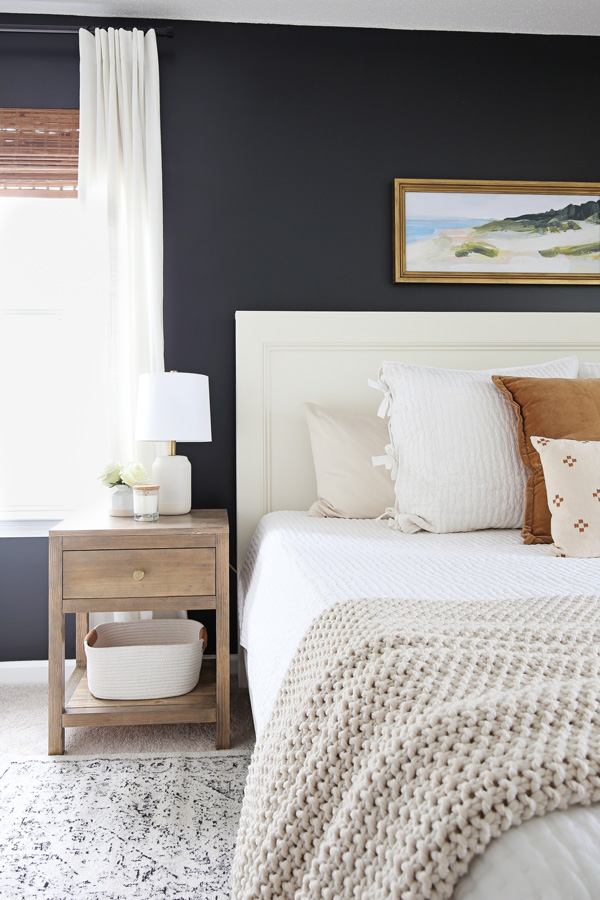 DIY Project #8: Mirrors
I really want the space to feel light and airy with tons of natural light. Mirrors are a great way to do this. I had this round brass mirror in storage from our living room makeover and found the perfect spot for it by the window. Plus the brass finish and round modern shape goes great with the room.
For my old, cheap, full length mirror, another piece I've had since college, I wanted to give it a makeover and make it look like a nicer, more expensive piece of decor to fit in with the room makeover.
I had some scrap 2x4s on hand and thought it would look cool to frame the mirror out with them and paint it all one color. I used Aged Gray chalk paint by Rustoleum.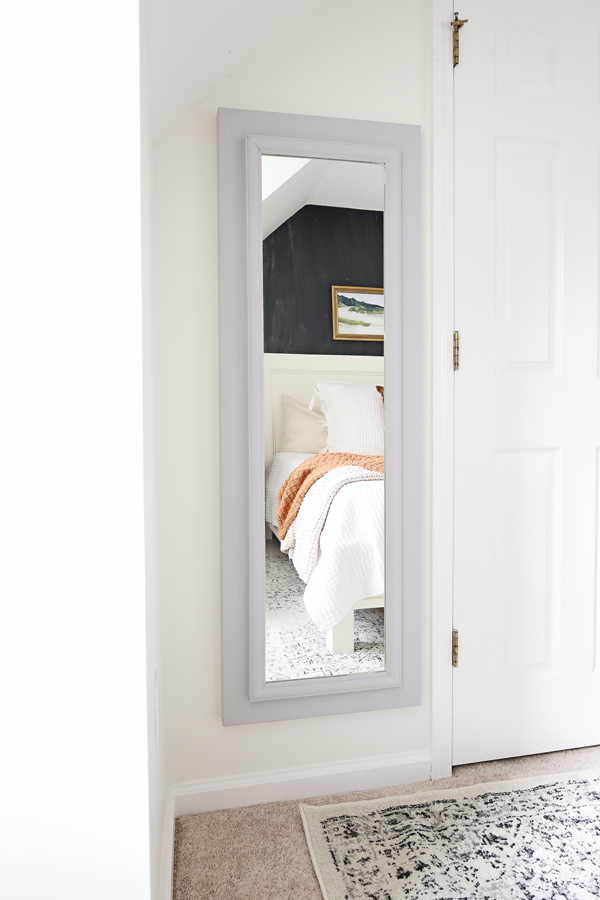 DIY Project #9: DIY Vintage Poster Frame:
Above the bed, I really wanted to do an abstract painting in a long, gold vintage frame but I didn't have time to go thrifting for the perfect frame so I made a vintage looking DIY poster frame instead out of wood. I found the beautiful artwork for the frame at Juniper Print Home.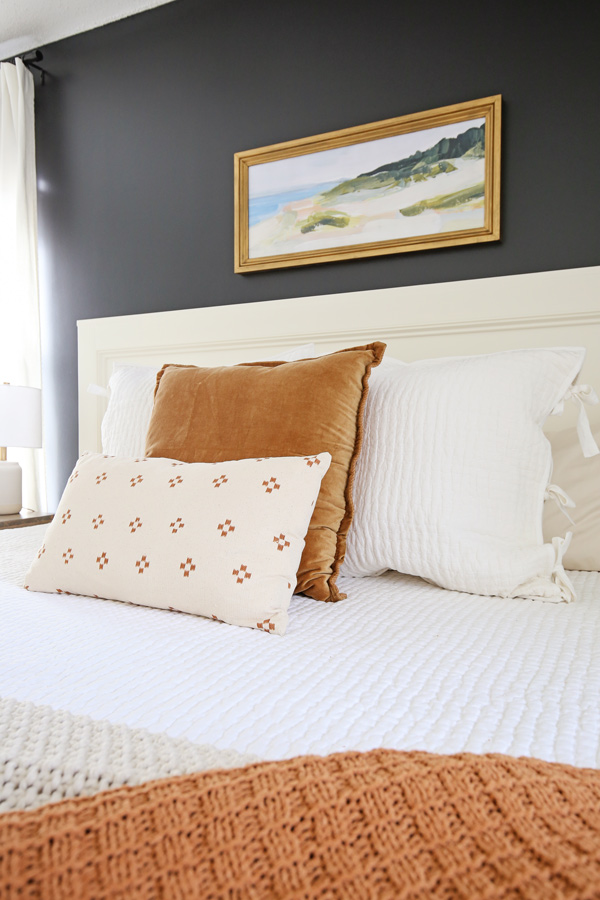 New Bedding
I have to admit that I spent hours searching for the perfect bedding and throw pillows. I wanted pretty bedding, good quality, the right colors, cozy with lots of texture, and affordable.
After ordering lots of options to try I ended up going with a mix of affordable and pricey pieces. But, I love the pieces I ended up going with. Although, I'm still looking for the right duvet cover.
Get 7 quick tips on how to layer bedding here!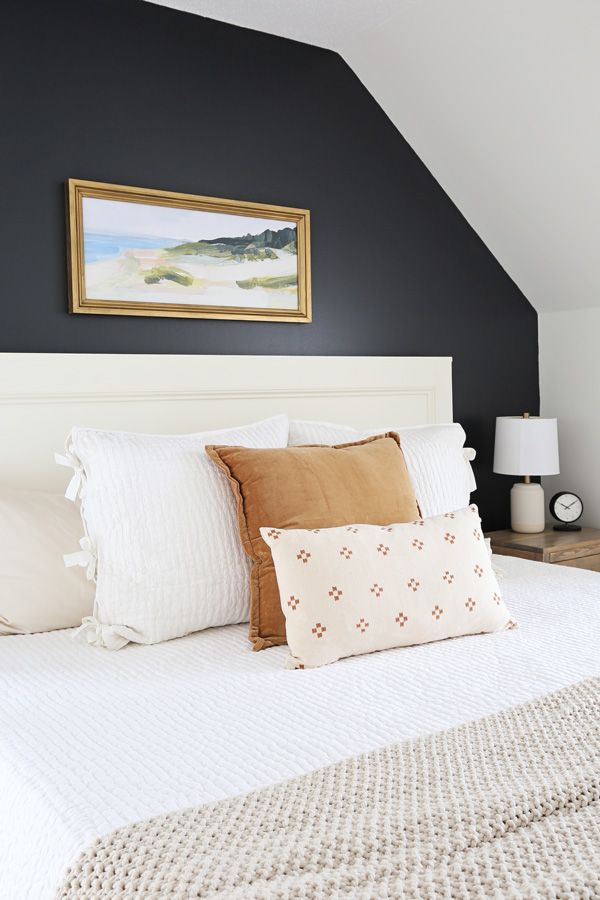 I used a mix of natural/oatmeal colors with whites and browns. For our quilt I already had this pick stitch quilt in white and I bought the matching euro shams to go with it. On top I went with this cozy chunky knit blanket in natural and this brown throw blanket.
For the pillows I used these natural pillowcases to break up all the white, a velvet brown throw pillow and this block print lumbar pillow to match and bring it all together.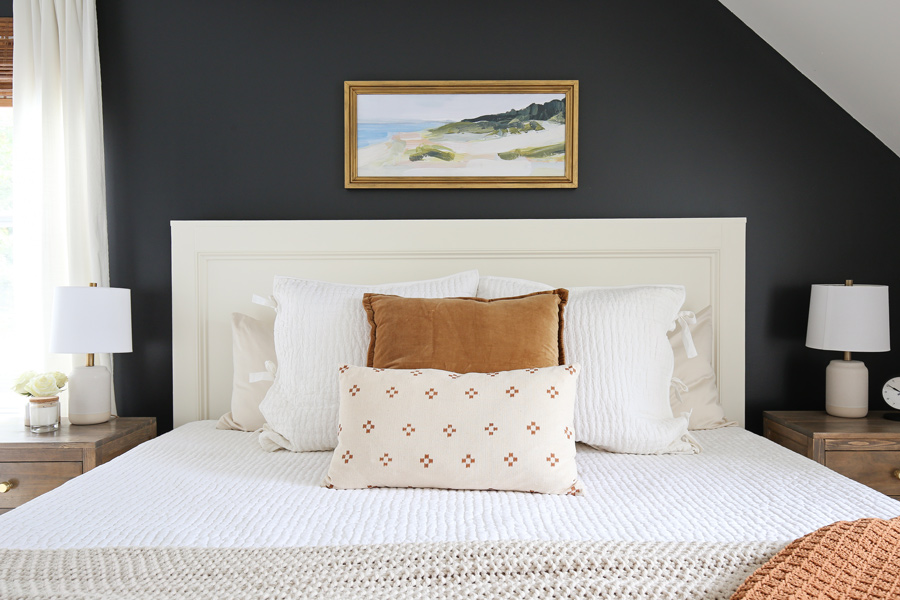 I used mostly neutral colors and cozy textures so that I can have fun with changing out the throw pillows throughout the year with different patterns and colors.
Also, I think the neutral bedding will work well with different art above the bed throughout the year as well! This is one of the easiest ways to mix up layered bedding with the seasons too!
Decorating & a New Rug
We layered a black, grey, and white rug in the 8×10 size over the carpet for a finished pretty look and to make the bedroom more cozy feeling.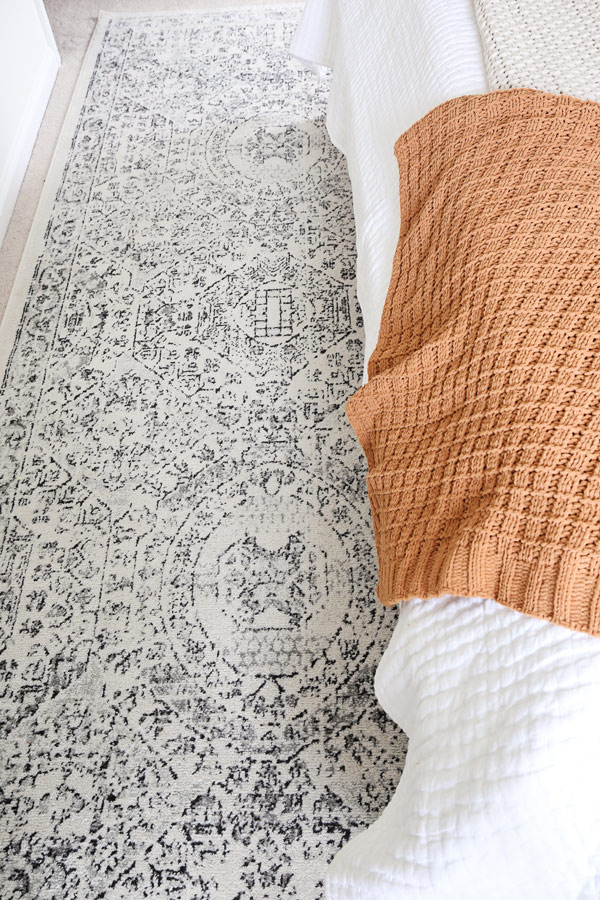 I really wanted to keep the decor minimal and just add pieces that I really love or pieces that are functional yet pretty.
For my dresser, I added a pretty leaf art print I found on Etsy in a natural wood frame. I also added some fresh flowers in my white matte vase.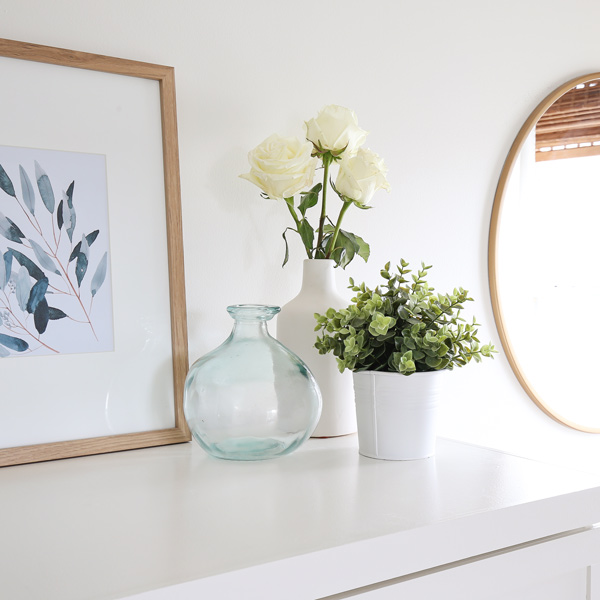 For our nightstands, I kept things really simple with flowers and a candle on my side. And a stylish clock on Brandon's side along with our new lamps and baskets (and this basket) for storage on each of the nightstand shelves.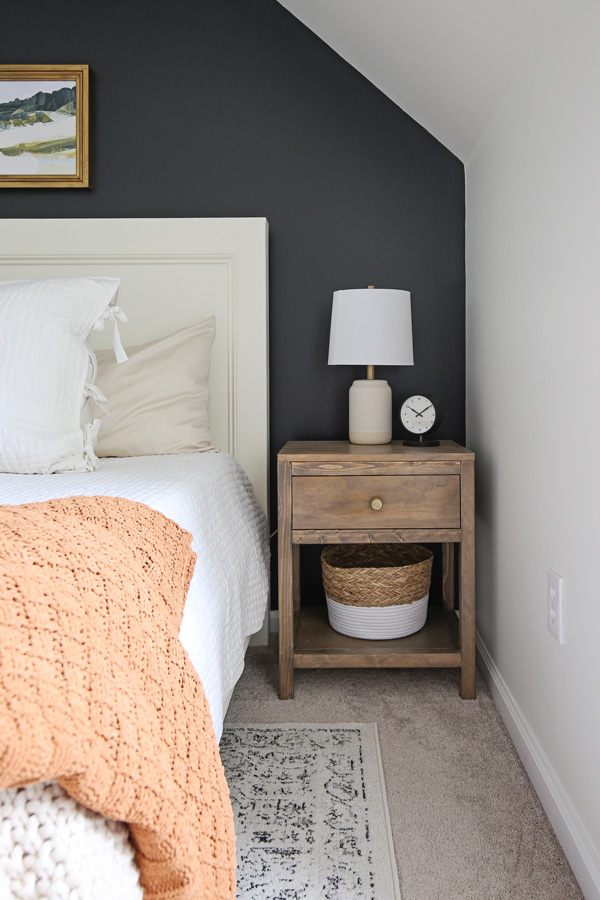 Finally, I used a set of square frames that I had already and added family photos in them to hang on the wall across from our bed. It was the perfect spot for them so we can look at the photos when we're in bed.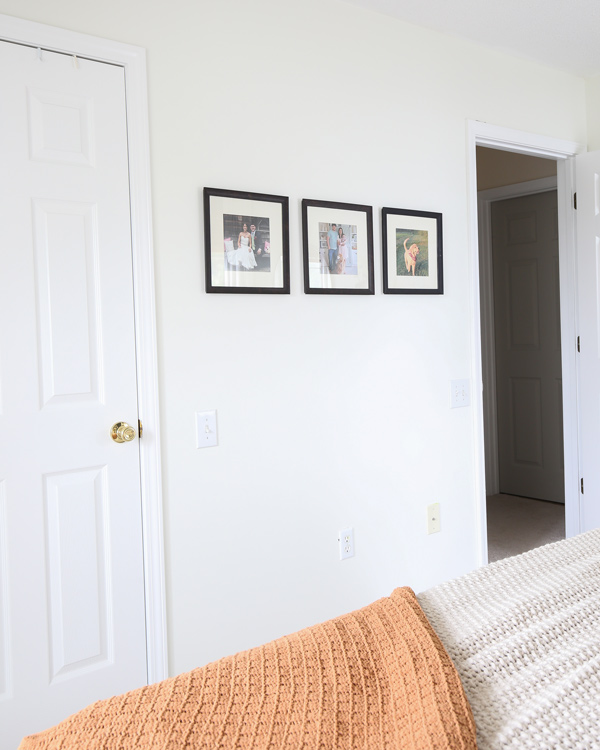 Although this bedroom makeover took more time than I anticipated, I love how it turned out. It's one of my top favorite room makeovers ever, probably #1! It's just so me and we all love hanging out in this space and it's the perfect cozy spot to be in every night!
Let's look at the final before and after photos!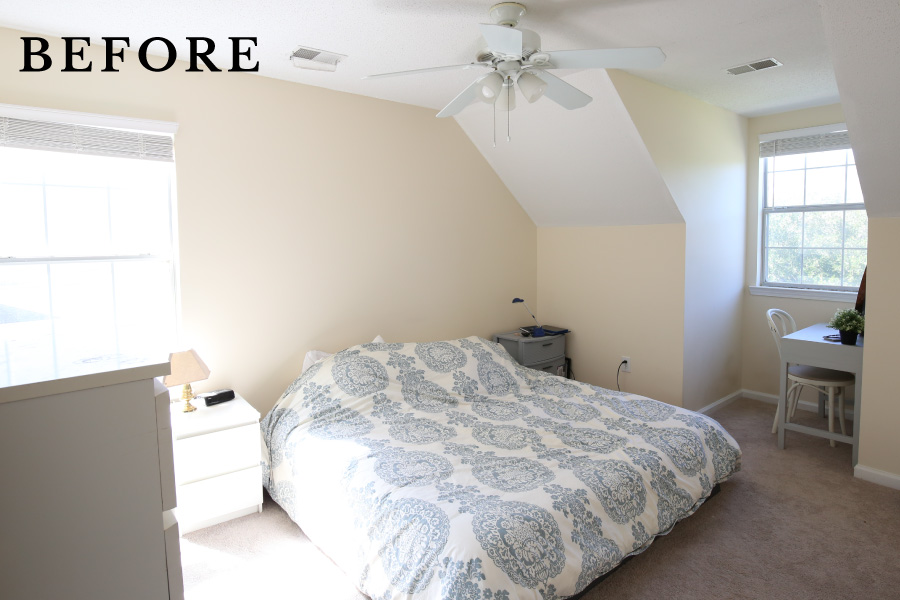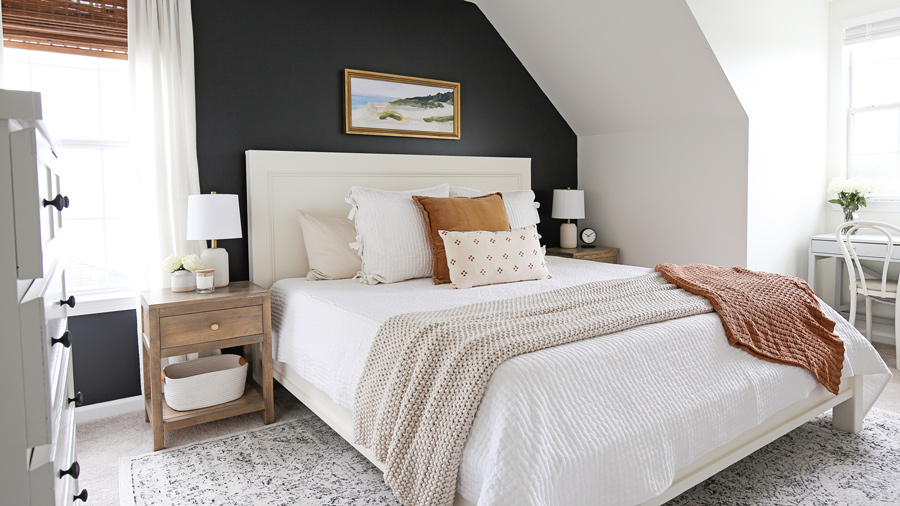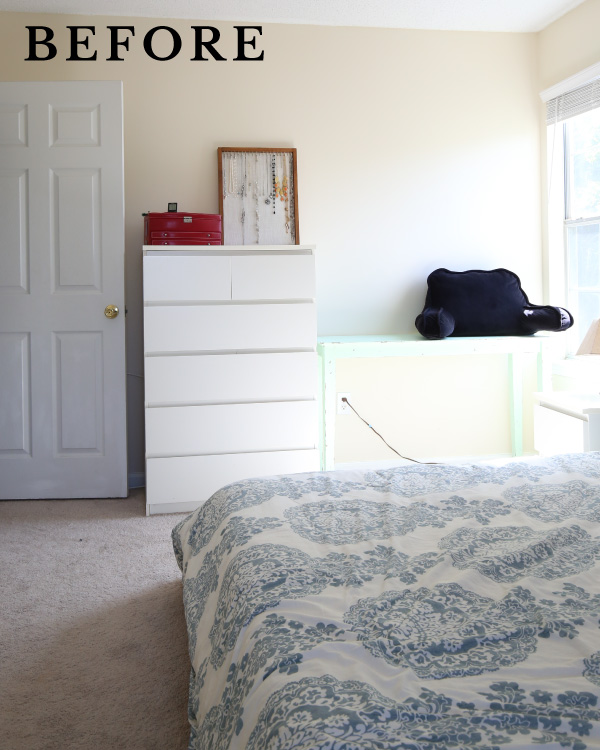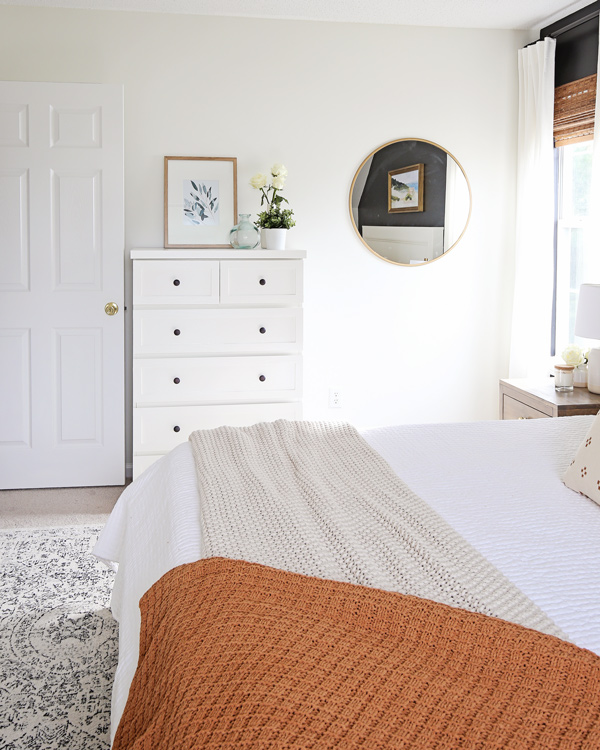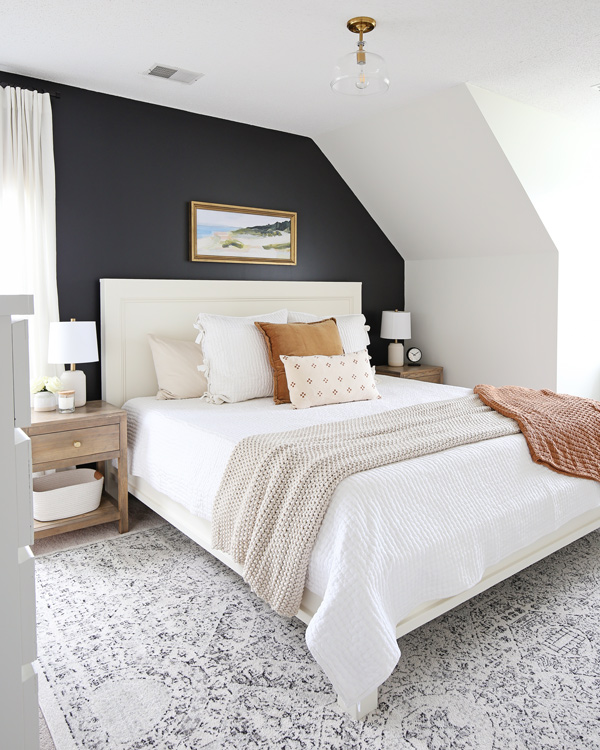 I feel so grown up having beautiful wood furniture and a pretty decorated space and our bed finally off of the floor haha.
What do you think of this bedroom transformation?!
Don't forget to check out the bedroom makeover transformation video! Thanks for stopping by!
Follow along my latest projects and sneak peaks on Instagram, YouTube, and Pinterest!
DIY Bedroom Makeover Sources & Projects:

Projects:
Paint Colors Used:
Black Accent Wall – Black Panther by Benjamin Moore in eggshell
White Walls – White Dove by Benjamin Moore in eggshell
Doors & Trim – Simply White by Benjamin Moore in semi gloss