I'm excited to share our small workshop makeover reveal and all of the projects we tackled to transform the space!
We've enjoyed using our back porch as an actual porch but when you do a DIY project every week and don't have a garage or workshop, you have to get creative for your work space!
We've been using our backyard and back porch with temporary work setups for projects and it's annoying to have to setup and take down those setups every week.
So we officially turned our back porch into a cute "workshop" for projects and filming tutorials!
Here's a look at our porch when we moved in before any updates were made: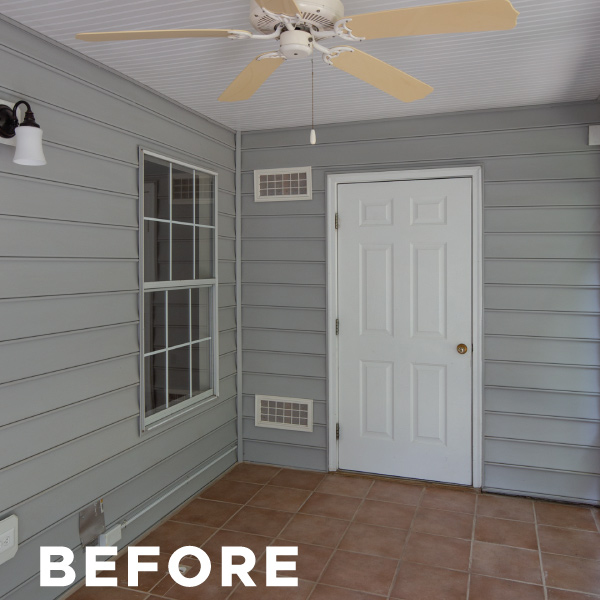 And the after!!!!!!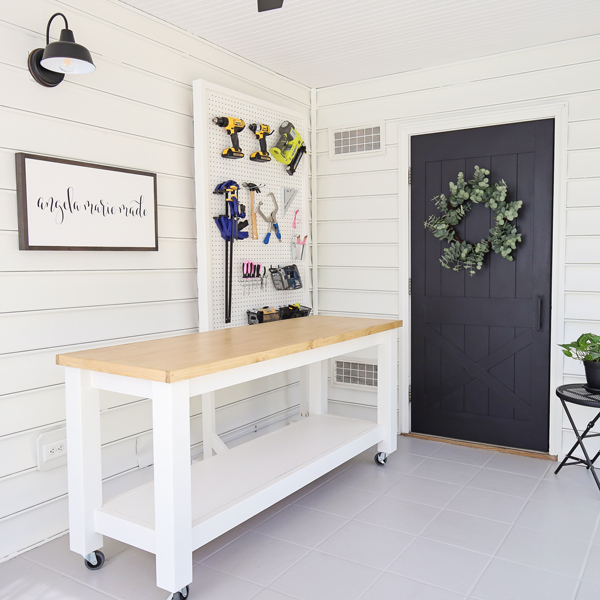 Note, this post contains some affiliate links. For more info see my disclosures here.
The biggest problems with our porch were the dingy blue grey siding and the pink tile floor.
Another big problem is the huge window taking over the only wall in the space.
The only features in the space that I liked were the barn light we installed when we moved in and our shed door that we recently transformed into a faux barn door!
***
Small Workshop Makeover Video & Tour:
You can see the entire transformation process and all of DIY projects in action in my DIY Small Workshop Makeover Video!!! It's a good one, check it out!!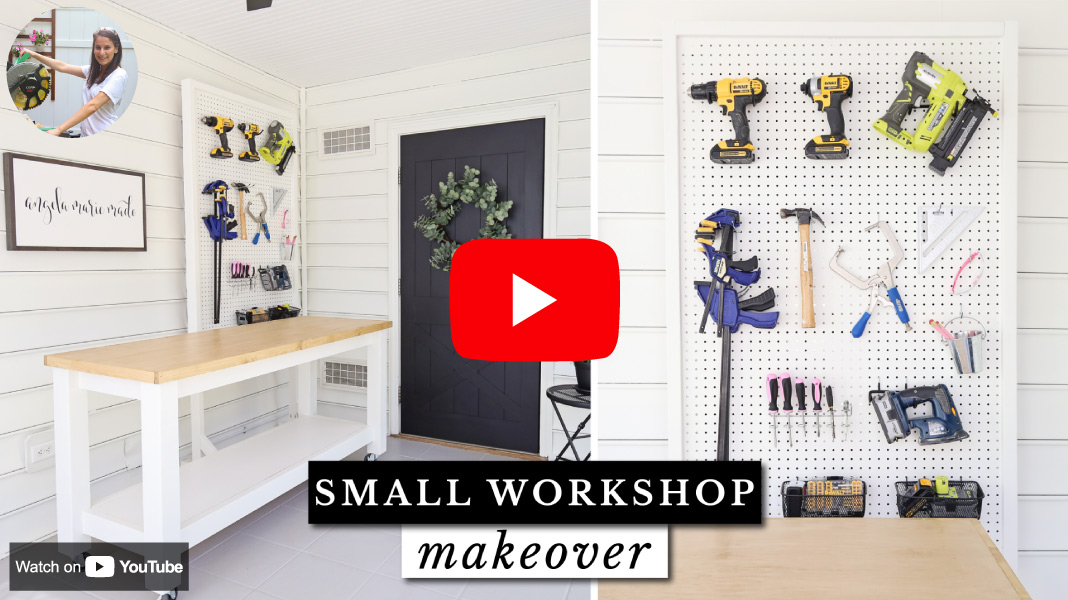 Also, all products used are linked at the bottom of this post!
***
DIY Project # 1: Paint the vinyl siding
The very first project we completed for this workshop makeover was painting that dingy siding a fresh white color! Learn how to paint vinyl siding here!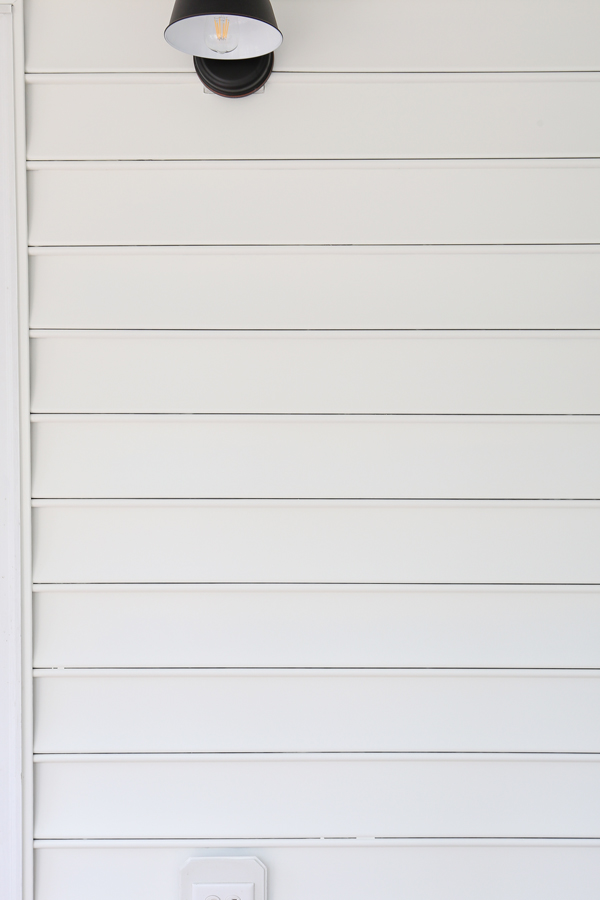 DIY Project # 2: Paint the tile floor
After tackling the vinyl siding, we moved onto the awful pink floor tile. Check out my how to paint tile floor tutorial here!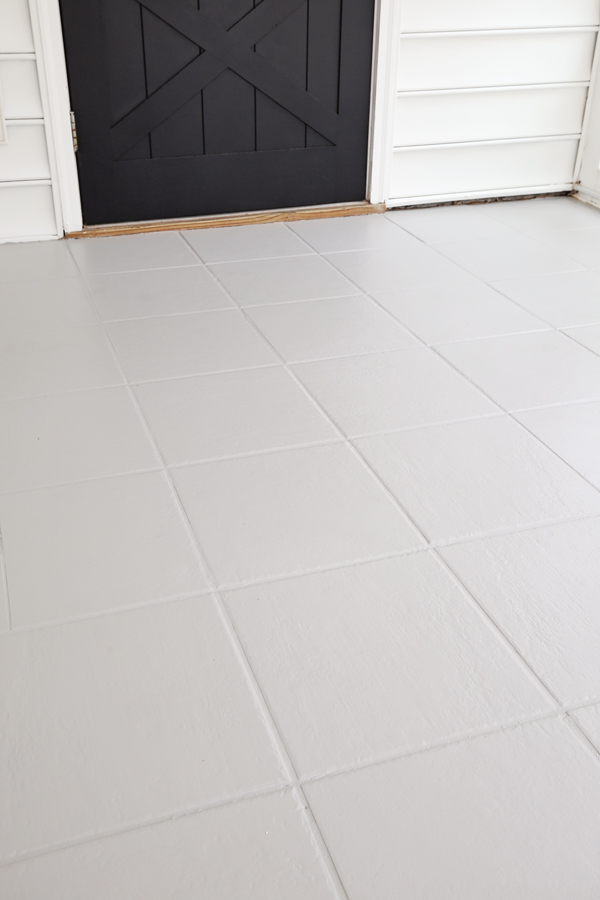 DIY Project # 3: DIY Pegboard Stand for tools
After we finished painting it was time to do something about the huge window taking over our wall!
I came up with the idea to build a pegboard stand DIY to both cover the window and be a functional and cute place to organize and store my frequently used tools!
I also wanted it to be on wheels so I can move it easily to still get sunlight through the window when we're not working in here.
See how we build the DIY pegboard stand and more details about it in our Small Workshop Makeover Video and in the easy freestanding pegboard wall DIY step by step tutorial.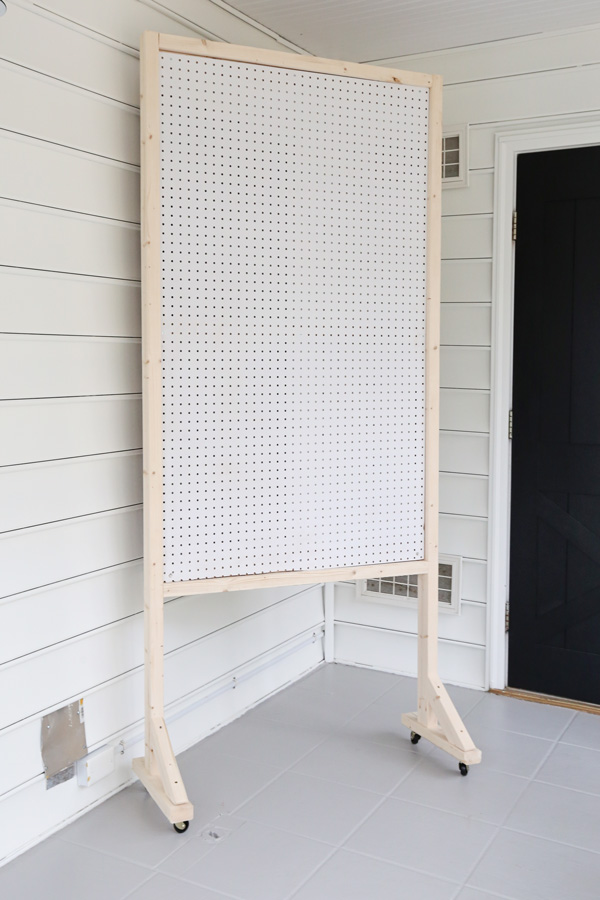 I've always dreamed of having a pegboard wall for my tools and I'm so excited I finally have one! It's small but perfect for my most commonly used tools!
I used these pegboard hooks and tool holders!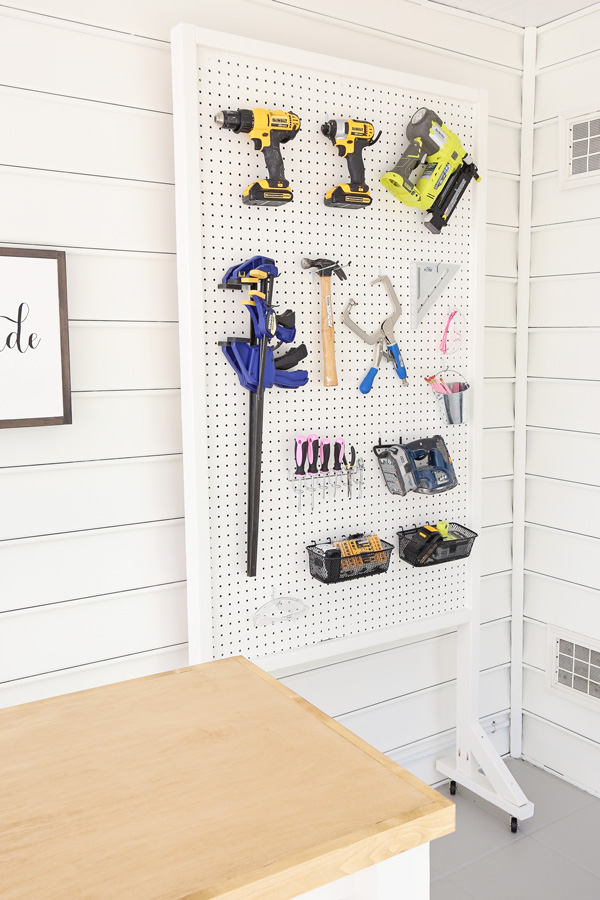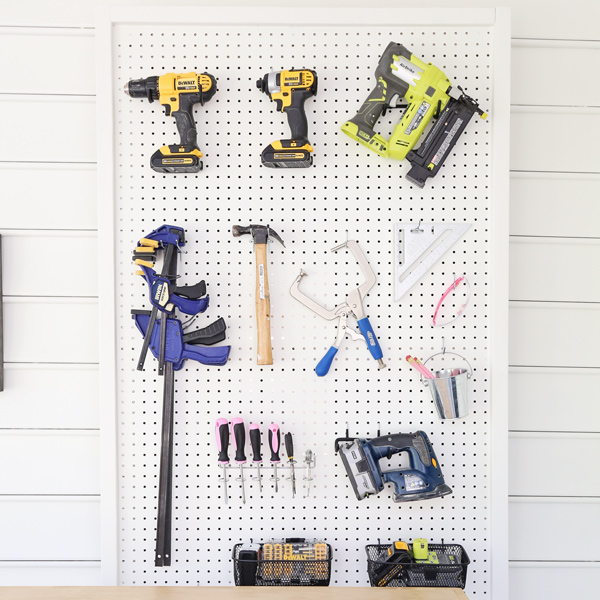 DIY Project # 4: DIY Workbench
Well every workshop needs a workbench right?! We built a DIY mobile workbench that I totally love! It's easy to move around, cute, functional, and budget friendly! We have DIY workbench plans available too!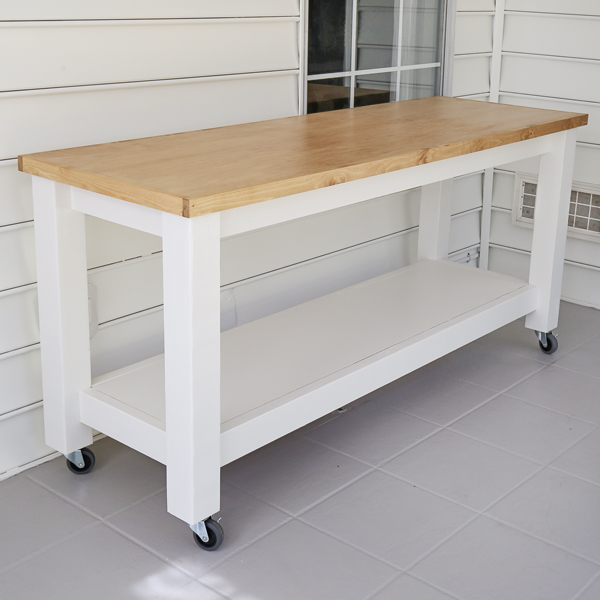 Also, you may be wondering where we keep the rest of our tools! Well they are all stored in our shed behind our faux barn door! I show a peek inside of it in our Small Workshop Makeover Video!
Decorating:
Is is it weird to "decorate" a workshop?! Haha maybe, but I don't care! I wanted this workshop to be cute!
So, I added a cute faux wreath on the barn door and a plant in the corner!
Lastly, to fill the empty wall space, I wanted to make a DIY wood sign with my logo.
I didn't have time to make one from scratch so Brandon sanded down my DIY gather sign I hung in this spot for our fall porch decor. I made this sign several years ago and it was a good size for the spot!
We added primer and white paint to the background. And I cut out my logo with my Cricut and some black vinyl for the lettering. I would have liked to use black paint instead but vinyl is super quick and easy!
It was a great finishing touch!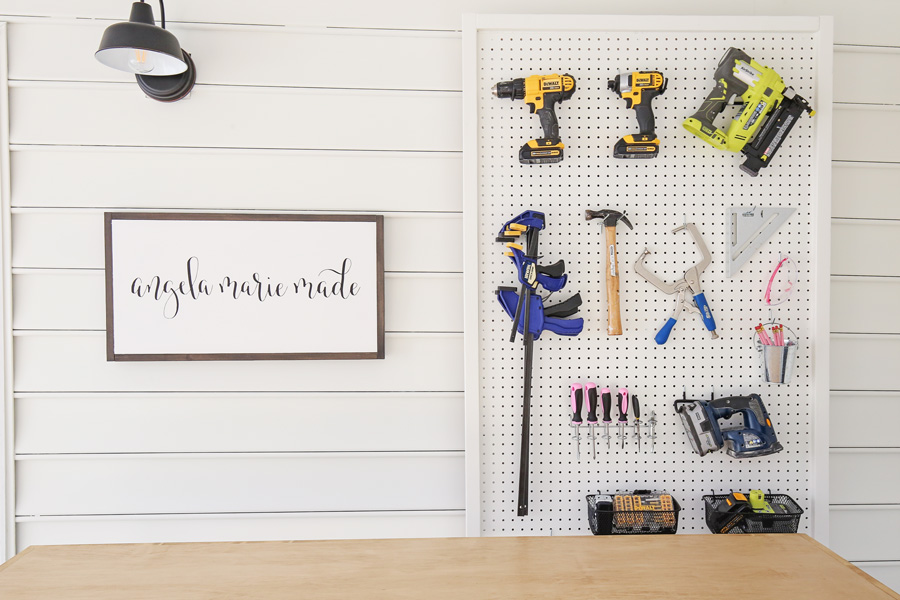 I can't believe how well this small workshop makeover turned out, I love it so much, it's totally my style and so cute while still being functional! And I can't believe this space use to be our back porch!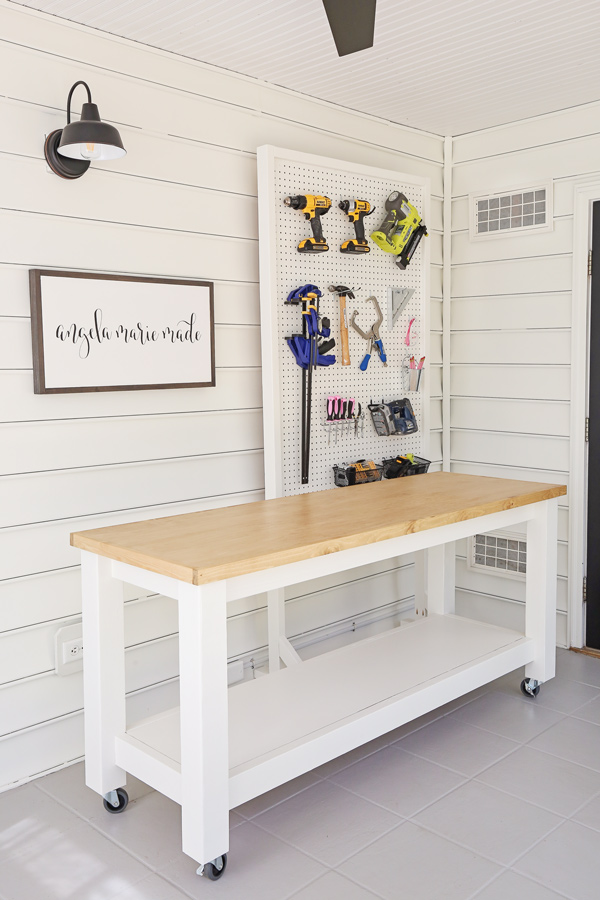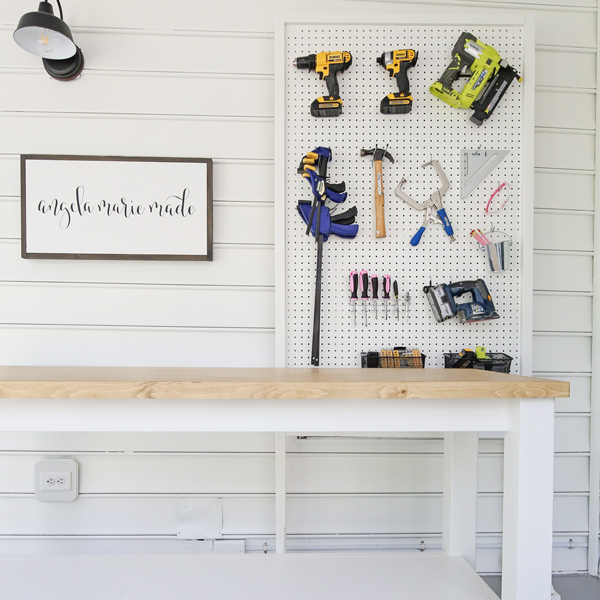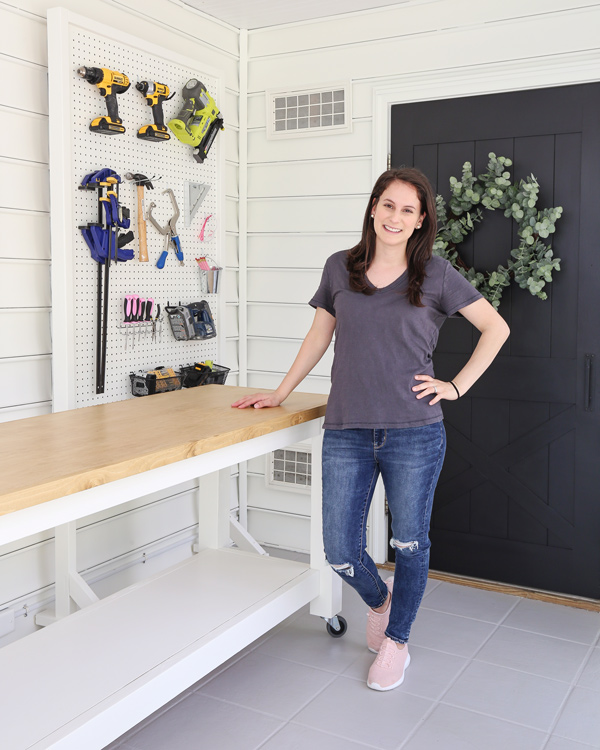 Here's one last before and after: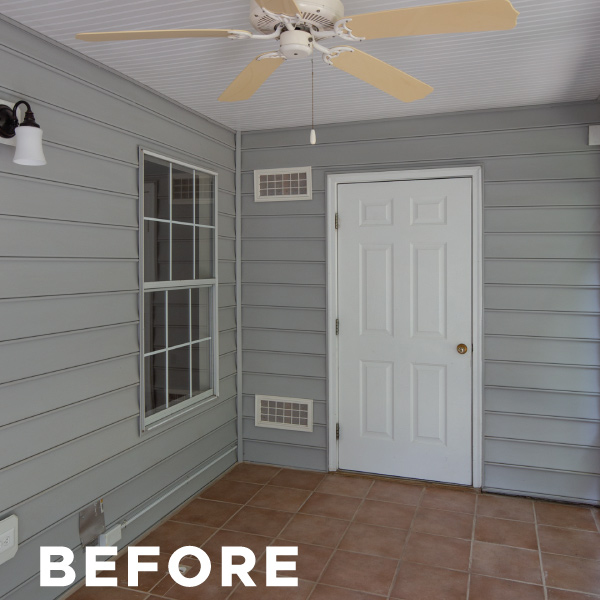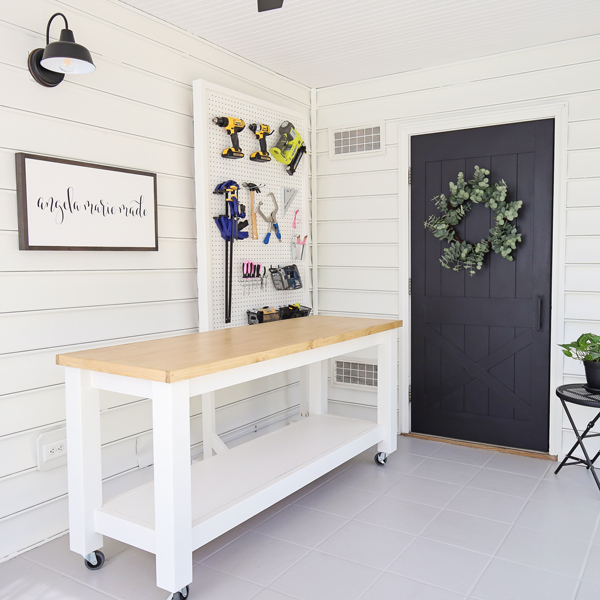 Brandon and I keep saying that we wish we did this months ago! It's going to be so much easier for building and filming projects too! What do you think?!
We have another fun makeover coming up, so make sure to follow along on Instagram, YouTube, and Pinterest!
DIY Workshop Sources & Projects:
pegboard baskets – Lowe's
Want to save for later?! Pin it here: