Welcome back to part 3 of my DIY entryway makeover on a budget series!
I'm excited to share the rest of our entryway transformation story, our painted DIY entryway built ins, the BIG REVEAL, and share the full cost breakdown in this final part 3 of the series!
In part 1, I shared how Brandon and I built our DIY built in cabinet and door on a budget and in part 2, I shared how we finished the custom built in with a DIY built in bench!
I want to start with a look back at this entryway when we first moved in, with the yellow walls: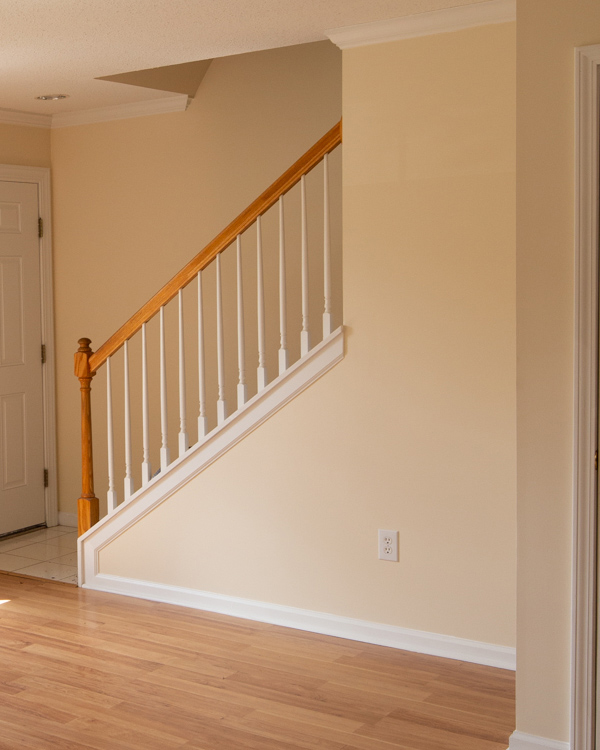 A few years ago we painted the walls a light gray and added our DIY hall tree which is where we started at before this makeover: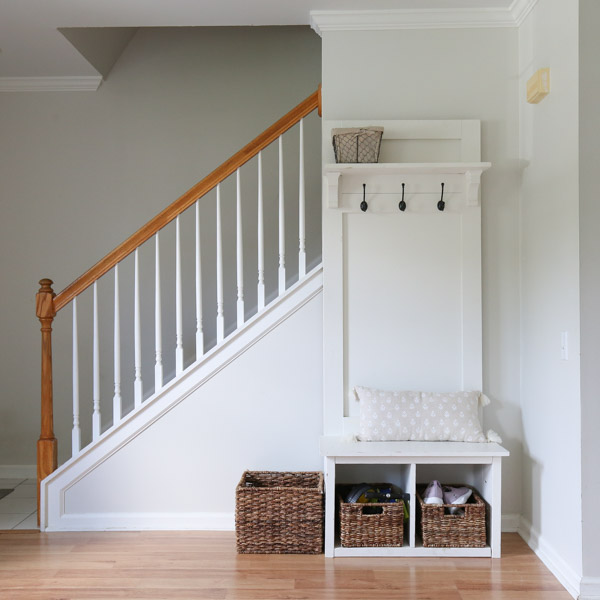 And now after lots of DIY projects and hours spent trying to decide on the perfect paint color: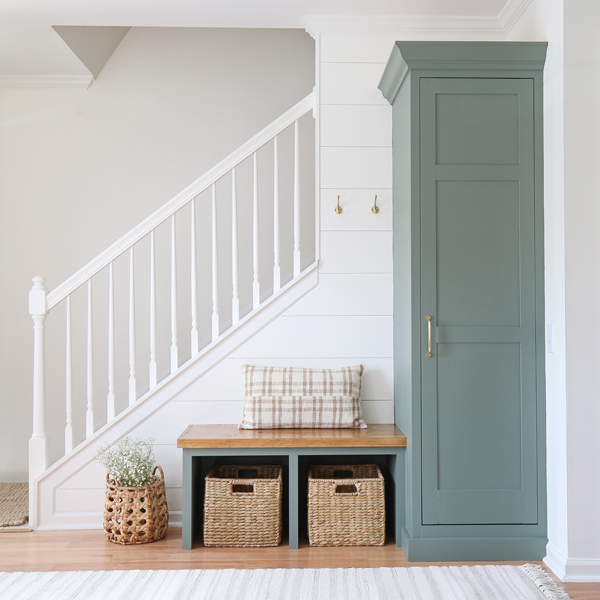 I am in love! This may be my favorite home improvement project ever! Not only is the entryway beautiful, but the functionality has been great! We use our built in bench and cabinet daily!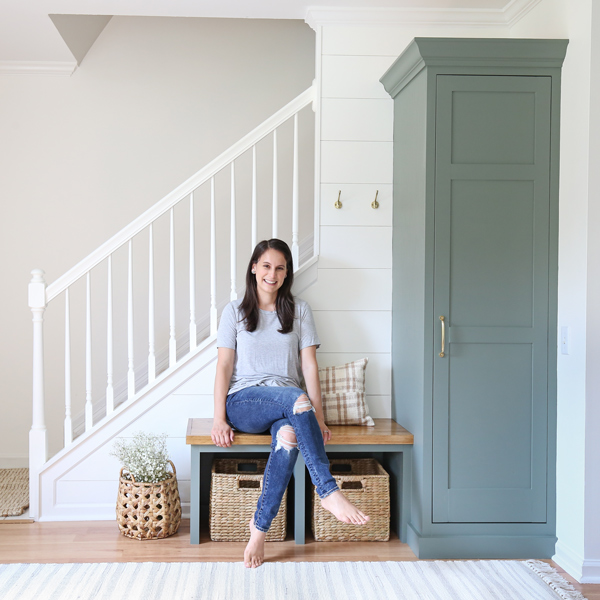 Here is the story of our entryway makeover and how it all came to be!
NOTE: I have a full product and project source list for everything in this makeover at the bottom of this post!
Entryway Makeover Video:
You can watch the full transformation story and see all of the details better in my DIY entryway makeover reveal VIDEO:
The Entryway Plan
I wanted the entryway to feel more welcoming and more of my style. I couldn't stand the orange wood banister and the outdated doorbell!
With such a small entryway space that's really just a partial wall and nook, I wanted more hidden storage and a larger bench. This area is where we grab our keys and bags and take our shoes off.
So I thought custom built ins would be the perfect solution for better storage and seating! We sketched the plan out for these as I shared in part 1 and 2 for our DIY built in bench and DIY built in cabinet.
And this is where we left off after building the entryway built ins and prepping them for paint: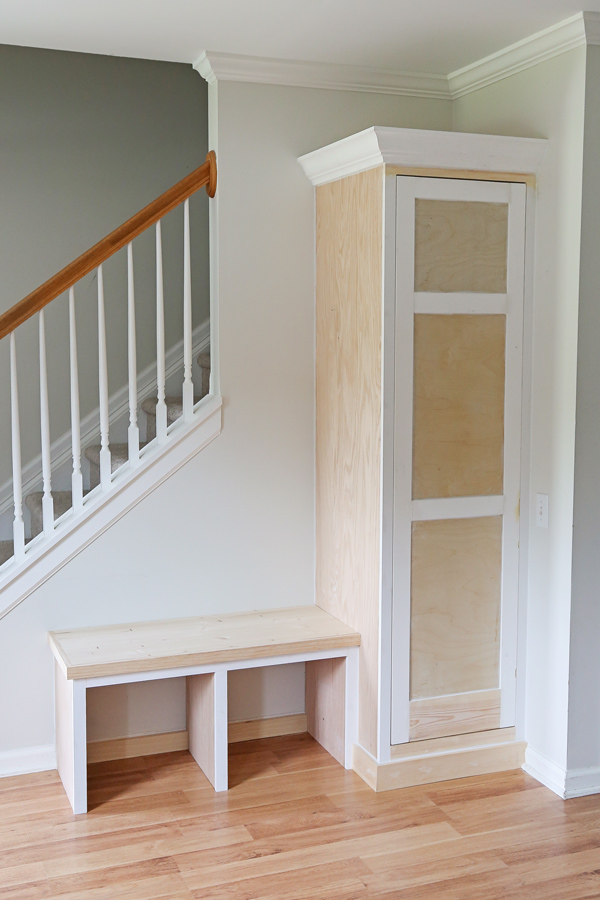 For the design, to make the entryway more welcoming, I really wanted to use calm, beautiful paint colors, warm natural wood tones, and add character and coziness with a wall treatment and organic natural textures through the decor.
I created a mood board, which you can check out in my DIY entryway video here!
DIY Shiplap
I decided on a horizontal 8″ faux shiplap, using 1/4″ plywood, to add character for the wall treatment. It's a classic look, matches the shiplap on the opposite wall in our living room, and was the best style wall treatment for the small and angled wall space remaining next to the built in cabinet.
You can see the DIY shiplap installation process in the makeover video, but I also have a DIY shiplap accent wall tutorial and a how to paint shiplap walls tutorial as well for how to do it!
Note, this post contains some affiliate links. For more info see my disclosures here.
Painting the Walls, Railing, and Shiplap
After priming the shiplap and built ins, I decided to prime and paint our orange wood railing that I really couldn't stand because of the color of it.
I thought about using a gel stain or doing a white wash on the railing, but ultimately, I thought three wood tones was too much (since the floor is a laminate wood and I stained the wood bench top). It felt really satisfying to paint over that orange wood!
I want the built ins to be the feature of this entryway with a pretty color, so I picked Simply White in eggshell by Benjamin Moore for the white paint color for the shiplap, walls, and railing.
For the floor trim and ceiling crown, we used Simply white again but in a semi gloss sheen.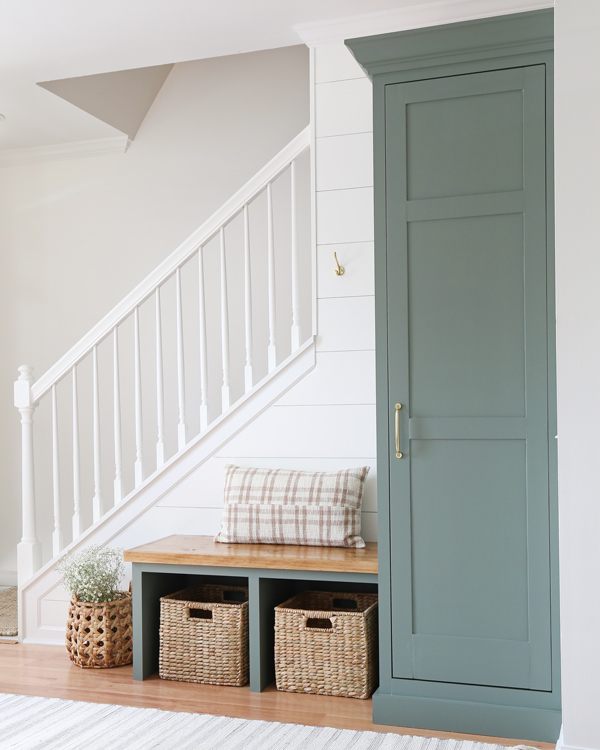 Painting the Built Ins
Goodness, who knew picking a paint color for the built ins could be so challenging!
For the built ins color, I knew I wanted a calm, beautiful color that would compliment our DIY double barn doors paint color because our barn doors are on the opposite wall of our entryway in our living room.
The barn door color is Oyster Bay by Sherwin Williams, so I went to the paint store and grabbed all of the darker paint swatches that I liked which were in the same color family.
After looking at the swatches in our actual entryway, I narrowed it down to 4 paint colors: Sherwin Williams pewter green, retreat, evergreen fog, and ripe olive.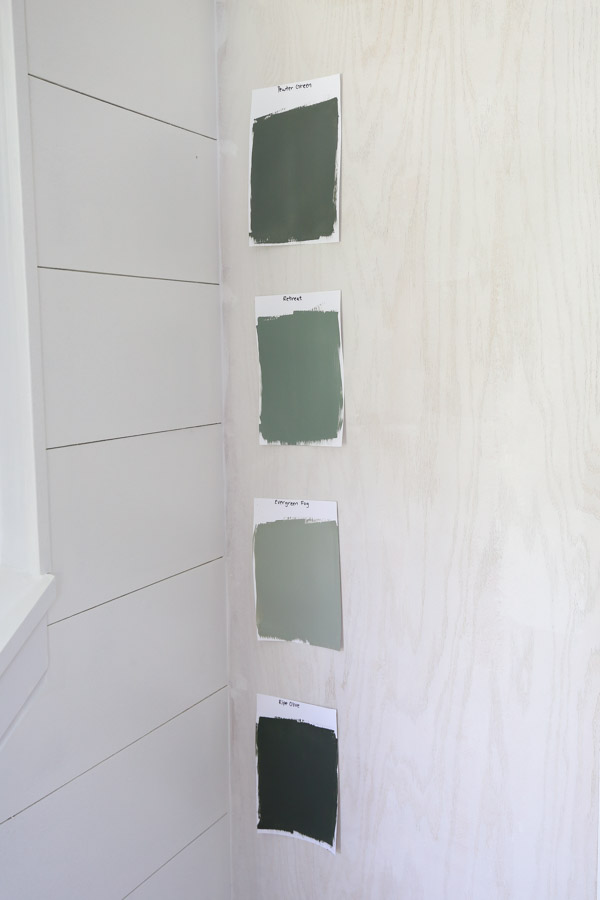 I knew right away that Ripe Olive was way too dark and eliminated it. I was really undecided about the remaining three options though.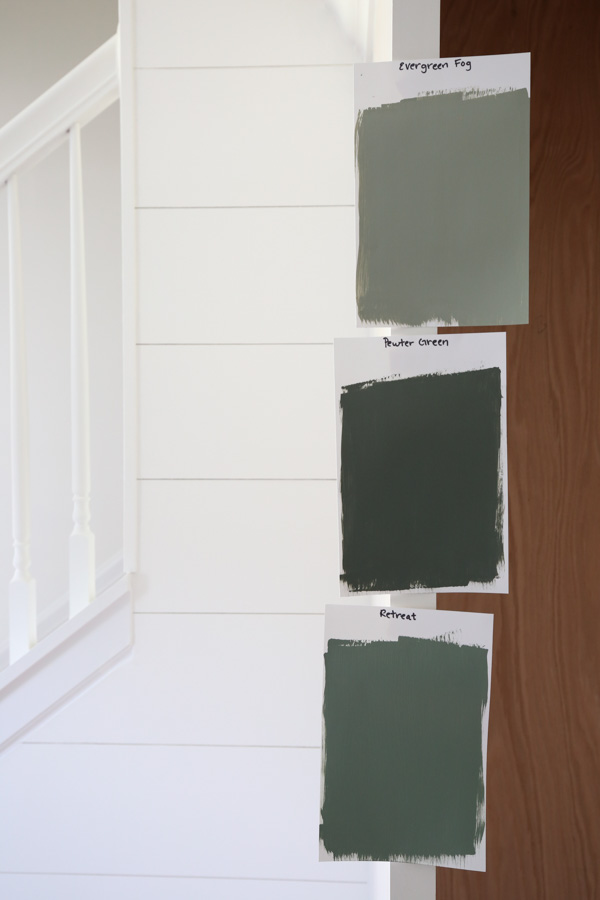 I decided to go with Sherwin Williams Retreat since it looked the best in the morning, day, and evening light. I still wasn't 100% sure though after getting the paint from the store and started to lean towards Evergreen Fog, the safer choice.
So I started with painting the door only in Retreat and then brought it into the room to see how I liked it.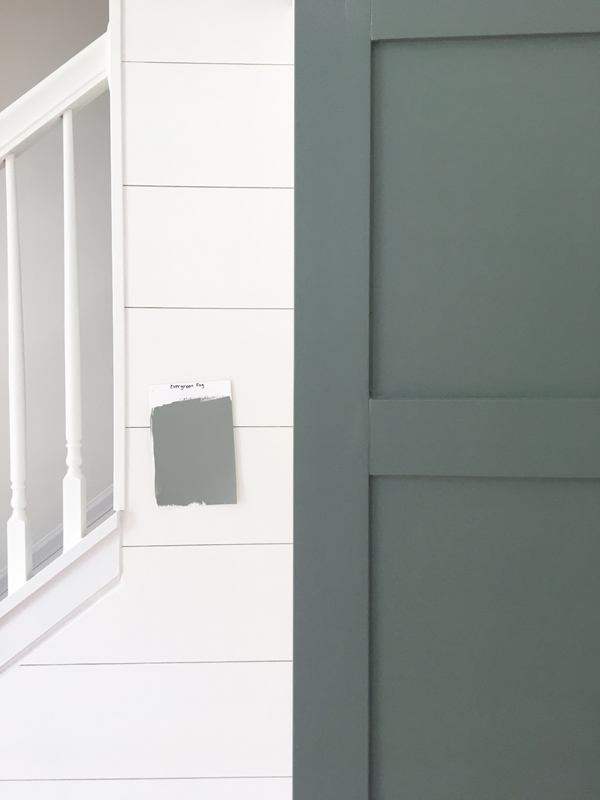 I also asked on Instagram stories what everyone was liking best. I actually had to ask the poll twice with the two different photos and got total opposite results on each poll!! You can follow along on Instagram @angelamariemade.
What color would you have picked, Sherwin William Retreat or Evergreen Fog?!
After doing a larger paint sample of the Evergreen Fog and holding up our brass handle up to both colors, I liked it best with Retreat. I was relieved I didn't have to go back to the paint store and spend more money on paint!
I mean when you work so hard on a project like these DIY built ins, you really want to pick the perfect paint color, because the color can totally make the project (or not).
Plus, it's no fun when you take the time to paint and then decide it's not the right color and you want to repaint it the other color… This has happened to me more than once lol! Check out my 7 tips for picking a paint color to help avoid this!
Staining the DIY Built In Bench Top
There was one more color decision to make after picking a paint color and that was the bench top stain color. I wanted to do a honey brown color, so I tested out different stain options and combinations on the back of the bench top.
It's always good to test stains on the actual wood you are going to stain because all wood can take stain differently. Check out my how to stain wood tutorial for tips and best practices for staining wood!
I ended up using one coat of special walnut and one coat of early American. Then, two coats of polyurethane for the top coat.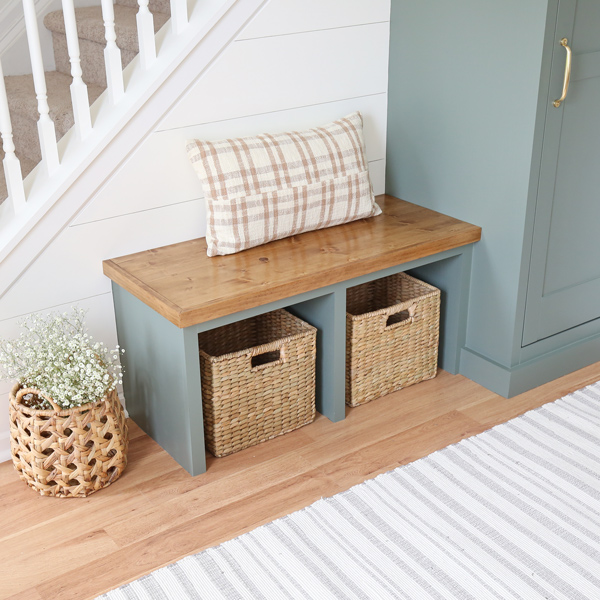 Building the DIY Built In Cabinet Shelves
I used a mix of leftover plywood and scrap wood to build the shelves for the built in cabinet. We made them adjustable and they have added some much needed extra storage!
I'm using the shelves for our son's toy overflow and a bunch of other random entryway items like keys, baskets, sunscreen, dog supplies, and more!
I actually want to totally reorganize some other areas and make the most of this new built in cabinet storage in a better organized way than this photo shows. But, I just couldn't wait to try out the shelves!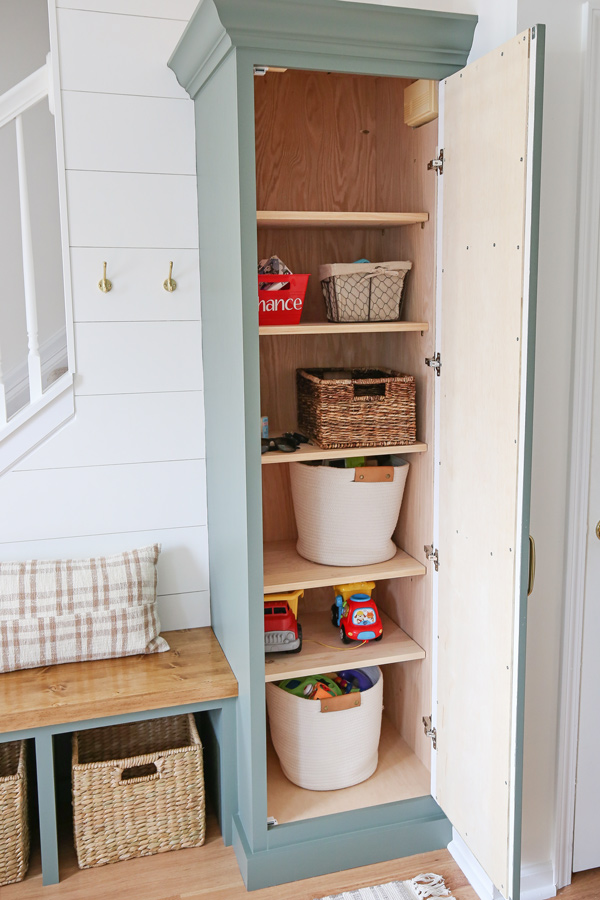 I also love how it smells like fresh wood when I open the cabinet, it feels so luxurious…not sure if that's the right word haha, but definitely high end!
Pretty Brass Hardware & Decorating the Entryway
Because we saved so much money by DIYing these built ins, I splurged on this brass handle and the matching wall hooks, both of which I am obsessed with!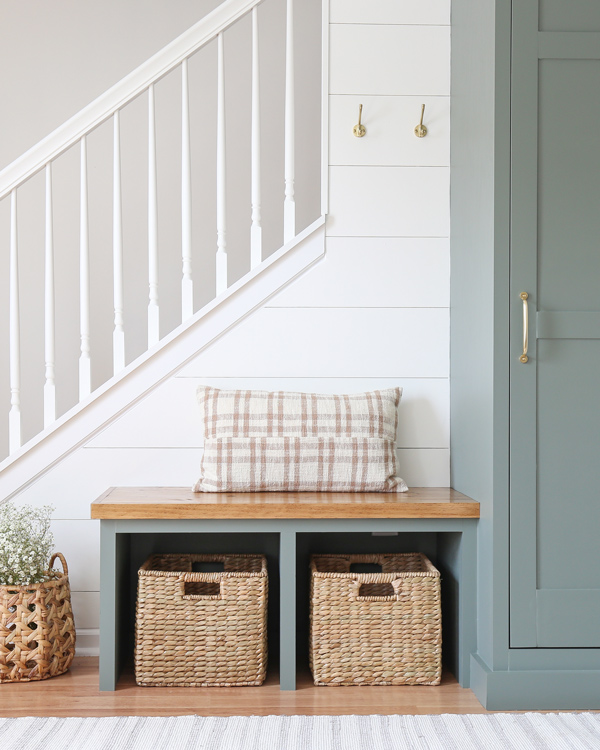 For the decor, I don't want to add too much to this space because it's the entryway so I want it to be on the minimal side, but still pretty and functional. You can see the full decorating process in the DIY entryway makeover video here!
I found these cute seagrass baskets that were the perfect size for under the bench. On top of the bench, I added the cutest, plaid lumbar pillow, I just love the warm color and texture of it, it's seriously perfect with the stain and paint colors!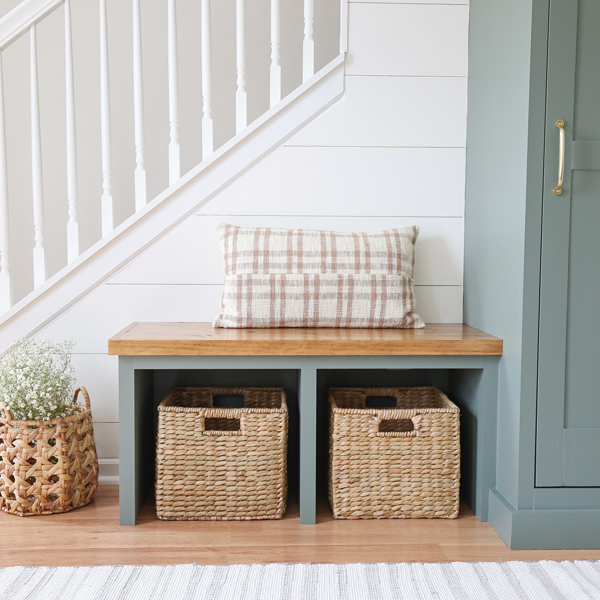 For the runner, I ended up going with this neutral gray and white stripe runner. I first tried this vintage, blue/green style rug which I thought was going to be the perfect color, but it was way to blue.
I finished off the nook next to the bench with this basket I already had and some fresh flowers.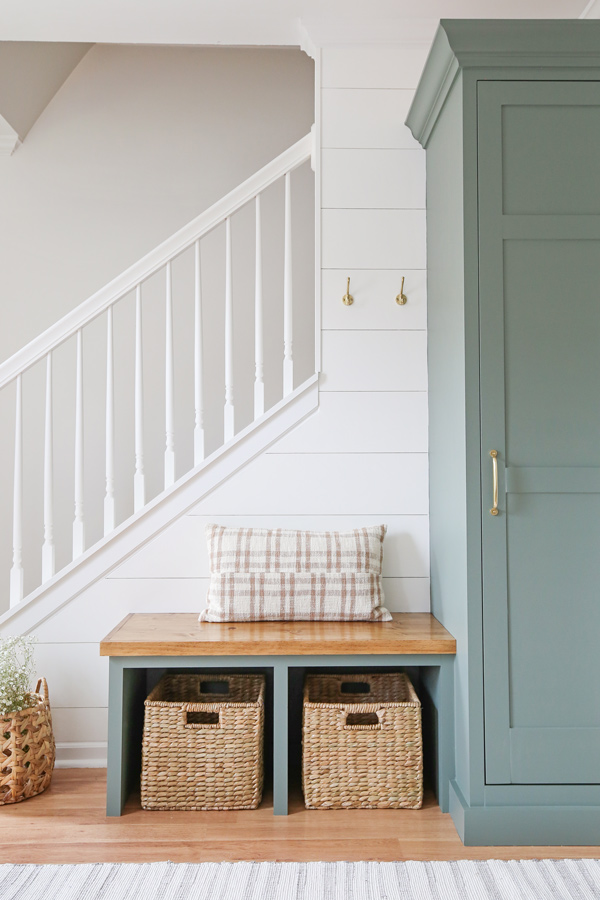 I really love how this makeover and the built ins all came together in the end and I'm really happy and proud of the final result! What do you think?!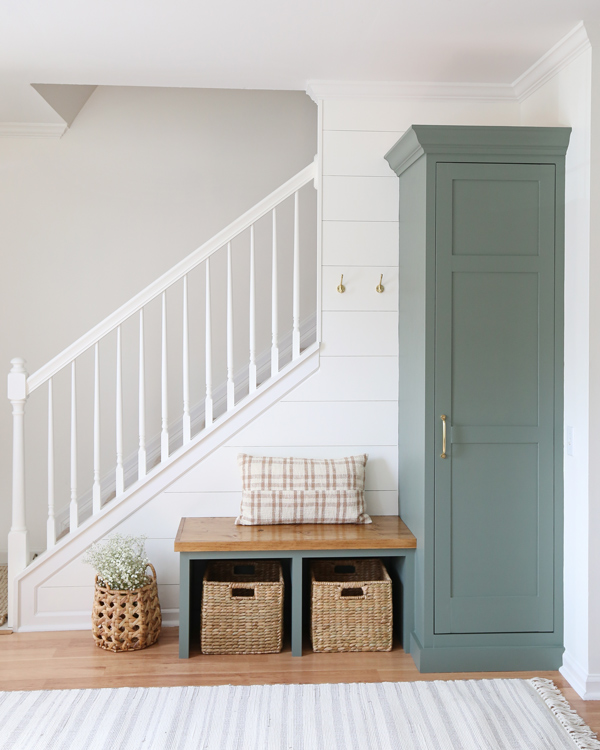 DIY Entryway Makeover Budget Breakdown
I want to finish of this post with the final budget breakdown with you and how much a DIY project like this actually costs.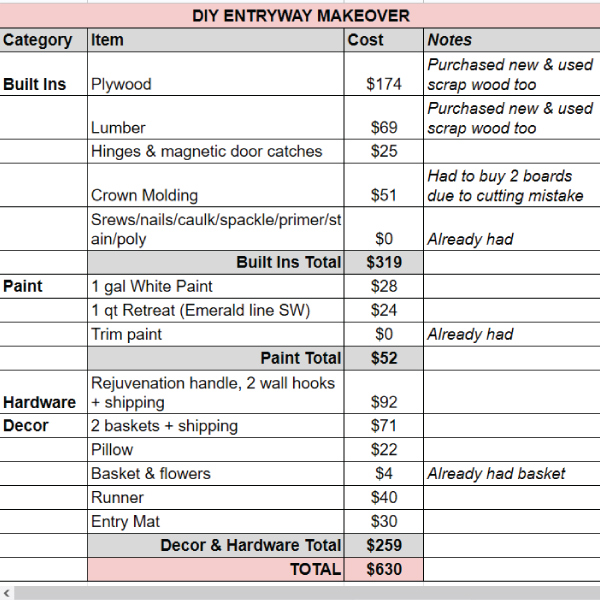 Our total entryway makeover cost $630 which I think is a great price for the final look and value added. The decor & hardware alone was about 40% of the budget. I splurged a lot on custom pieces. Less expensive options could have been used for even more savings.
I hope this breakdown is helpful to see! Let me know in the comments if you like seeing the budget included in these makeover and home improvement projects!
DIY Entryway Makeover Sources & Projects:
Decor
DIY Projects
Paint & Stain Colors Used
Built Ins – Retreat by Sherwin Williams (eggshell)
Shiplap, Wall, Railing – Simply White by Benjamin Moore (eggshell)
Floor Trim & Crown Molding – Simply White by Benjamin Moore (semi gloss)
Special Walnut Stain
Early American Stain
Satin Polyurethane
We have some fun smaller projects and another big room makeover coming up soon! Make sure to follow along for my latest projects and sneak peaks on Instagram, YouTube, and Pinterest!