An honest review of my favorite three brands of bamboo blinds!
Bamboo blinds or bamboo shades are one of my favorite ways to add warmth and character to any room in a neutral way. They seriously go with every style of room!
I have used bamboo blinds for my window treatments in almost every room makeover that I have completed that has windows!
Two of my most often received questions after a room makeover are where are your bamboo blinds from? And what do you think of them?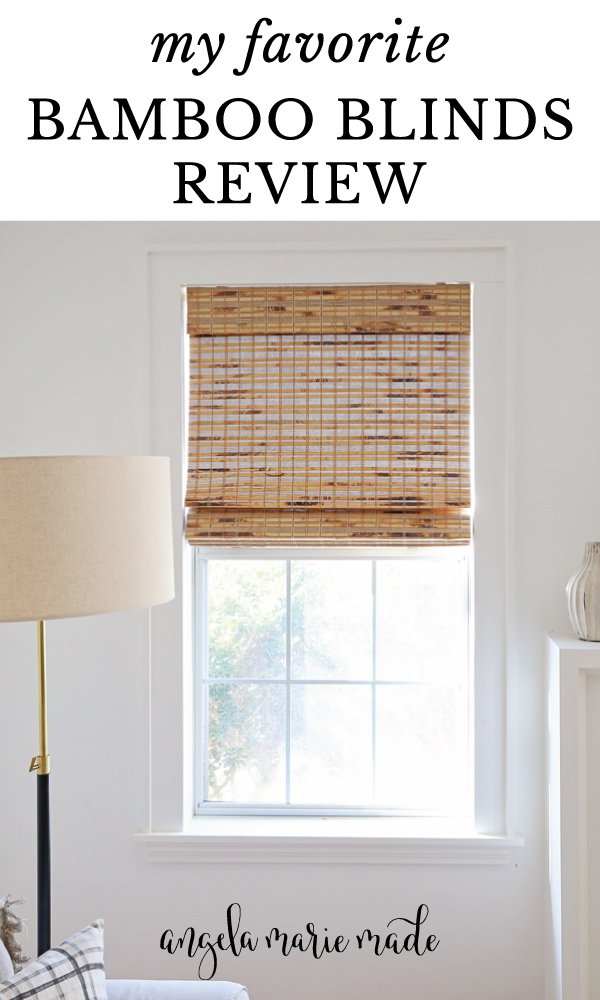 Over the years I have purchased three different brands of bamboo blinds, all different in price and quality, from budget friendly to more expensive. They are all my favorites for different reasons!
So, I thought it would be helpful to share about each of them and the pros and cons of each.
Note, this post contains some affiliate links. For more info see my disclosures here.
Bamboo Blinds Review Video:
Subscribe to my YouTube Channel here!
Watch the Bamboo Blinds REVIEW VIDEO HERE!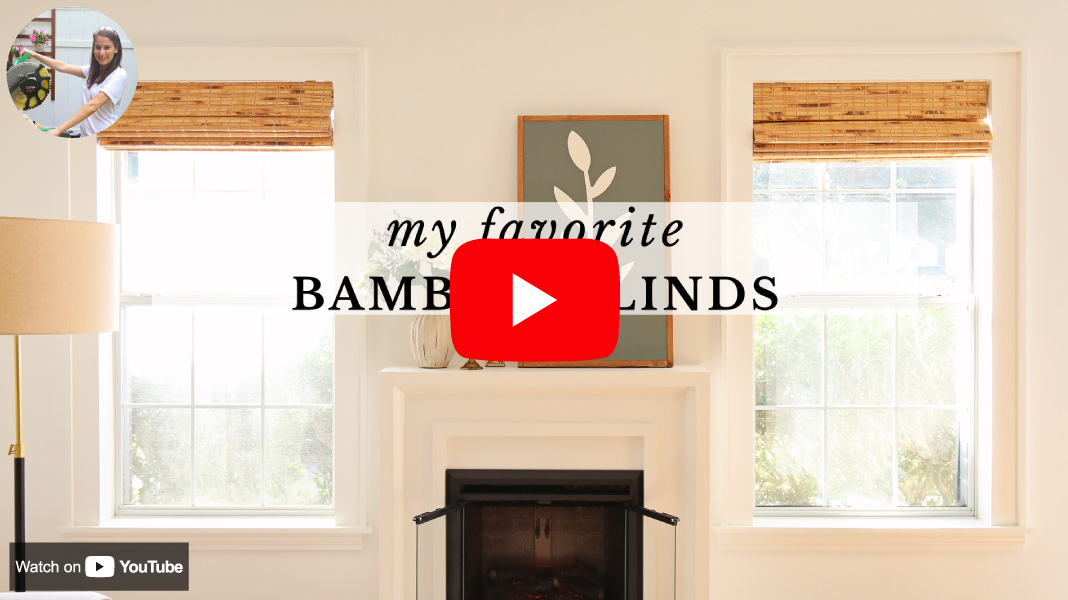 The very first bamboo blinds I ever purchased several years ago, for my very first living room makeover, were these Arlo bamboo blinds (also available here). Way back when I first purchased them, they came with a cord, but now they are all cordless!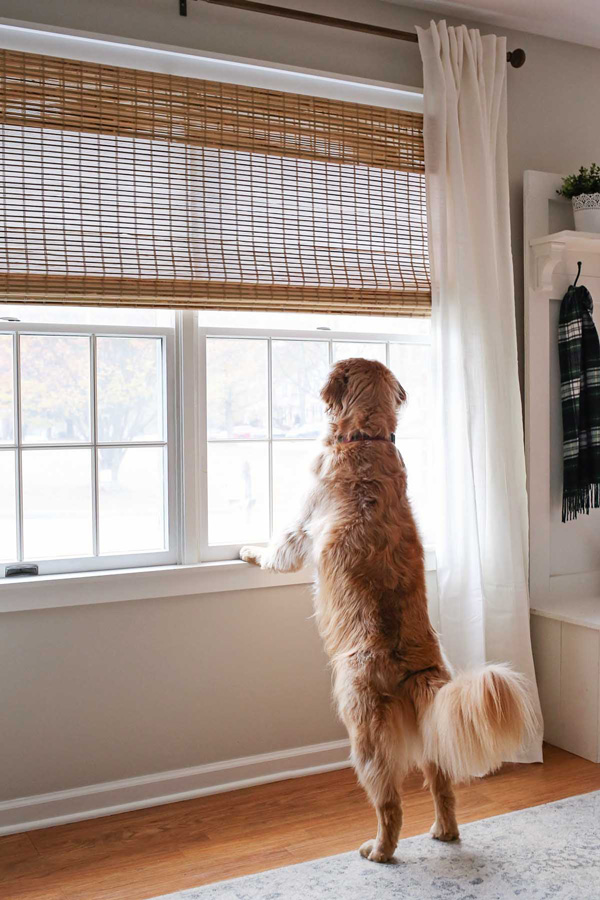 The Arlo blinds cordless rustique bamboo roman shade is my favorite cheap bamboo shade and my favorite color! They come in multiple sizes and colors though.
They really look nice and of good quality for such a low price!
In fact for our living room makeover, we had such an odd window size, but the blinds came in the width we needed thankfully, but they were a bit too long. I ended up trimming the bamboo blinds to size. It was quite easy to do!
The downside of these blinds if you want privacy is that they do not come lined (and they are see through at night with no liner). If you just want light filtering then they are perfect!
We didn't need a window liner for our kitchen makeover on a budget, so these blinds worked out great in the Dali Native color.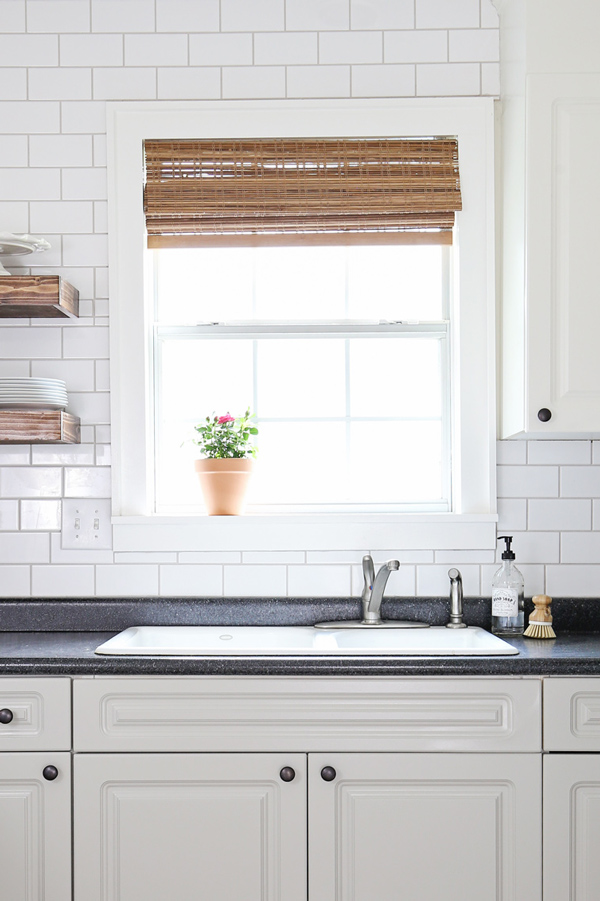 If you want privacy you can add a roller shade or something similar behind it if room. Or you can add your own liner which is what I did! It's not the easiest, but I have a step by step tutorial on how to add a privacy liner to bamboo blinds.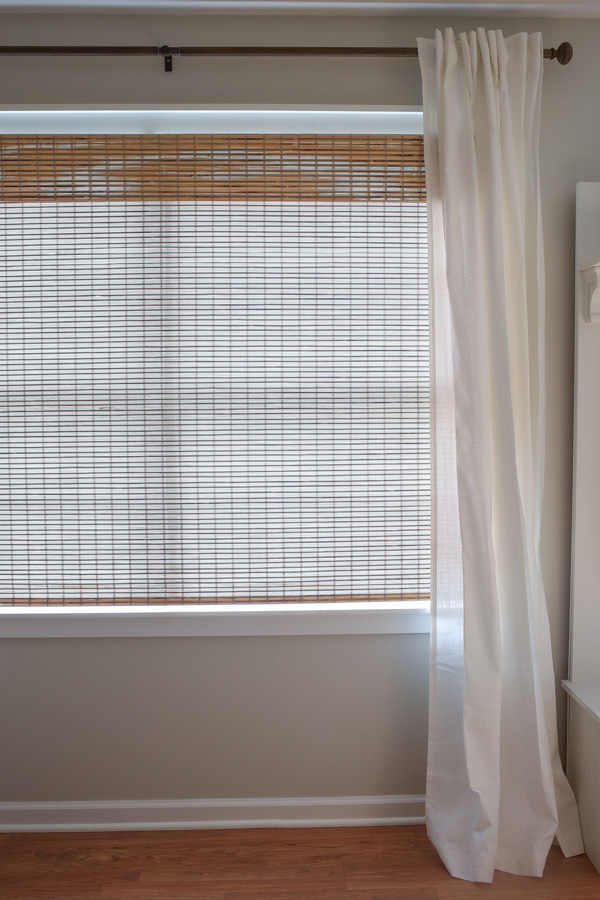 Another option for privacy, that's easy, is to just add curtains in front of the blinds! That's what I did for our DIY bedroom makeover where I used the cordless Arlo bamboo blinds in the Dali Native color along with our IKEA curtains (similar here). You could add blackout curtains too!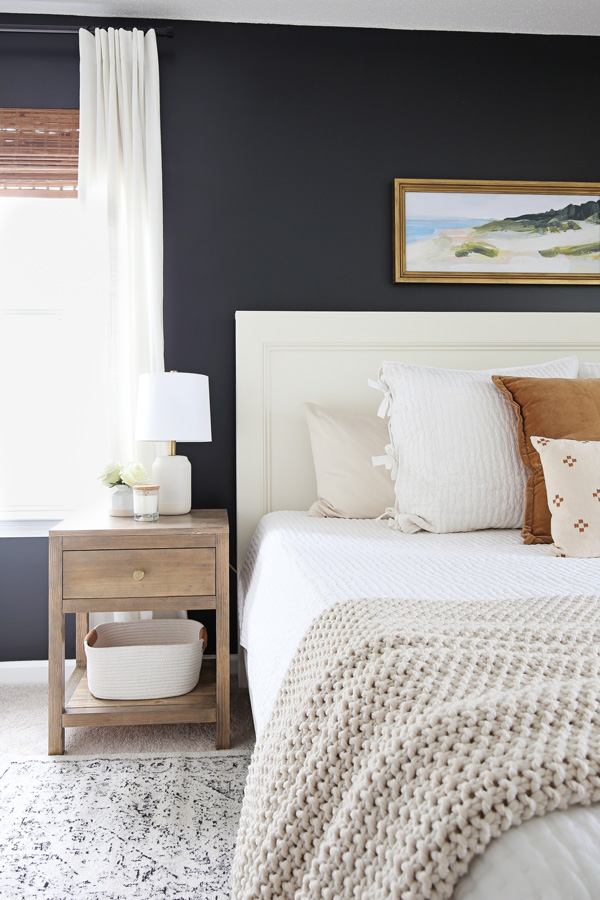 Although I bought my Arlo blinds cordless rustique bamboo roman shades here, Arlo bamboo blinds can be found at multiple online retailers, such as here and here.
Another downside to these blinds is that they aren't the smoothest blinds to open and close and sometimes they don't sit level when opened (it varies).
If you've ever owned smooth moving blinds, you will know what I mean. You can see this movement in action in my Bamboo blinds VIDEO review!
Only one of the three Arlo bamboo blinds that we've owned has not sat level when open (our kitchen blinds), especially if you open them too fast. You can also see this in action in the video!
Here is a quick summary of the pros and cons of these blinds.
Pros of the Arlo Bamboo Blinds:
Cheapest bamboo blinds I've found with the best high quality look
Come in multiple sizes
Easy to trim the length yourself if needed (see my how to trim bamboo blinds tutorial)
Available in multiple pretty, natural colors
Can be found at multiple online stores, like here, here, and here
Cordless
Cons of the Arlo Bamboo Blinds
No privacy liner
Don't open as smoothly as other cordless blinds
Some may not sit level/straight when open (varies)
2. Bamboo Blinds Lowe's – Levolor Bamboo Blinds
In our living room we have Levolor bamboo blinds from Lowe's. We have the Levolor bamboo blinds in the Tatami color. But there are other colors too!
I love the look of these blinds, they look beautiful with our DIY window trim.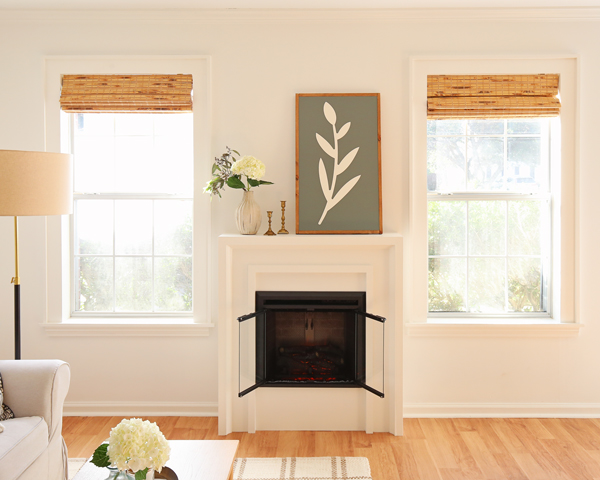 They are cordless and lined with a privacy liner. And the privacy liner really does block out everything. We tested it out a night, by going outside and turning the lights on inside.
Lowe's cut the bamboo blinds to the exact width we needed. You can order the size and color you want online for pick up in the store and then they will cut them in the store for you to your exact width needed.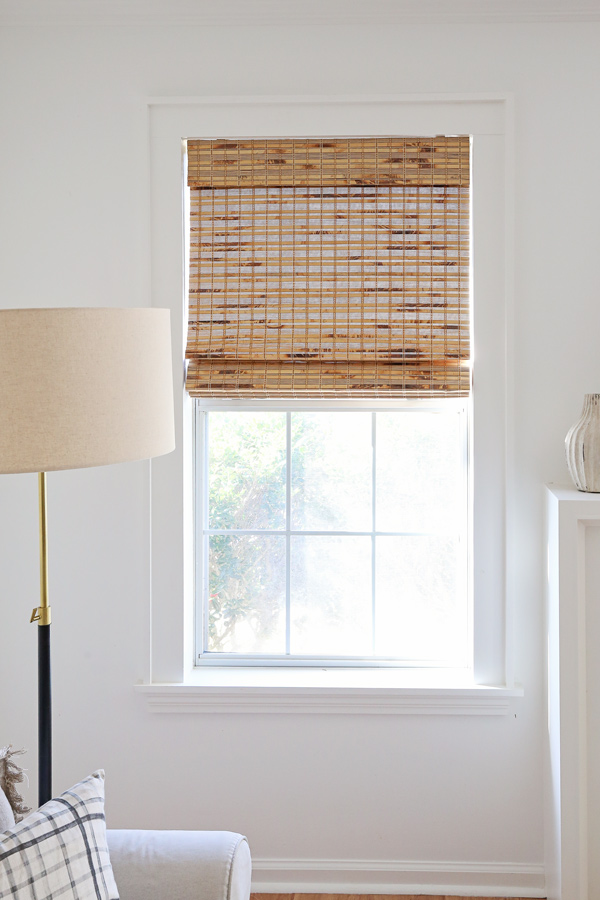 The Lowe's bamboo blinds do cost more. But for the high quality look and privacy liner, they are still reasonable compared to other options with similar qualities.
I also used the Levolor bamboo blinds in this office makeover, in a wider size, so pretty!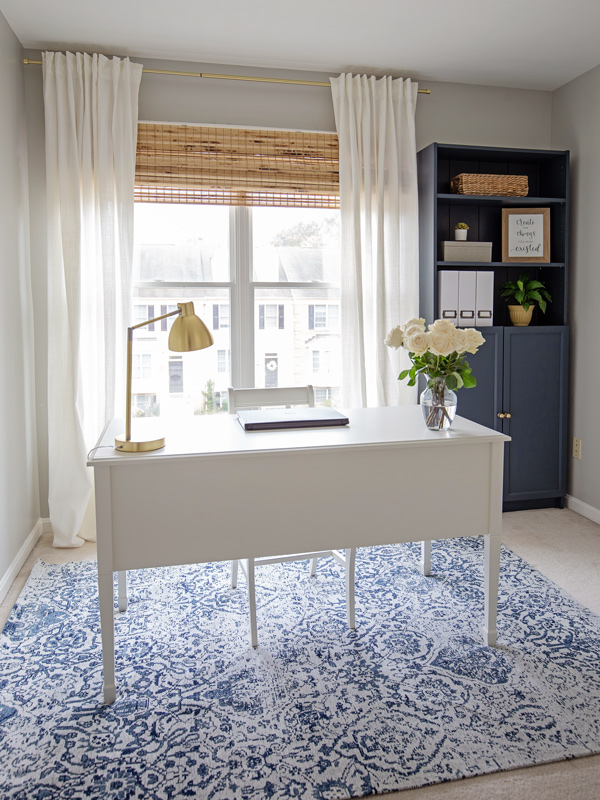 The downside to these Levolor bamboo blinds is that overtime they may not function as smoothly when pushed up too fast and they can start to sit slanted. Just one of the two we have does this and it's frustrating.
To fix the problem, I have to slowly push the blinds up in the middle of them. You can see this in action in the Bamboo blinds VIDEO review!
Pros of the Levolor Bamboo Blinds
Beautiful high quality look for a reasonable cost compared to other similar more expensive bamboo blinds
Include a privacy liner
Comes in 3 colors and several sizes
Width can be trimmed to size by Lowe's
Cordless
Cons of the Levolor Bamboo Blinds
Higher cost than the Arlo bamboo blinds
Some may not sit straight, but sit with a slant when opened unless opened really slowly (varies)
3. Home Depot Bamboo Blinds – Custom Home Collection
When I was working on our son's nursery, I wanted to install bamboo blinds with a blackout liner.
After lots of online searching and comparing prices, I found the perfect blackout bamboo blinds for the best price. They are Home Depot bamboo blinds by the Custom Home Collection.
These blinds were the most expensive out of all of the bamboo blinds we own, but they are also the most customizable and the best quality!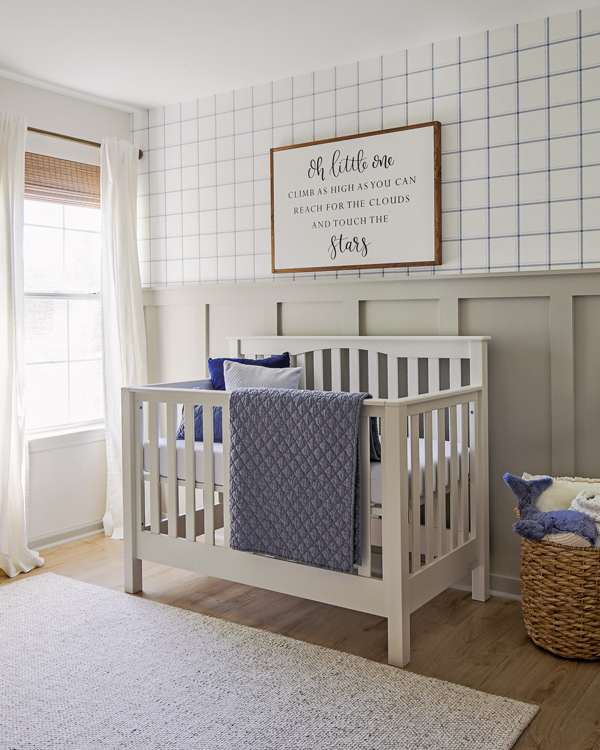 They have a whole bunch of color options and you can order color samples for free, which is what I did. I think I ended up with the Fiji Natural color, but I can't remember for sure as I didn't make a note of it!
These Home Depot bamboo blinds are great because they will custom make them to both the width AND length that you need! And you can choose from no liner, a light filtering liner, or blackout liner!
They have so many other custom options too when ordering, like lift options, mounting options, and more.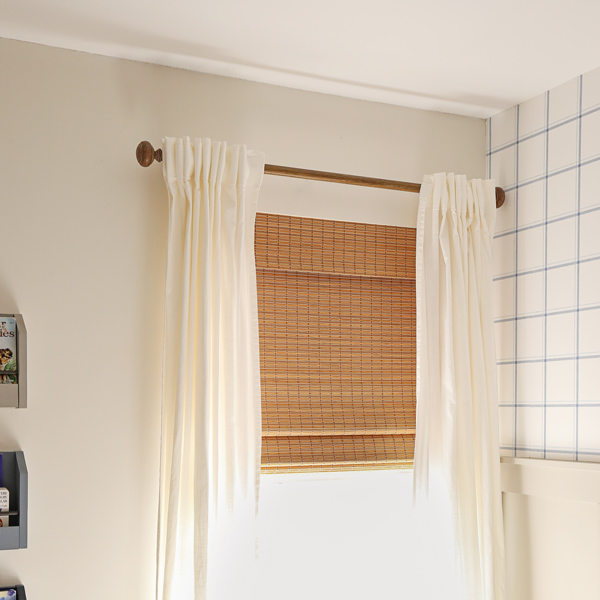 The biggest con, besides the more expensive price, is that they can take about a month to get delivered. But, I think mine took less than that in actual shipping time.
I say these are the best quality bamboo blinds we own not only because of the look but because they open really smoothly and perfectly straight! We've owned them for over two years and they still work just as great as when we first installed them!
You really do get what you pay for with these Home Depot bamboo blinds!
Pros of the Home Depot Bamboo Blinds
Available in many colors with free color samples
Can order to the custom width and length that you need
Beautiful, high quality look for a good price compared to other similar blinds online
Multiple customization options, including type of liner or no liner, including a blackout liner option
Very smooth operation and sit straight
Cons of the Home Depot Bamboo Blinds
The most expensive out of all of our bamboo blinds
Longer wait time for delivery (about 30 days or less)
Bamboo Blinds Installation
One last thing I want to mention is that all of these bamboo shades are easy and similar to install.
They have mounting plates that can be used either for an outside or inside mount. Then the blinds just slip onto these mounts with wing nuts.
I hope this bamboo blinds review has been helpful! Let me know if you have any questions in the comments. And if you want another great window treatment idea, make sure to check out my DIY window trim!
Follow along my latest projects and sneak peaks on Instagram, YouTube, and Pinterest!