It's an exciting day because I am sharing our living room makeover reveal! It has only been nearly 3 years in the making!
When we first moved into our home just over 3 years ago, the living room was one of the first rooms that I wanted to tackle since we use it so much every day.
Here is what our living room looked like when we first moved in:
LIVING ROOM BEFORE MAKEOVER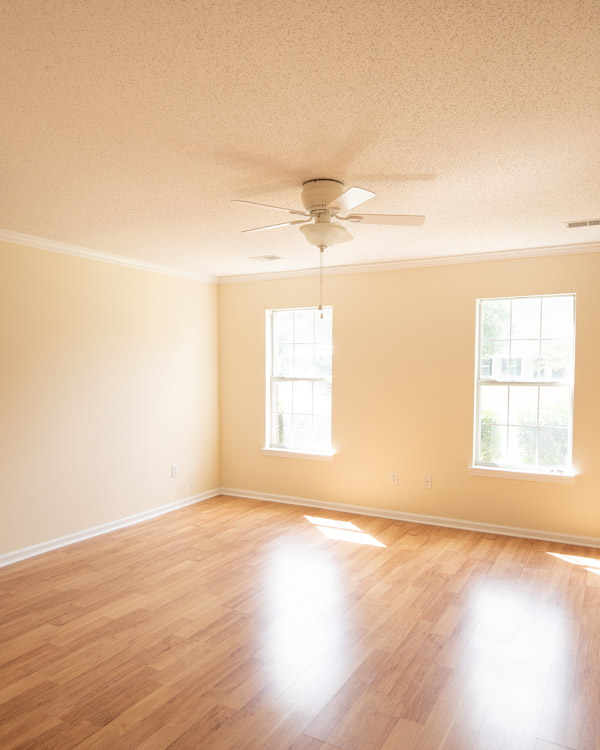 And now after lots of projects and design changes:
AFTER MAKEOVER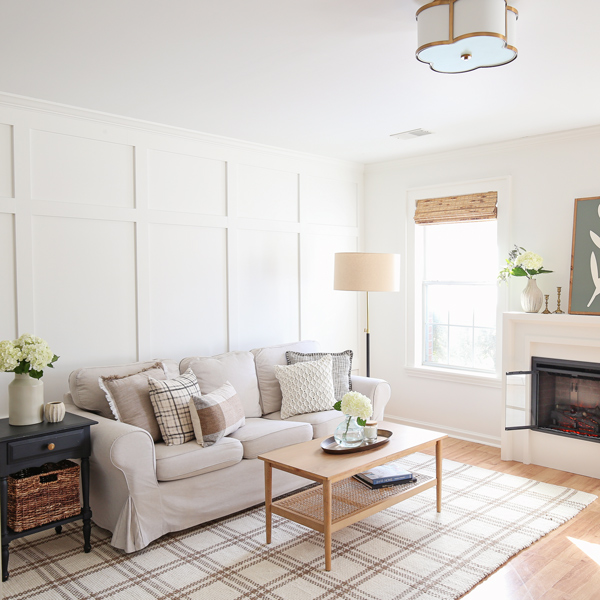 How we got to this point is a bit of a story, involving lots of DIY projects over the years and design changes too!
NOTE: A full project list and product source list is available at the bottom of the post!
Living Room Makeover Video:
You can watch the full transformation story and see all of the details better in my living room makeover reveal VIDEO here:
When we first moved into our home a few years ago, the living room was very standard and builder grade, with no character. It had dingy yellow walls and an ugly popcorn ceiling.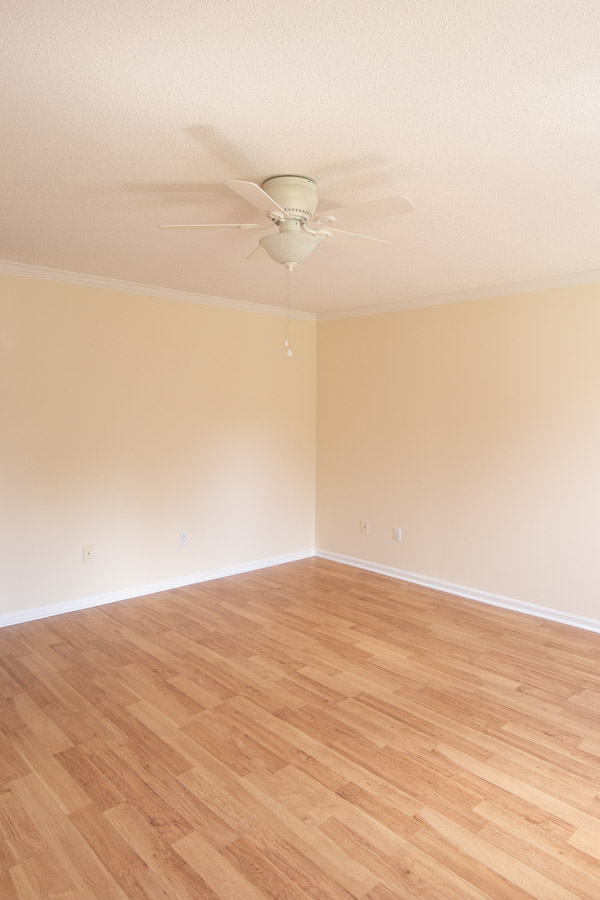 We started making over this room shortly after moving in.
We removed the popcorn ceiling, added a DIY faux shiplap accent wall, and painted the walls gray. When I was picking a gray paint color I shared 7 tips for helping to pick paint colors!
Note, this post contains some affiliate links. For more info see my disclosures here.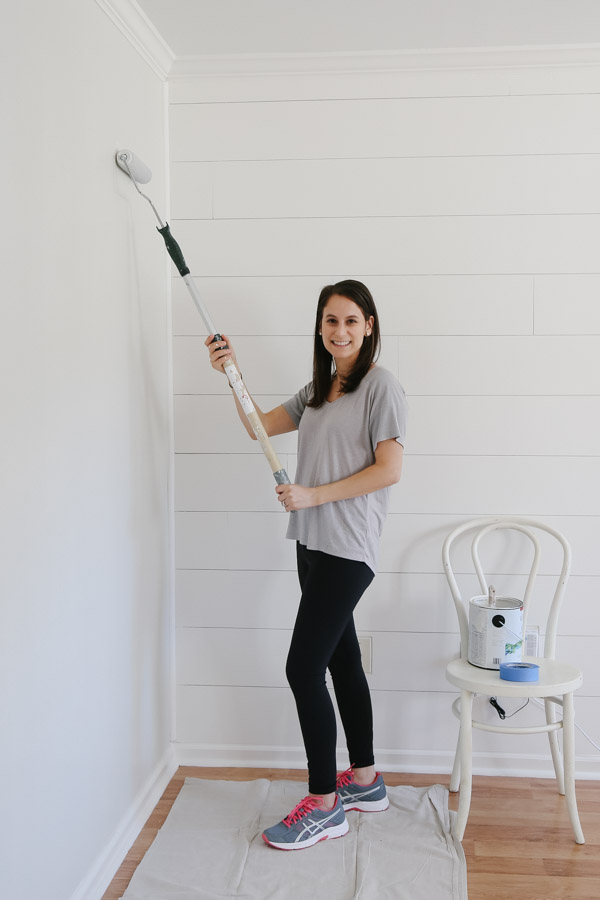 We added DIY window trim and bamboo blinds to both windows which really helped to add character and make the room feel more custom and less builder grade.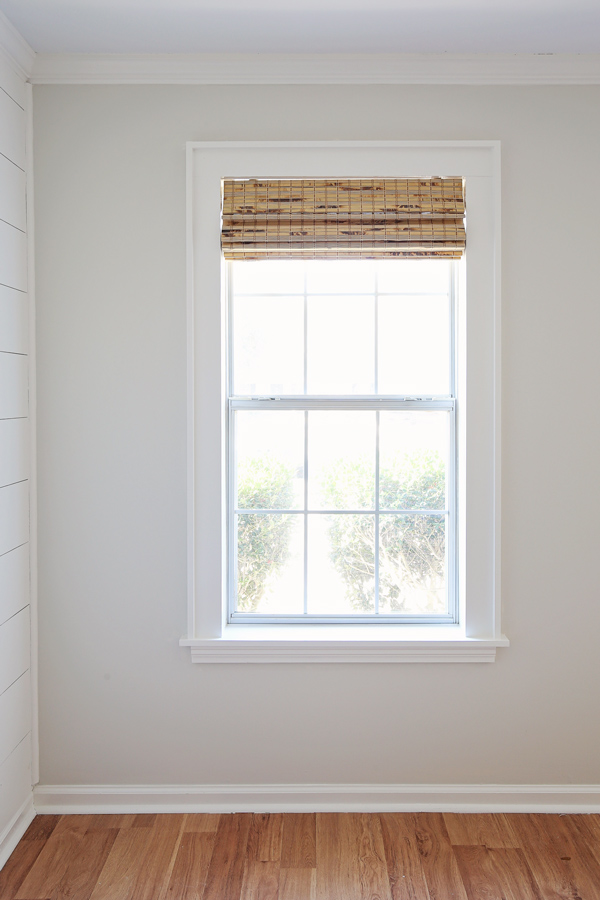 To hide our TV and fit the scale of the room, we built a DIY barn door entertainment center. You can see all of the details on the DIY entertainment center with DIY double barn doors here!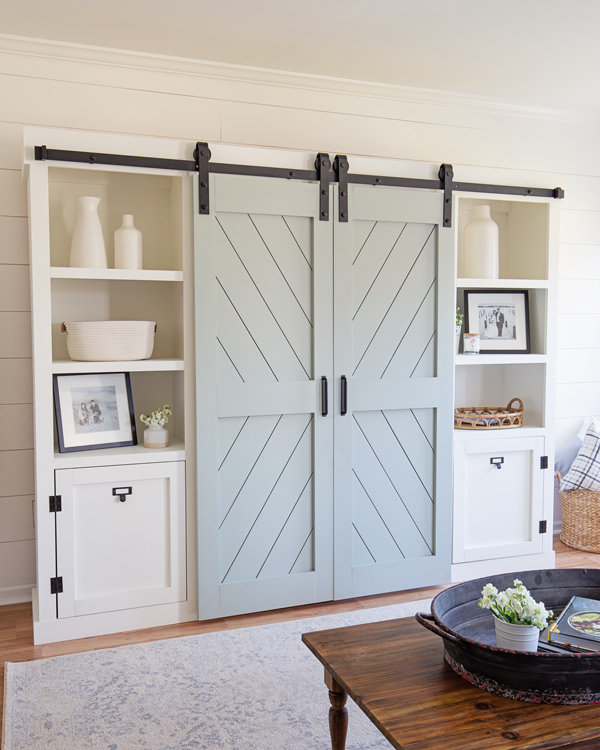 But then I got pregnant and we had a baby and this room makeover was put on hold. Isn't that how so many house projects get put on hold lol?! Have you ever had to put a project on hold before in the middle of it?
Well almost three years later, I was ready to finish this living room makeover, but I had a totally new design plan and more DIY projects planned to really transform it into a cozy, welcoming, and stylish living space.
Our living room had gotten crowded with mismatched furniture, toddler toys, and a layout that was not open and was difficult to move around.
You can see more of this in the living room makeover video here!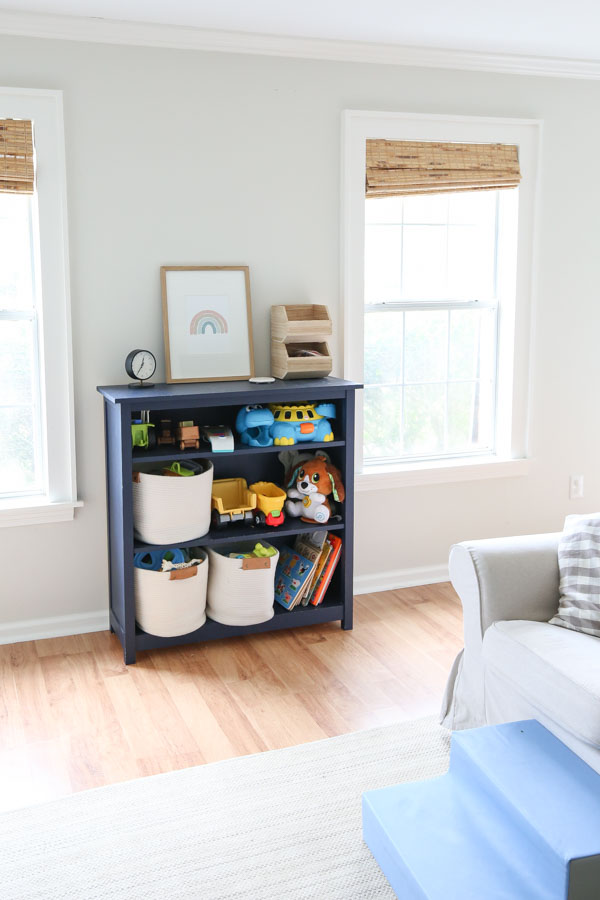 The Living Room Makeover Design Plan
The plan for the room was to replace the faux shiplap with a floor to ceiling board and batten with crown molding and to add extra character with a DIY fireplace.
I really wanted to create a cozy and casual feel with lots of neutrals, textures, fresh whites, and a light and airy vibe. I decorate our living room the most with the changing seasons, so having a neutral base to work around was key.
Of course staying on a budget and utilizing DIY was another huge component for this room makeover!
Decluttering and Rearranging the Furniture
One of the easiest ways to refresh a room for free is to declutter the space and rearrange the furniture. If you're ready for a change this really does make such a big difference!
Plus, it forces you to deep clean the room haha! We did this and I dusted and vacuumed everything!
You can see all of this rearranging in the DIY living room makeover video, but we tried a few different furniture layouts.
Ultimately, I decided to place the couch on the longest wall (the accent wall) where our entertainment center use to be. And the entertainment center went to the left of the couch and our new DIY fireplace was planned for the window wall. I liked the open layout of this plan.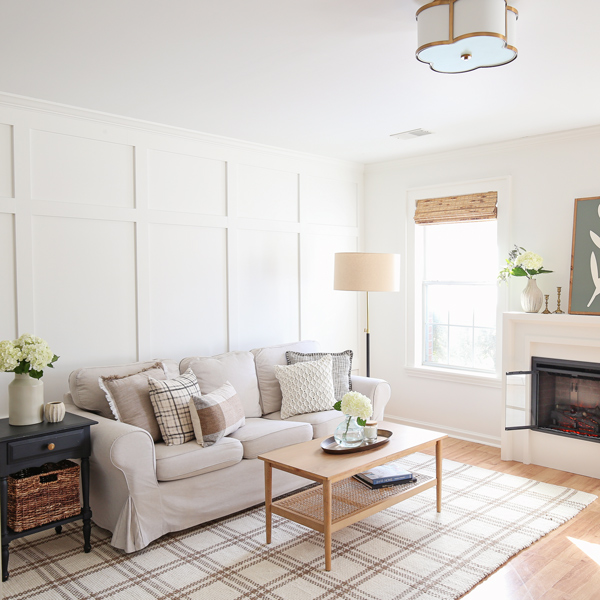 For our son's toys, we moved most of them to our new DIY entryway cabinet (which is on the opposite side of this room) and some into baskets on our entertainment center.
The DIY bookshelf that the toys had been on was moved upstairs into his bedroom. I built it to match his DIY toy box and DIY kids bookshelves on the wall anyways!
DIY Fireplace with Electric Insert
For the design of our DIY fireplace, we really went all out with the molding to create a modern, yet classic look! We painted the fireplace in Simply White by Benjamin Moore.
You can get the step by step tutorial and printable build plans for this DIY fireplace with electric insert here!
We used this electric fireplace insert. Ever since finishing this project, we've loved using the fireplace daily! It really adds so much coziness and character!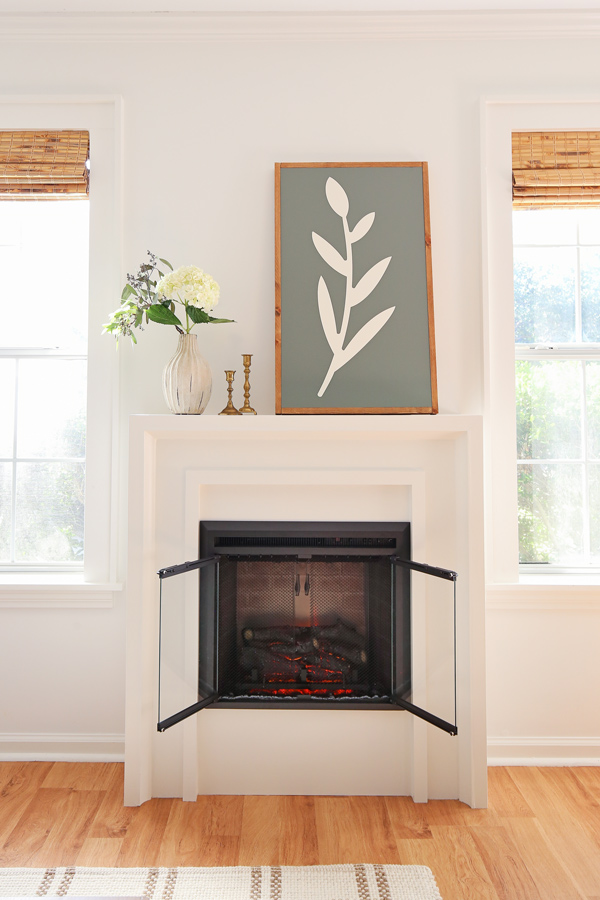 Board and Batten Accent Wall DIY
As much as I loved our DIY faux shiplap accent wall, I was ready for a fresh change. We also have a lot of other shiplap in our home. So, we took the shiplap down, which you can see in the makeover video!
I decided to do a floor to ceiling board and batten and reuse our crown molding. Get the full tutorial on the floor to ceiling DIY board and batten accent wall!
I love how this accent wall turned out! I love how the molding is art in itself and adds even more character. It flows perfect with the fireplace molding and the DIY window trim!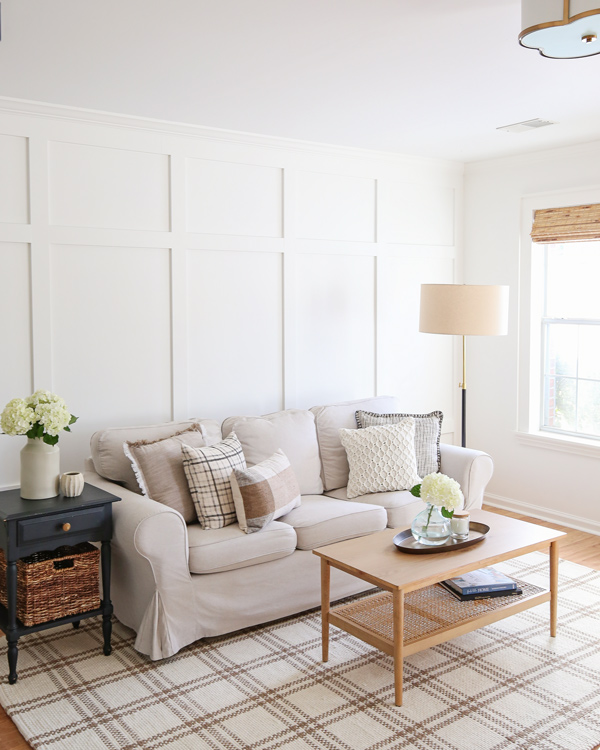 Replacing the ceiling fan with a new light
While we had the living room mostly cleared from the board and batten wall, Brandon and his dad took our outdated ceiling fan down and installed a new flush mount light.
The scallop shape of this light is so cute and it makes the room feel more open!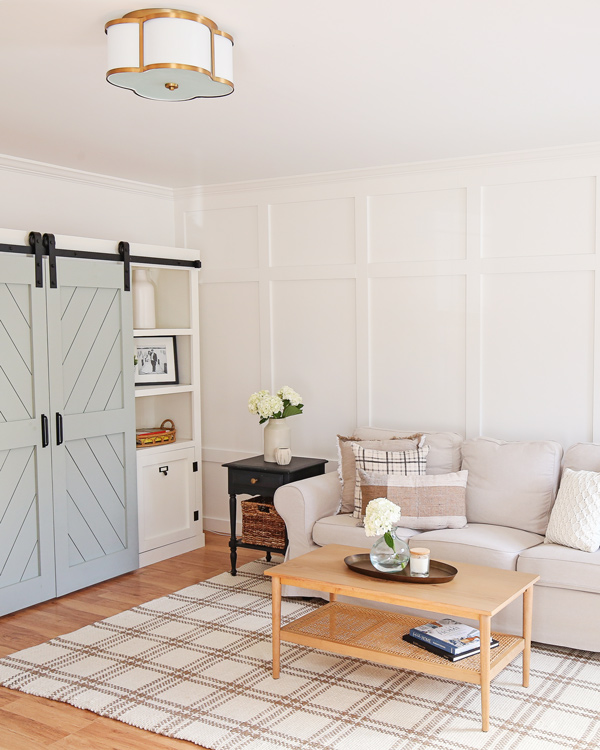 Painting the Walls
For all of the walls, including the board and batten and the fireplace, we used Simply White by Benjamin Moore. We used semi gloss on the crown molding and floor molding and eggshell everywhere else.
Because this room gets a lot of natural light and I was keeping things neutral I really wanted a fresh white color.
Decorating and Furniture
NOTE: A full product source list is available at the bottom of the post!
One of my favorite features of this room is our new plaid area rug – similar here! I absolutely love the colors and look! With a toddler and a dog we spend a lot of time on the floor, so I wanted a natural rug and this one is mostly wool and cotton.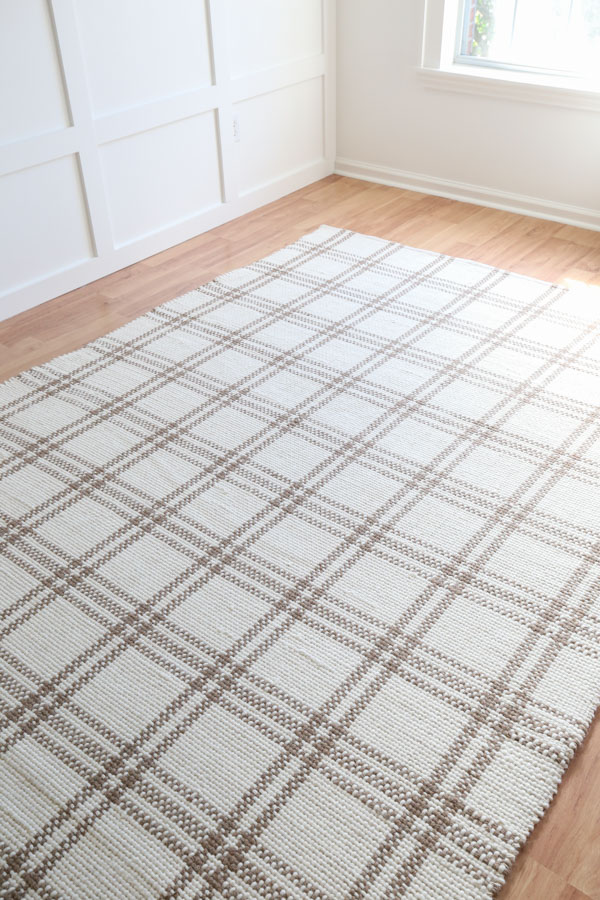 To stay on budget we kept our current IKEA couch. I want a new couch so bad, but we are planning on moving soon and I want to get a new couch when we move that fits best with our new house.
Also, I was going to order some new accent chairs but everything I liked had a 10 week lead time. So I'm just holding off on those for now too.
I splurged on a new, modern floor lamp that I'm obsessed with.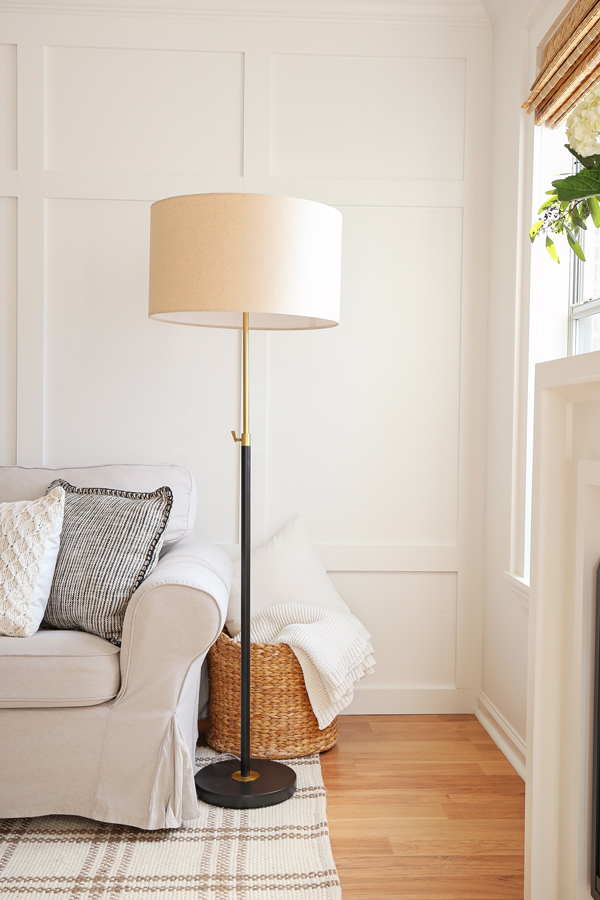 We are reusing our vintage side table. It use to be my grandparents table and I painted the side table black a few years ago. I love the character of it. I added this large ceramic vase with flowers. The small vase came from this artisan terra cotta vase set.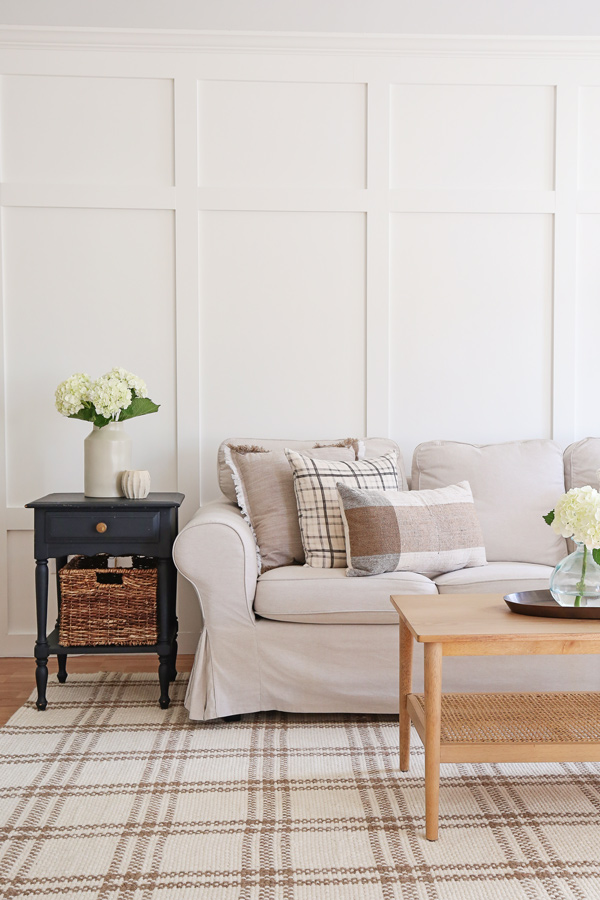 I did end up buying a cute new coffee table with wood and cane. I wanted to build one but just ran out of energy and time!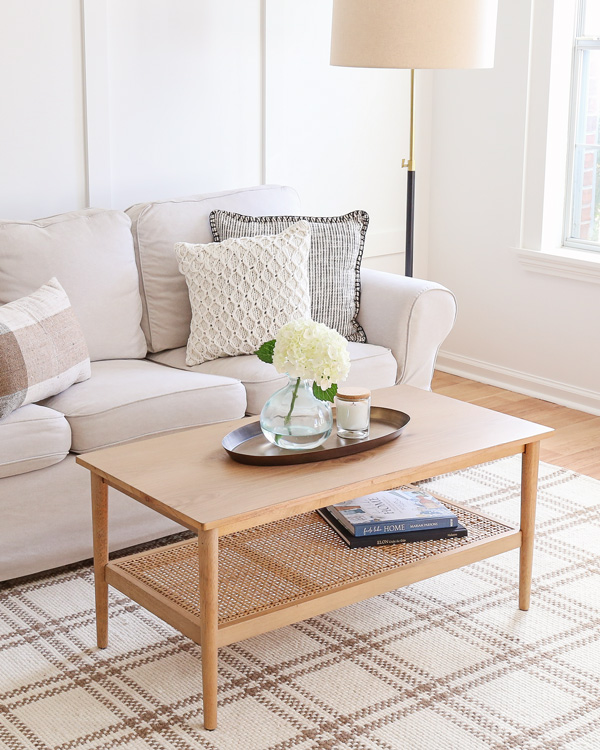 On the coffee table, I added this oval brass tray (similar here and here) and a vase and candle we already had.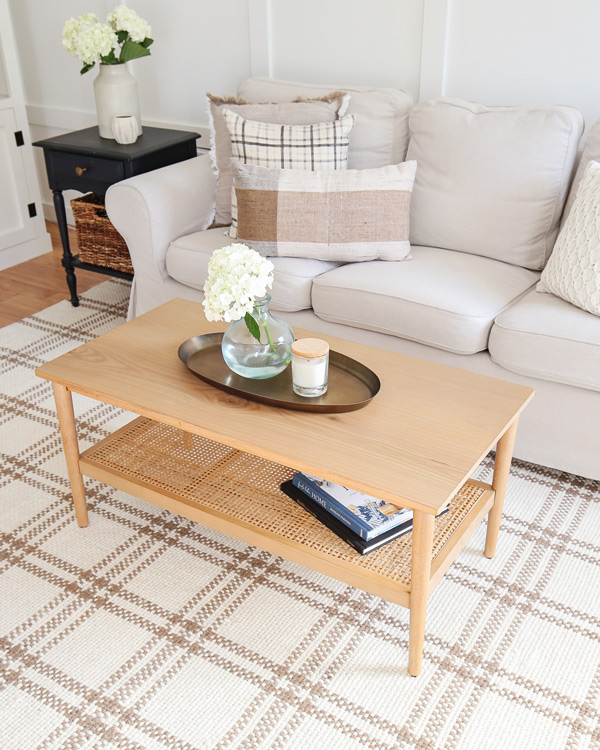 For our throw pillows, I bought a ton of options from Target and Walmart. I tried them along with existing pillows I had. You can see all of this in action in the living room makeover video reveal!
I ended up with a mix of brown, white, and black, along with lots of texture! Here are the links to the 5 pillows: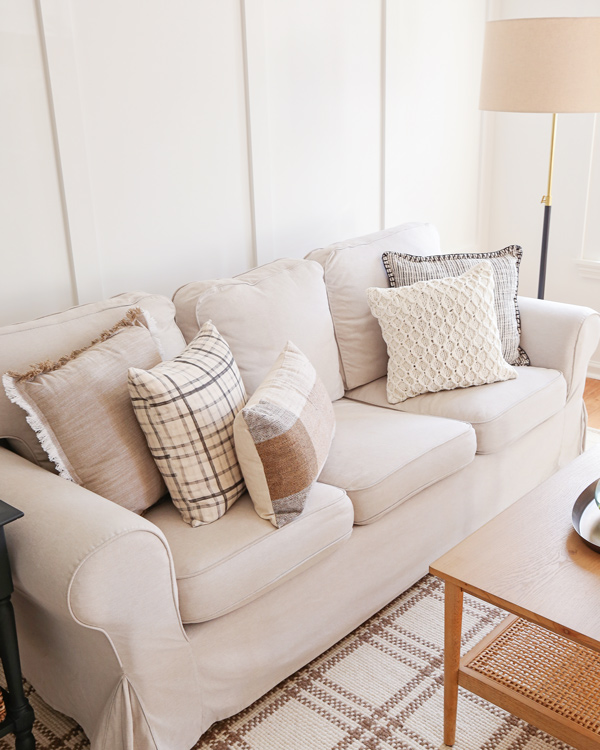 For our DIY fireplace mantel, I previously made a large DIY wood sign with Cricut with a plant design to go on it. I think it's perfect for some large, inexpensive artwork!
Next, to the sign, I added a new vase from this artisan terra cotta vase set with flowers and some of my thrifted, brass candle holders.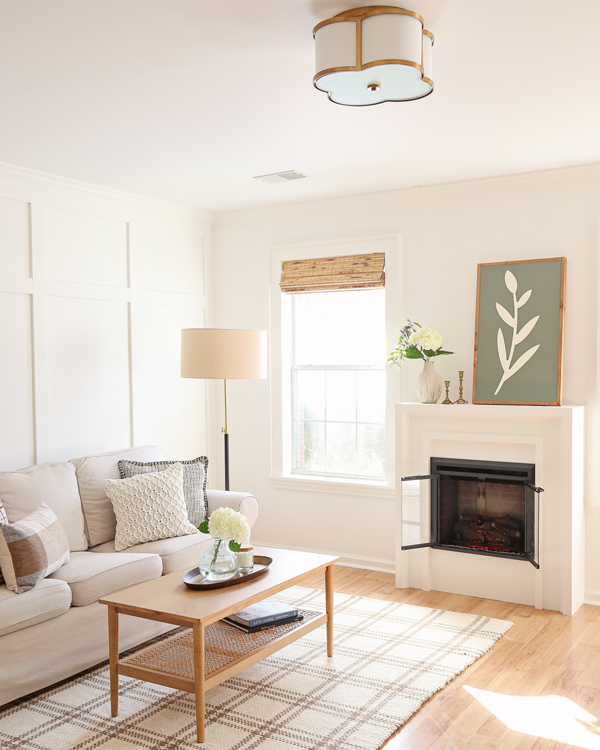 For our entertainment center shelves, I liked how I had styled them before the makeover, so I pretty much kept this the same.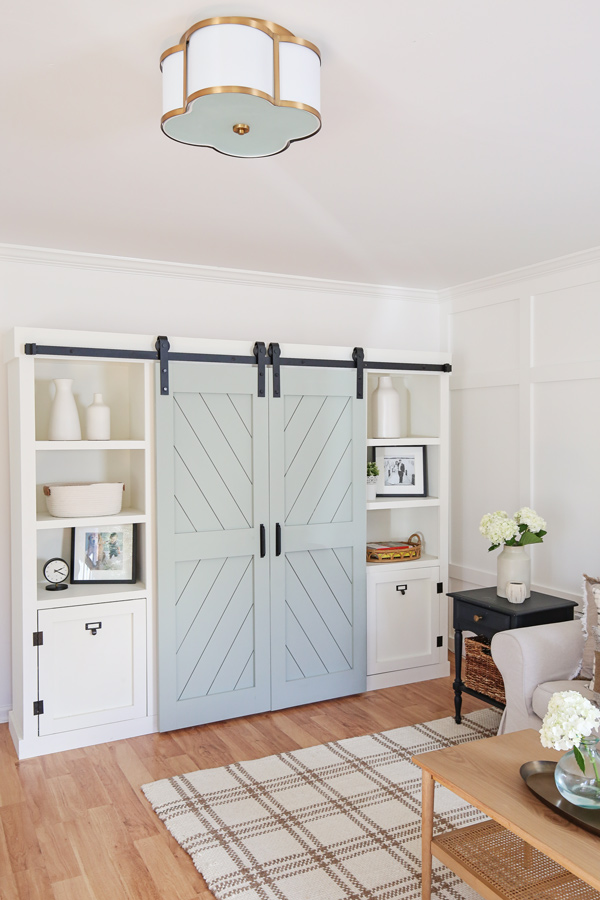 I really love how our living room makeover turned out, even if it took nearly 3 years! It's cozy and casual but still elevated with style that I love.
What's your favorite part of the room? Let me know in the comments below!
It's hard to believe but this house is almost complete as far as room makeovers go! We still have some more projects planned and one more room left, which I'll be sharing about in January!
But now it's time to focus on the holidays and decorating this living room for the Christmas which I am sooooo excited to do!
Follow along for these projects and sneak peaks on Instagram, YouTube, and Pinterest!
DIY Living Makeover Sources & Projects:
DIY Projects
Paint Colors Used:
Walls and Board & Batten – Simply White by Benjamin Moore (eggshell)
Crown molding/trim – Simply White by Benjamin Moore (semi gloss)
Barn doors – Oyster Bay by Sherwin Williams (eggshell)
Want to save for later?! Pin it here: