Learn how to easily create a weathered wood gray finish! This weathered grey finish works great for making new wood look old too!
Last week on the blog, I shared a Rustic DIY desk, that Brandon built and finished. The photos I took didn't quite show off the rustic, distressed finish like I wanted, so I am sharing some close up photos today of the finish as well as how we created a weathered wood gray finish.
We tested out a few different combinations to get a more gray washed looked.
Ultimately, we decided on using a combination of stain and white washed paint (paint mixed with water) to achieve a more gray tone.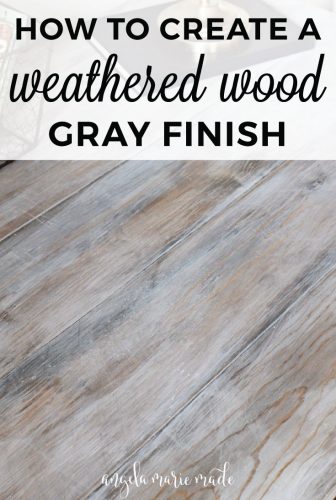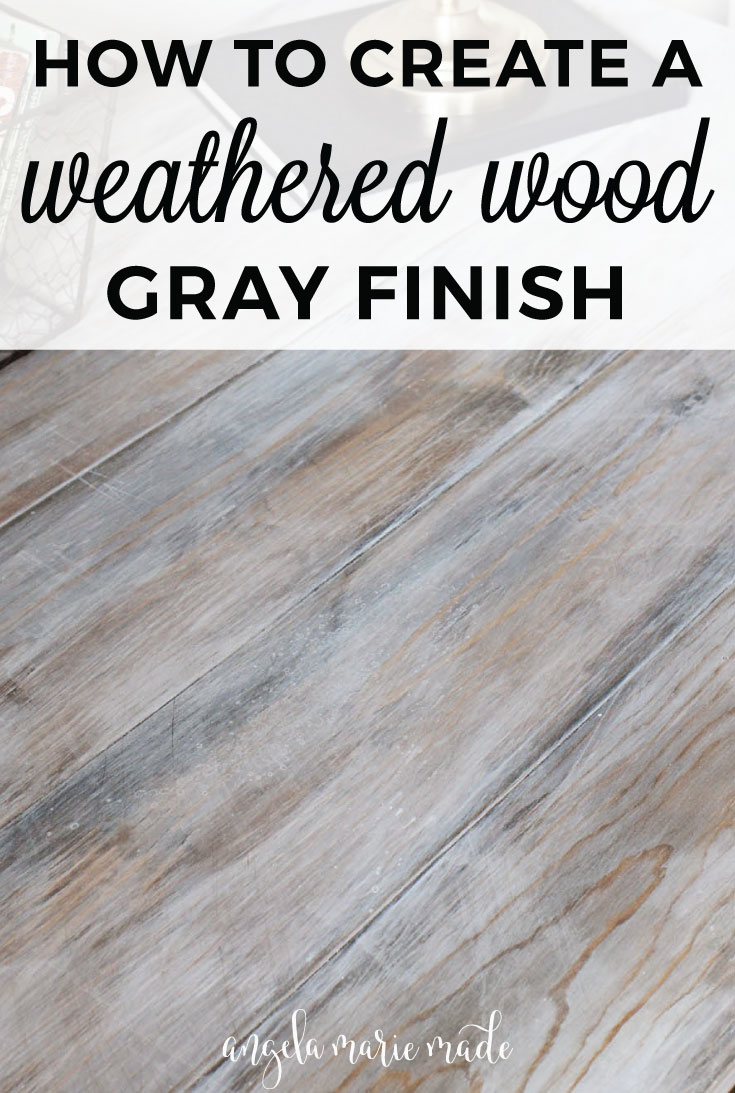 Note, this post contains some affiliate links. For more info see my disclosures here.

How to Create a Weathered Wood Gray Finish:
Supplies Needed:
Dark Walnut Stain (also available here)
White Paint (we used White Dove by Benjamin Moore in a flat finish)
A little bit of water
Sandpaper (we used 80 grit)
Paint Brush
*A printable version of this tutorial and step by step video are at the bottom of this post!*
1. Stain your wood
Before staining, make sure your wood is properly prepared for finishing. To learn more about how to prepare your wood surface for a weathered wood finish, as well as other weathered wood finish tutorials and how to protect your weathered wood surface, check out Weathered Wood Recipes!

Then, apply the pre-stain wood conditioner and then one coat of the Dark Walnut stain. Wipe away any excess stain. See my tutorial on how to stain wood for tips on staining wood!
Allow your stain to fully dry.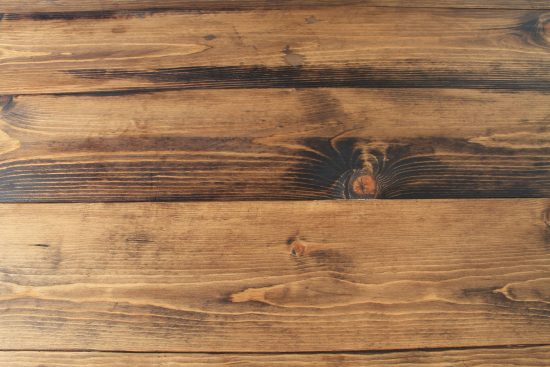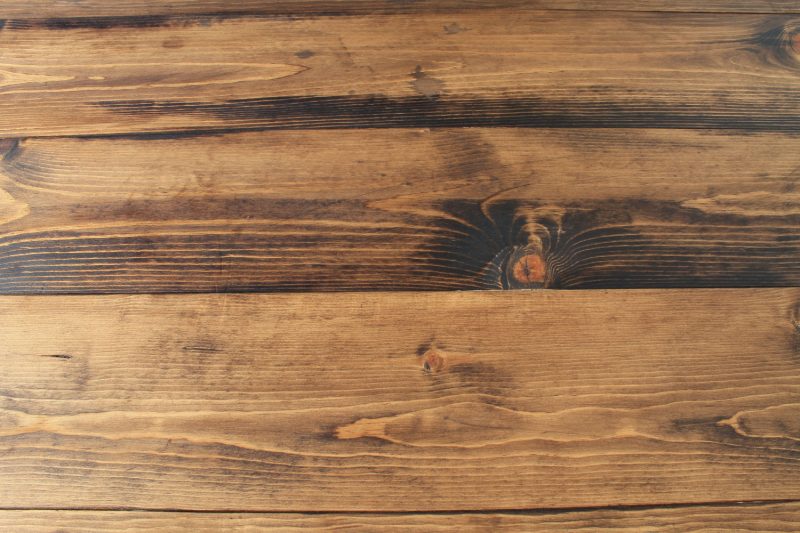 2. Apply a white wash mixture to the wood
To create a whitewash paint mixture, we mixed about 1 part water to 1 part white paint. We ended up making the mixture a bit thicker with paint and less watery to achieve our desired finish.
Next, apply the white wash paint mixture to the wood in long strokes with a paint brush. Allow the paint mixture to set for 3-5 seconds, then rub over the white wash paint strokes with a staining rag or lint free rag to smear the paint mixture into the wood. Allow it to fully dry.
See my whitewashing wood tutorial for more details on how to whitewash wood.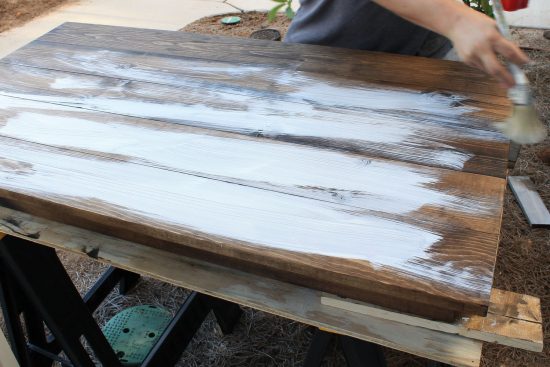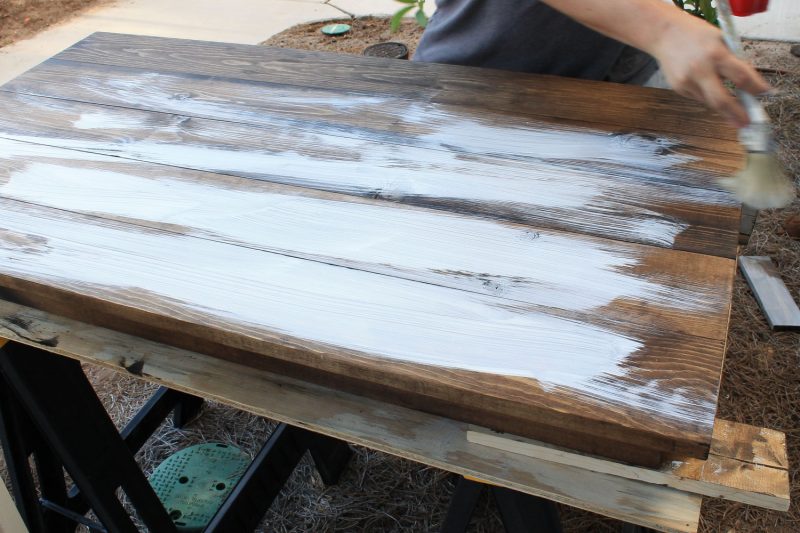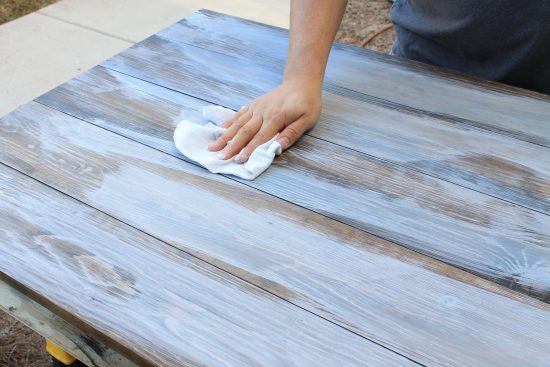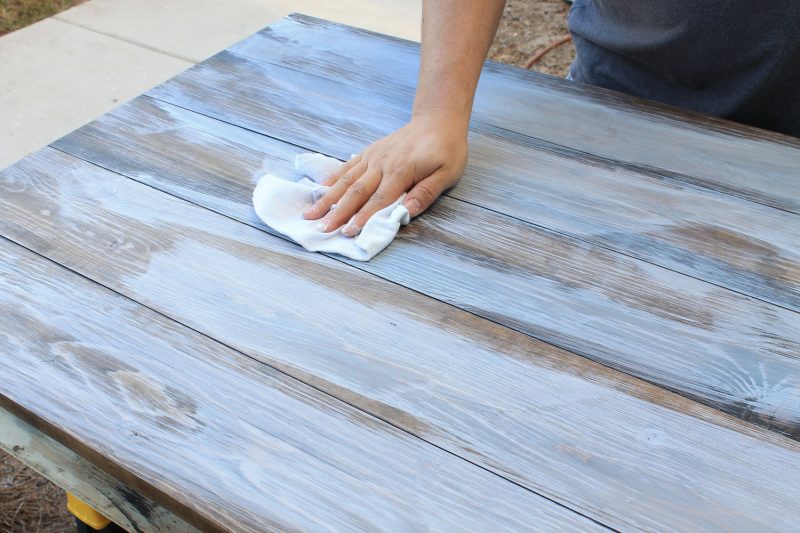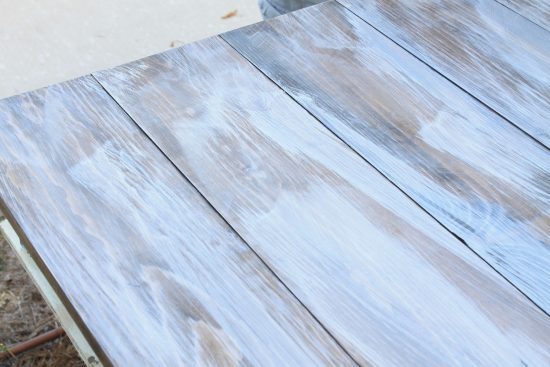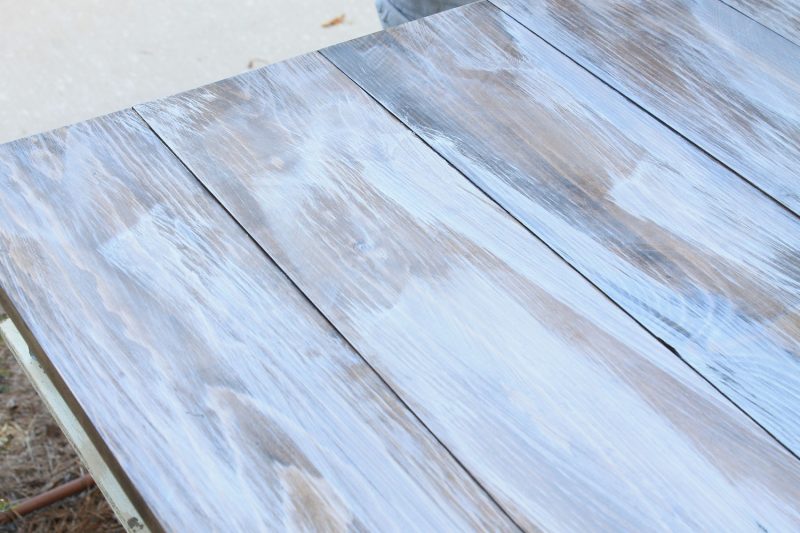 3. Distress wood finish with sandpaper
Finally, very lightly distress the wood finish with sandpaper until you achieve your desired look!
And that's it! Pretty simple! You can also add a top coat of poly or wax if you'd like, we chose not too since we liked the look at this point. Here is a close up of the wood grain with this rustic, gray, weathered wood finish. I just love how the grain lightly shows through!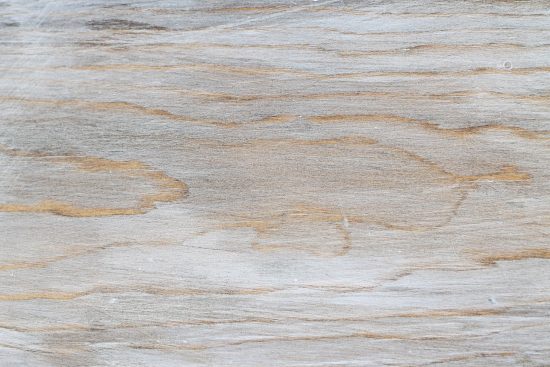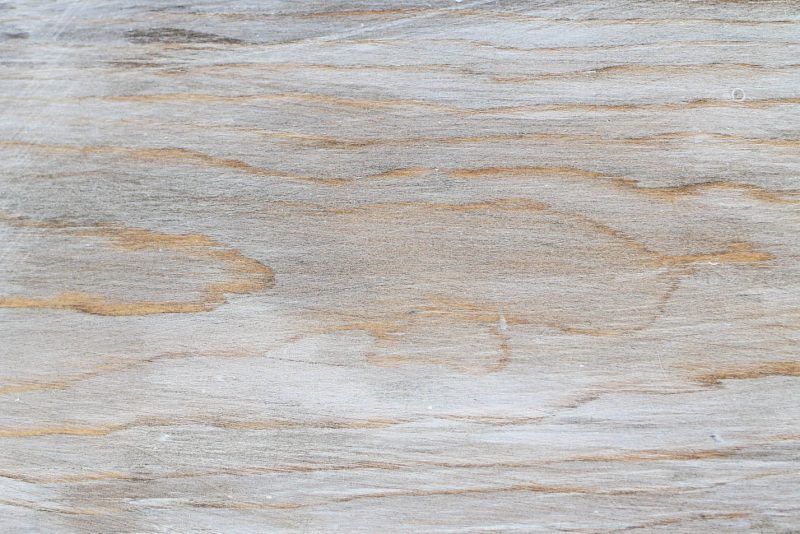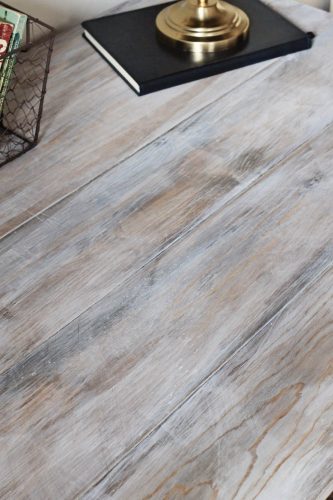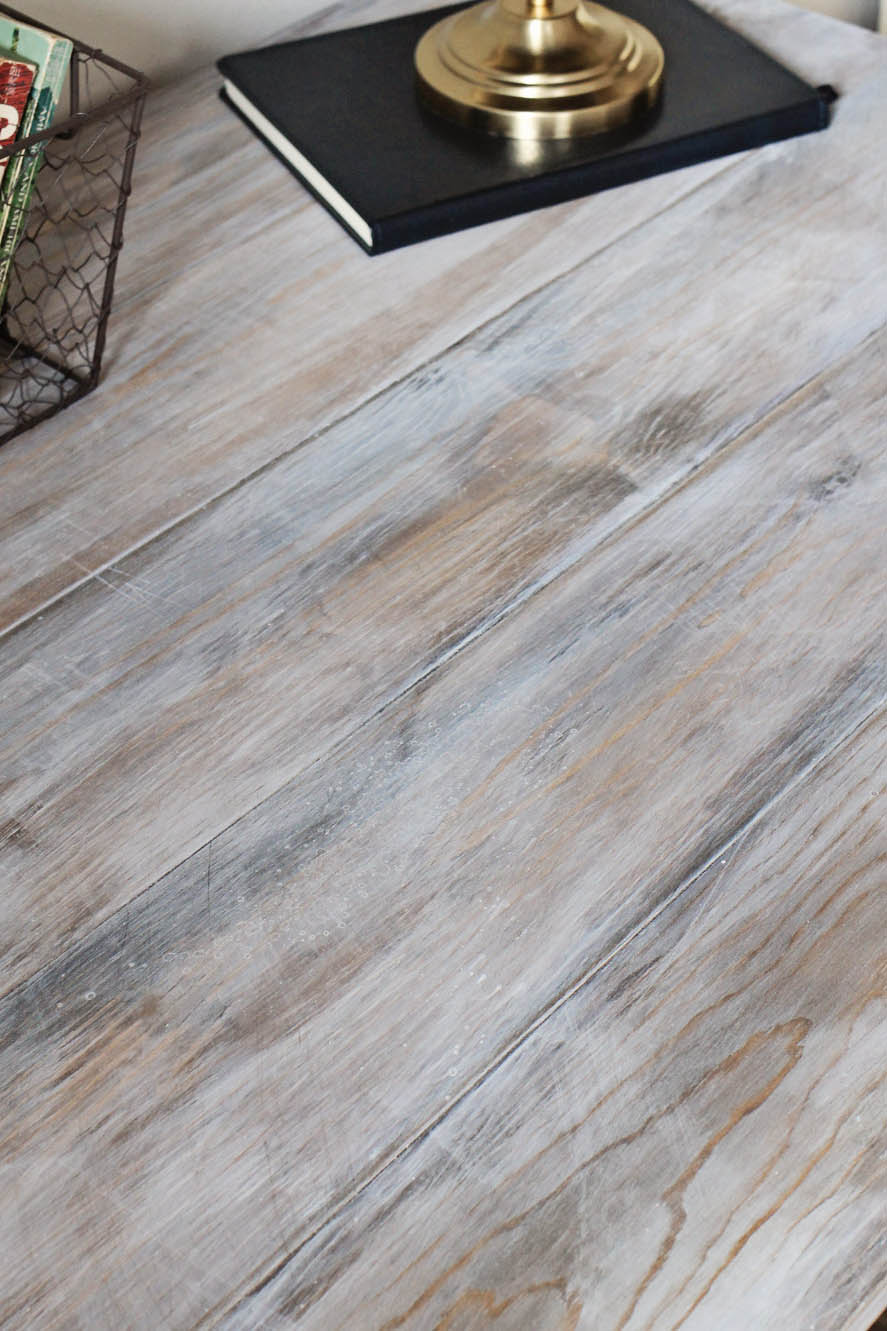 What do you think of our weathered wood, gray finish? I think it definitely gives off a rustic vibe!
If you're interested in more easy weathered wood finish tutorials, learning how to properly prepare your surface for a weathered wood finish, or learning about top coats and how to protect your finish for the best results, check out Weathered Wood Recipes here! Weathered Wood Recipes includes easy and budget friendly tutorials on how to create weathered wood finishes like this: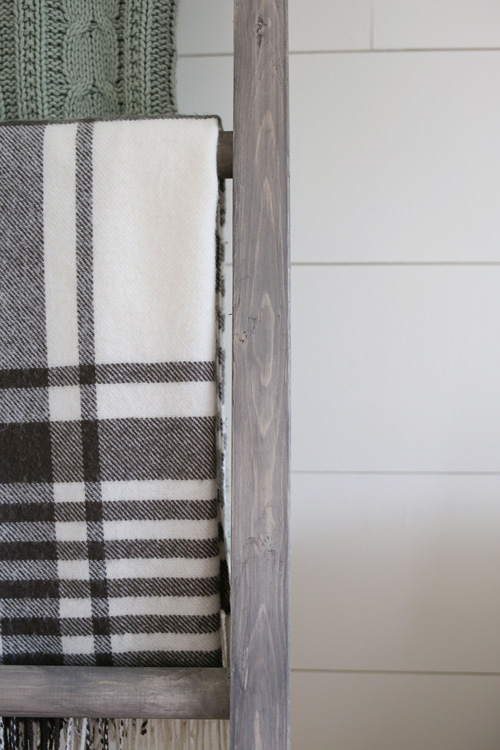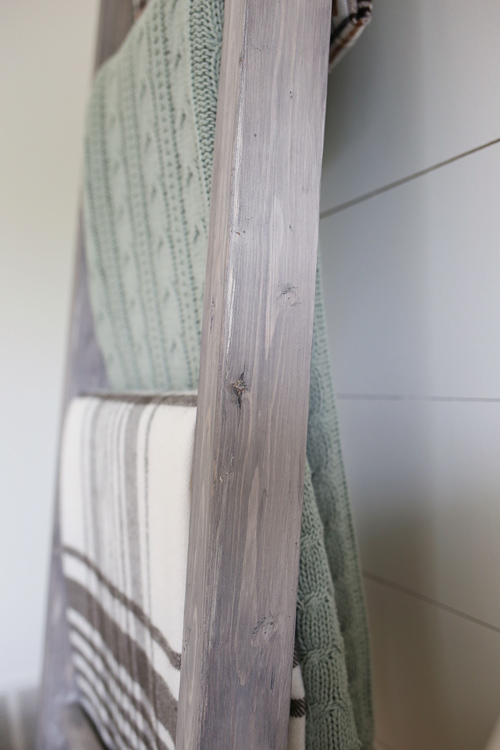 And this!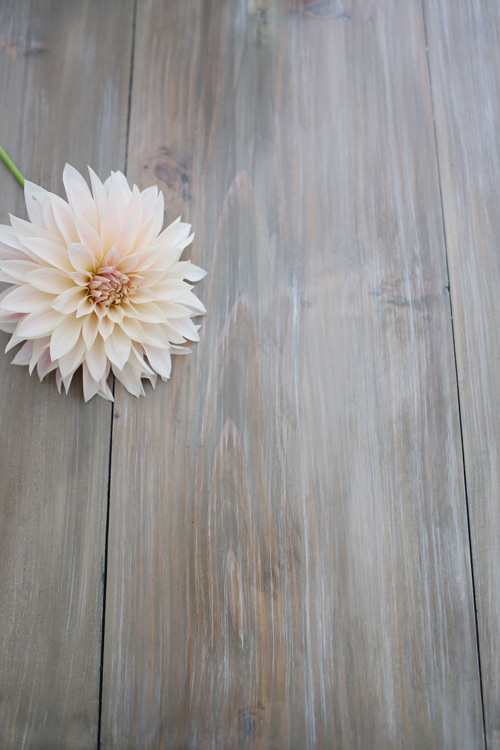 Click here to learn more about Weathered Wood Recipes!
I'd love to see photos of your project using the weathered wood finish in this tutorial! Feel free to share with me on Instagram @angelamariemade, Facebook, or e-mail pictures to [email protected]!
Be sure to follow along on Instagram, Facebook and Pinterest for my latest projects, fun updates, and sneak peeks!
Subscribe to my YouTube Channel here!
Save
Save
Save
Save
Save
Save
Save
Save
Save
Save
Save
Save
Save
Save
Save
Save
Save
Save
Save